In a welcomed move to deter camera theft, Panasonic have released a new firmware update for their Varicam line up that enables users to "Tag My Varicam" via the use of a Custom Splash Screen with owner information/logo/contact info.
Of course, this is a free firmware update, much like all other Varicam 35 and Varicam LT firmware updates prior, and quite an interesting one. At first, I really thought this was just for show, but the customizable home splash screen sounds like a brilliant idea in case your Varicam gets stolen.
But what about thieves replacing your info you ask? Well, Panasonic have thought of that too – you can password protect your Custom Splash Screen to prevent rewriting of the above registered contents and also to prevent further updating.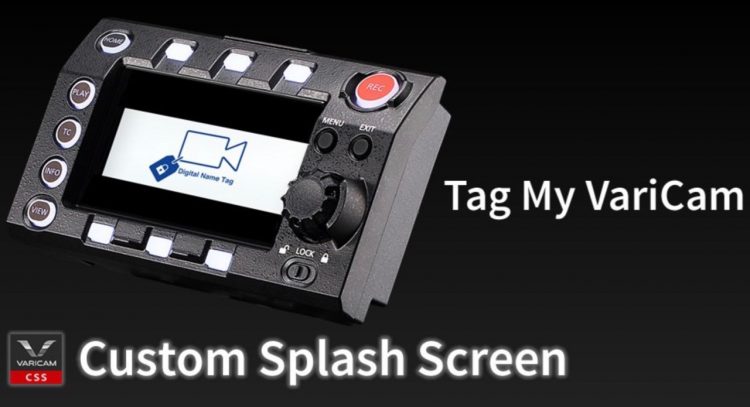 New Features for Varicam Line with firmware:
Firmware Ver 31.01-00-0.00 (Varicam LT)
Firwmare Ver 8.00-00-0.xx (Varicam 35/HS)
CSS(Custom Splash Screen)

The display screen during the boot-up process (splash screen) can be customized to show a company's logo, etc.

This software helps deter theft by using the customized Splash Screen as the owner's digital name tag.
Customize the Splash Screen as your company logo
Register owner information
Password setting – You can set a password to prevent rewriting of the above registered contents and to prevent updating / downgrade execution.Click here to download Custom Splash Screen

Other Improvements/Fixes:

Playback Order Sort-Out function

In continuous and selective playback modes, the list on PLAY screen is changed to be displayed in ascending order.

RESTART function for LIST MENU

Restart operation via a remote control such as AK-HRP1000, etc. is made possible.

CDL/LUT setting values are saved when MAIN COLOR is set

This function is designed for operations via a remote control such as AK-HRP1000, etc.
The setting values of each mode can be saved so that the original values can be restored even if unintended values are obtained.

The firmware is changed so that ISO setting values (800/5000) are not reset when NATIVE is set

It is changed so that each EI setting value of NATIVE/800BASE/5000BASE is not reset when ISO MODE is set to NATIVE.
To prevent the values from being reset as a result of wrong dial operation on AK-HRP1000

DETAIL LEVEL setting by AK-HRP1000 DTL dial operation

With MAIN COLOR = V-LOG and GRADING SEL = SHADING through AK-HRP1000 operation, COLOR SETTINGS-DETAIL LEVEL will work as DTL.
This is enabled by DTL dial operation of the remote control.
Here are some Panasonic tutorials on how to Tag Your Varicam:
Step 2:
Step 3:
Step 4:
Head over to Panasonic's Varicam website to download the latest firmware applicable to your Varicam.
Claim your copy of DAVINCI RESOLVE - SIMPLIFIED COURSE with 50% off! Get Instant Access!