Wooden Camera have announced new, redesigned Top Handles. The two new handles come in either the NATO Handle Plus 2 Kit and the Top Handle v2.
NATO Handle Plus version 2 is a quick release top handle that attaches and detaches quickly without tools. It features a 180 degree rotation and a durable composite grip for ergonomic and comfy handling. The NATO Handle Plus v2 attaches easily to your camera, by simply sliding the handle onto the NATO rail and turn the thumbscrew to lock in place.
You can rotate the handle up to 180 degrees by loosening the base thumbscrew to suit your style. Detents indicate when the handle has reached an increment of 90 degrees.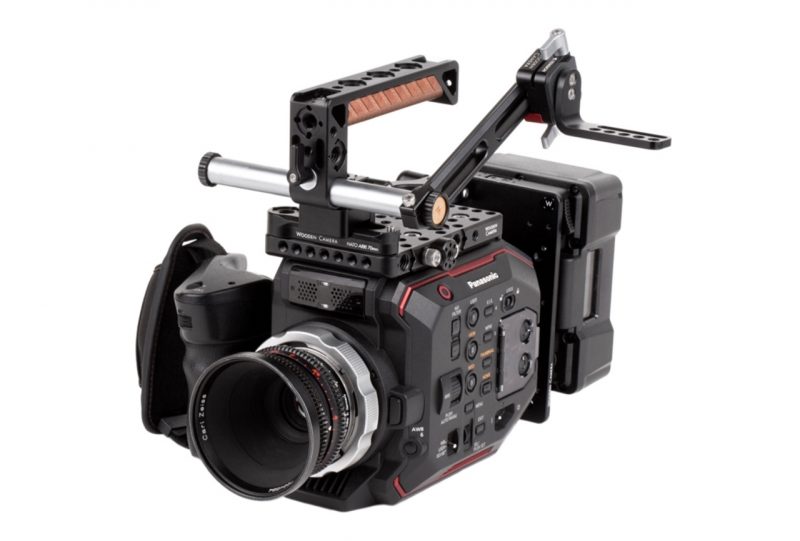 Top NATO Handle Plus v2 Features/Specs
Durable composite grip
a 15mm tube clamp for attachment of the WC UVF Mounts
2 x integrated shoe mounts
1/4-20 and 3/8-16 mounting holes
ARRI accessories mounts:

3/8-16 threaded hole with locating pins adjacent

Weight:
Dimensions:

133.4 x 85.3 x 33.3mm (5.3 x 3.4 x 1.3 in)
The NATO ARRI 70mm Rail is a new version of the popular Wooden Camera Safety NATO Rail which features a safety pin on one end and an ARRI accessory mount on the other making it perfect for adding the Wooden Camera Microphone Shock Mount, Universal Offset Bracket, or other ARRI accessory devices.
It is worth to note that the centre slot accommodates two 1/4-20 screws up to 1.67 inches apart or 42.5mm.
The NATO Handle Plus 2 kit includes the NATO ARRI 70mm Rail (1.67″ Screw Channel) at a reduced package price of $250 from Wooden Camera.
The other new handle – the Wooden Camera Top Handle v2 has been designed to screw directly onto the top of a camera or to a top cheese plate. The Top Handle v2 has a side to side screw channel that can fit 2 x 1/4-20 screws up to 50mm apart centre to centre (2 inches) and a centre screw channel up to 27mm apart (1.06 inches).
The handle features an ergonomic metal grip, a 15mm tube clamp for attachment of our UVF Mounts, two integrated shoe mounts, 1/4-20 and 3/8-16 mounting holes, and ARRI accessories mounts. The Wooden Camera Top Handle v2 is priced at $140 and available to buy from Wooden Camera.
Claim your copy of DAVINCI RESOLVE 16 - SIMPLIFIED COURSE with 50% off! Get Instant Access!