Rode has some great news for indie filmmakers and those frequently filming events and getting vox pop interviews – their Rode TX-M2 handheld wireless microphone is now sold separately and can be added to any RodeLink Wireless Filmmakers Kit that have been extremely popular with video producers due to their accessible price, license-free performance, and hassle-free setup.
The Rode TX-M2 is priced at only $299 and offers coverage of up to 320-some feet (or about 100m) and operates in the license-free 2.4GHz spectrum while also offering 128-bit encryption. For content creators requiring different microphone options to suit any situation, the TX-M2 offers an affordable, stylish, durable and compact handheld solution.
Rode TX-M2 Handheld Wireless Microphone Features
35 Hz to 20 kHz Frequency Range
Range up to 328′
One-Touch Pairing
Mute Switch, Low Handling Noise
128-Bit Encryption
Bottom-Mounted Diversity Antenna
2.4 GHz Fixed Frequency Agile Technology
Price: $299 at B&H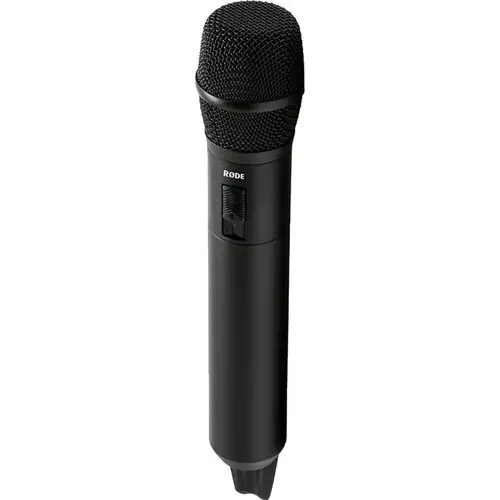 Designed and made in Australia, the RØDELink TX-M2 microphone was initially available only with the RodeLink Performer Kit and paired with the Rode RX-DESK receiver, however now you can also pair it with the RX-CAM receiver in your RodeLink Filmmaker Kit.
The TX-M2 uses a perfectly balanced wireless condenser microphone for singers, presenters, and reporters delivering crystal clear audio and incredibly low handling noise. Rode's next generation digital wireless technology is hard at work here – constantly monitoring frequencies and automatically switch to the strongest possible signal level, so you are always given the best quality of sound.
The TX-M2 is powered by the LB-1 Lithium-Ion Rechargeable Battery that provides over 10 hours of use in a single charge, or 2x AA batteries for over 6 hours of use.
The sleek and portable handheld microphone houses a super cardioid condenser capsule and a mute switch, making it an incredible wireless alternative to the popular M2 microphone while continually delivering the sensitivity and versatility offered by condenser microphones.
Rode TX-M2 Specifications
Transmission type:

2.4GHz fixed frequency agile system

System dynamic:
Range (distance): 

Up to 100m (based on optimal environment)

Frequency Response:
Max input signal level:
Power source:

RØDE LB-1 4.2v Lithium-ion Rechargeable Battery or 2 x AA Batteries

Antenna:
Dimensions:
Weight: 222g
The RodeLink TX-M2 is a great addition to the RØDELink Filmmaker Kit, providing a simple wireless microphone solution to all filmmakers. You can get the Rode TX-M2 wireless reporter mic for $299 from B&H and other authorised dealers.
Claim your copy of DAVINCI RESOLVE - SIMPLIFIED COURSE with 50% off! Get Instant Access!