It's IBC 2018 and Photokina catch-up time! Yes, I know these trade shows ended a month ago, but we are still catching-up on all our interviews we did from these shows, so there are a few left to be edited and posted on the blog. In case you are not yet subscribed yet to our YouTube channel and like what we post there, consider sub-ing for more videos and upcoming reviews, which we will post there a few days before the article goes up on the blog.
RBG LED lighting was everywhere at IBC 2018 and Photokina, and just walking the floor in the main halls you could easily spot these stands from afar with their colourful LED setups. Some of you have already seen our Kino Flo LED tube interview with Kino Flo founder Frieder Hochheim from our IBC 2018 coverage and now we are continuing our RBG LED journey with some new offerings from a more budget-oriented manufacturer. Kino Flo's are great, but not everyone can afford them, and the competition in the RGB LED arena is heating up.
Making compact, tube-like RGBW LED lights has been a trend for some time and now budget-friendly Chinese LED lights manufacturer NanGuang is coming in with a new lineup of LED tubes they call Pavolites. The Pavolite design also expands into their more traditional LED panels and on-camera lights, but for the sake of this post, we'll focus only on the PAVOLITE RBGW Tubes.
At IBC 2018, I stopped by the NanGuang booth where I spoke to Reico about their latest Pavolite RGBW Tube LED lights:
The NanGuang PAVOLITE RGBW LEDs are available in either 2-foot or 4-foot versions, with the 4-foot versions having an AC power variant for more studio oriented applications, and a built-in battery version for location shoots. The 2-foot is battery powered as well. The PAVOLITES with built-in batteries, can also be AC powered with supplied adapters.
The PAVOLITES are sometimes listed as:
NanGuang Medium RGB Tube Light TRGB1208B – 2 ft with built-in battery
NanGuang Large RGB Tube Light TRGB1212B – 4 ft with battery.
NanGuang Large RGB Tube Light TRGB1412A – 4 ft. AC version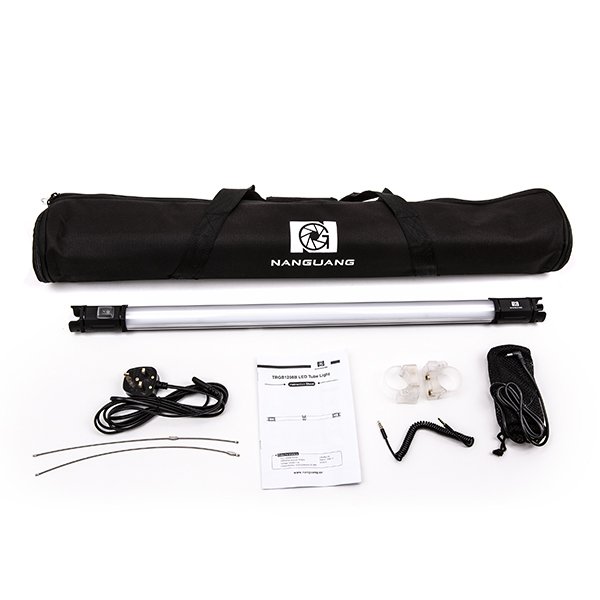 The PAVOLITEs boast a CRI of 95 and a full RGB spectrum with user adjustable 2700-6500K for maximum versatility.
These lights also offer six pre-programmed special effects such as Cop Car, Flame (candle light), Lightning Storm, an SOS signal, and two different types of continuous Flicker/Flash. Each of the special effects has a number of different settings to help you refine it displayed on the easy to read LCD display panel.
You also get a built-in 2.4G radio control and master/slave functions, which also makes it easy to synchronise multiple lights – just gang them up using the included master/slave cable to create a powerful array of lights for synchronized effects.
The 4ft DC version can be powered using the included AC adapter, or alternatively use a pair of built-in 2200mah batteries (the 2ft verison gets 1 x 2200mah battery) for use where no mains power supply is available. It is not clear how long the battery last, however I woudn't expect more than an hour given these are somewhat powerful lights for their size.
The kit includes mounting clips for adapting your light to a tripod or the wall, the light itself has octagonal ends, allowing it to be placed on the floor or a surface at a specific angle.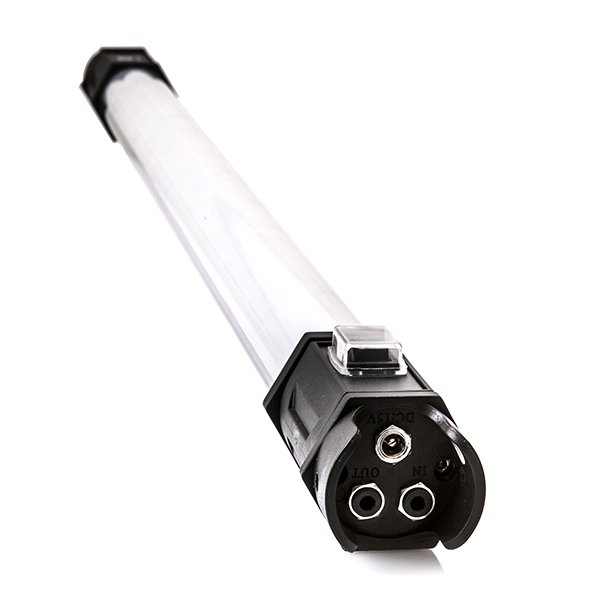 NanGuang PAVOLITE Specs:
Number of LEDs
400 (2-foot) / 750 (4 foot versions)
CRI
(Ra) 95
Power
16W (2ft) / 30W and 32W on the 4-foot versions
Power source
AC power adapter (included), or built-in battery
Colour
6500-2700K; full RGB
Brightness control
On-light controls, 2.4G, Wi-Fi, master-slave function
Illumination
1337 lm/2675 lm
Lux
2-foot:

6500K  – 430 (1m), 209 (2m), 111 (3m), 70 (4m), 50 (5m);
2700K – 375 (1m), 194 (2m), 101 (3m), 63 (4m), 45 (5m);

4-foot:

6500K – 719 (1m), 209 (2m), 111 (3m), 70 (4m), 50 (5m);
2700K – 633 (1m), 194 (2m), 101 (3m), 63 (4m), 45 (5m);

Weight
834g / 1.3kg (4ft)
Dimensions
770 x 48 x 48mm // 1170 x 48 x 48mm – 4ft version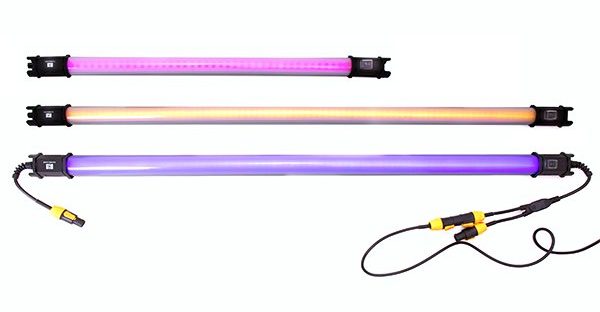 You can pick up the NanGuang PAVOLITE RBGW Tubes at B&H starting at $250 for the 2-foot version and $399 for the AC version (model TRGB1412A).
The battery powered 4-foot NanGuang PAVOLITE (TRGB1212B) sells for $429 at B&H. For more info and to find a list of all their international dealers head over to Nanguang's website here. In the UK they are distributed by Kenro.
Claim your copy of DAVINCI RESOLVE - SIMPLIFIED COURSE with 50% off! Get Instant Access!