DJI just announced the Mavic 2 Enterprise which essentially seems to be a beefed-up version of the Mavic 2 Zoom that features the exact same ultra-compact and foldable design as well as 2x Optical Zoom camera and gimbal combination. Additionally, the Mavic 2 Enterprise boasts an array of advanced controls and accessories that extend users' capabilities during critical operations like firefighting, emergency response, law enforcement, and infrastructure inspections.
Unlike its Mavic 2 Zoom counterpart, however, the Enterprise version comes equipped with an extended port that allows mounting an array of new DJI modular accessories, a self-heating battery, 24 GB onboard storage, DJI AirSense, and DJI Pilot mobile app compatibility.
Other than that, Mavic 2 Enterprise uses the same Mavic 2 Zoom 1/2.3" 12 Megapixel CMOS sensor that is stabilized by a three-axis gimbal featuring a 2x optical and 3x digital zoom capability. This zoom technology gives the drone the ability to identify and inspect dangerous or difficult areas, as well as to help emergency services protect life and property. Just like the Mavic 2 Zoom, the camera can capture 4K video at up to 30 fps.
Furthermore, Mavic 2 Enterprise allows new DJI accessories to be securely mounted to the drone's body and is operated through the flight control app. Some of these include:
M2E Spotlight – A dual spotlight with a brightness of 2,400 lumens aids operators in carrying out missions in dark or low-light areas. The spotlight is ideal for search and rescue as well as inspection applications.
M2E Speaker – A loudspeaker with a maximum projection of 100 decibels (1-meter distance) lets pilots play up to 10 custom voice recordings on demand, providing a communications channel to nearby individuals that can be critical during lifesaving emergency operations.
M2E Beacon – Designed with U.S. Federal Aviation Administration (FAA) Night Waiver standards in mind, the M2E Beacon features a bright flashing strobe visible three miles away. This helps pilots carry out missions in low-light conditions or at night much more safely, and provides additional airspace awareness for operators of nearby drones and traditional aircraft.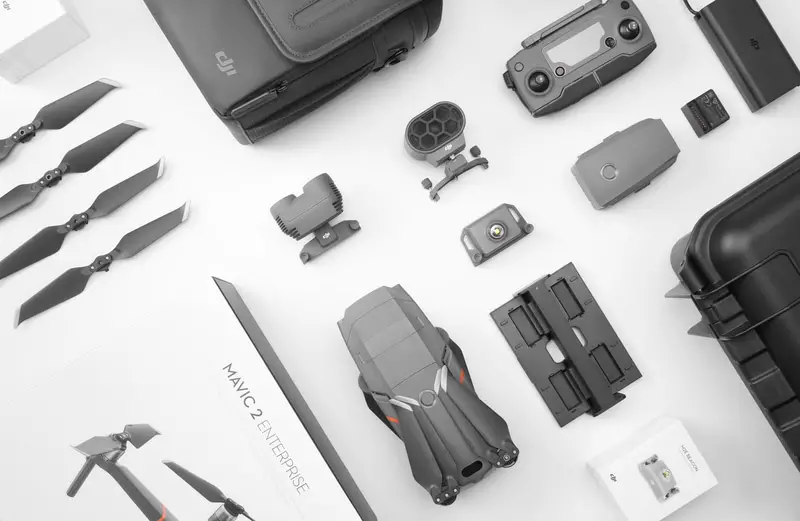 The self-heating battery function, on the other hand, can be enabled when the temperature is between -10°C to 6°C and the battery power is higher than 50%, by simply pressing and holding the battery power button for 5 seconds.
This functionality should extend your drone's flight time and preserve the battery charge for a longer period in adverse weather conditions. If it is powered on and is mounted on an aircraft, the self-heating function will be automatically enabled. As a side note, the new self-heating batteries can also be used on the Mavic Pro 2 and the Mavic 2 Zoom.
Mavic 2 Enterprise also incorporates 24 GB of onboard data storage and password protection, creating accountability for all access to the drone's functions and stored data. This newly-added functionality provides secure access to the drone and its onboard data storage while protecting that data even if the unit is physically compromised.
Beyond that, a new GPS timestamping feature encodes the time, date, and location of every recorded image, aiding in pilot accountability and ensuring that data captured by the drone can be trusted and used in situations from reviewing critical infrastructure inspections to potential legal proceedings.
In addition, Mavic 2 Enterprise users with heightened data security concerns can use DJI's Local Data Mode feature which, when activated, will stop the user's connected mobile device from sending or receiving any data over the internet. This provides added security assurances for operators of flights involving critical infrastructure, governmental projects or other sensitive missions.

The Mavic 2 Enterprise drone is now available for purchase through authorized DJI resellers worldwide selling for $1,999.
[source: DJI]
Claim your copy of DAVINCI RESOLVE - SIMPLIFIED COURSE with 50% off! Get Instant Access!