After spending hours editing your project inside of Premiere Pro CC, it's finally time to render out your timeline, right? Well, if you're familiar with the NLE, you'll know well that in the Export Media window, you're given two options: Queue and Export. While it may be obvious which route you should take, there are many novices out there who are still confused as to how these two functions do actually work in practice.
To put things into perspective, seasoned video editor Justin Odisho goes over the differences between the Queue and Export options in Premiere Pro CC. By understanding what each function does, you may find yourself improving the rendering process, thus making your post-production workflow more efficient down the line.
To get the most basic explanation out of the way, the Export button does exactly what it's labeled to do: it exports your project. When clicked, Premiere Pro CC will show a progress bar as the software renders out your project to the desired format.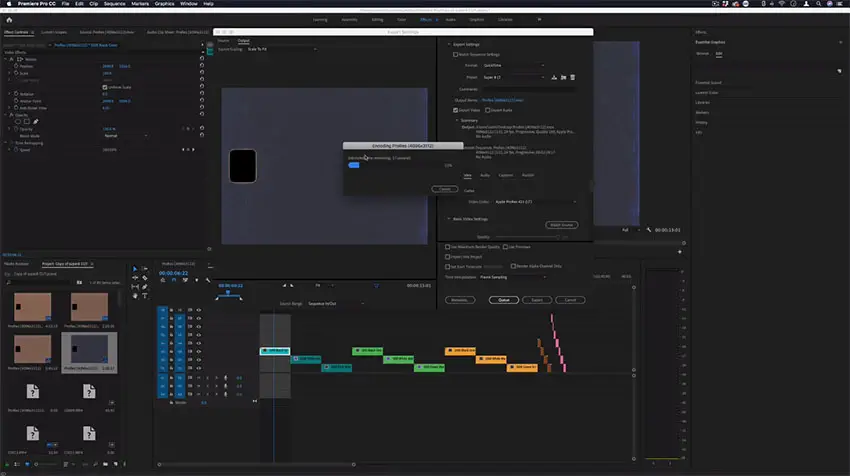 As for the Queue button, it is actually a powerful way to export multiple sequences and clips simultaneously. When clicked, Premiere Pro CC will send your selected media for export to Media Encoder.
Inside of Adobe Media Encoder, you have the option to import multiple sequences, projects, and videos for transcoding or export, all of which are added to an ordered list (or queue). Using this Queue method allows you to perform multiple export workflows – such as exporting different sections of a project or even exporting the same project but into multiple output formats and codecs.
Inside of the queue, you can sort the order of the export jobs as you wish. Once you've imported all the items you want to render inside the queue, all you have to do is press the green play button. This will trigger Media Encoder to commence the rendering process, automatically going through the queue until all render jobs have been completed.
In addition to the automated exporting process, moving your render operations to a queue in Media Encoder allows you to use Premiere Pro CC simultaneously regardless of the editing task you might be working on at the moment. Nonetheless, keep in mind that performance inside of Premiere Pro CC may slow down while Media Encoder is rendering items in the background.
[source: Justin Odisho]
Claim your copy of DAVINCI RESOLVE - SIMPLIFIED COURSE with 50% off! Get Instant Access!