NAB 2019 is just around the corner and right on time for the biggest trade show of the year, Adobe has spilled the beans on their latest Spring 2019 Creative Cloud update.
According to the official press release, the company's industry-leading applications now offer improved performance, polish, and the power of Adobe Sensei AI to accelerate post-production. Of course, there's much more than that, so without further ado, let's figure out what's new in Adobe Premiere Pro, After Effects, Audition, and Character Animator.
Premiere Pro CC
It seems that the latest release of Adobe's NLE is mainly focused on improved performance and refining the toolset. For starters, there's a new Freeform view that expands the Project panel into an open canvas for organizing media and visualizing ideas.
Users can now intuitively arrange clips, sequences, bins, and other assets into layouts with ease. Some of the improvements include color coding clips, stacking them in groups to save space, making hero shots bigger and building assembly edits that can be dragged onto the timeline.
Furthermore, video editors can save different layouts for different tasks inside the same bin and move between layouts on the fly. With options to show multiple types of metadata or just clip thumbnails, you can control the look of your bin. All in all, the Freeform Project panel helps video editors work more efficiently and creatively.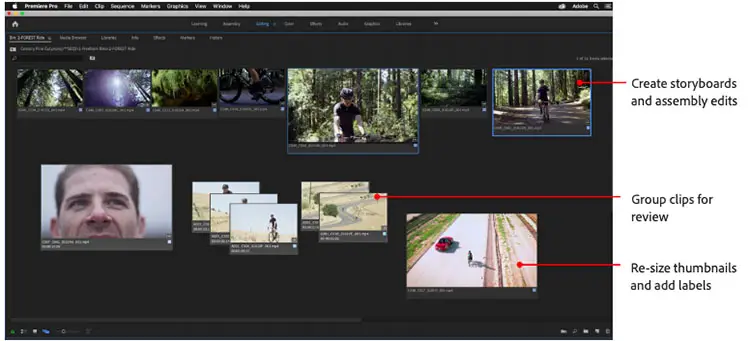 Beyond that, new rulers and guides with improved snapping bring familiar Adobe design tools into video editing workspace, making it easier to size and align graphics, still images, and video. There are color code guides for added efficiency and share guide templates to ensure brand continuity across your content.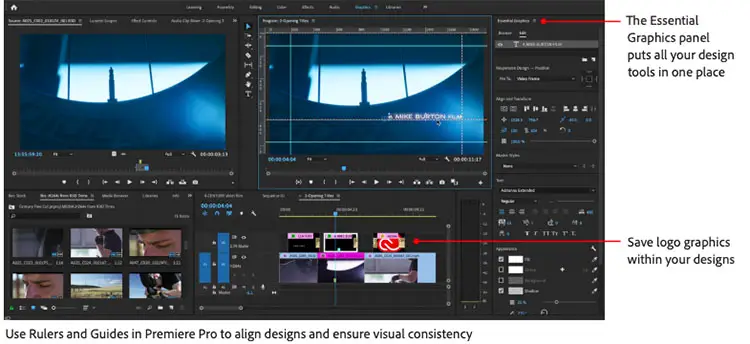 There are also enhanced titles with new options for adding multiple strokes and stroke styling to text, as used in Japanese and Korean titling and lower thirds. You can make text and titles stand out with background fills or use masks with text for added impact.
Working with fonts in the latest version of Premiere Pro CC is easier, too. You can sync free Adobe Fonts automatically, avoiding issues with commonly used missing typefaces or you can simply define your own default font as a fallback option.
Replacing fonts in your whole project with one click to easily update a design is now also possible as well as dragging and dropping multiple Motion Graphics templates into the Essential Graphics panel for added efficiency.
There are a few enhancements on the audio side as well. Auto Ducking leverages the power of Adobe Sensei technology to detect speech and automatically adjust the volume of ambient sounds below dialog, music, or sound effects. Adjustments are keyframed so you can fine-tune your mix.
What's more, you can now re-order audio effects in the effects rack including copying and pasting effects and settings between audio tracks to improve your efficiency while refining your sound.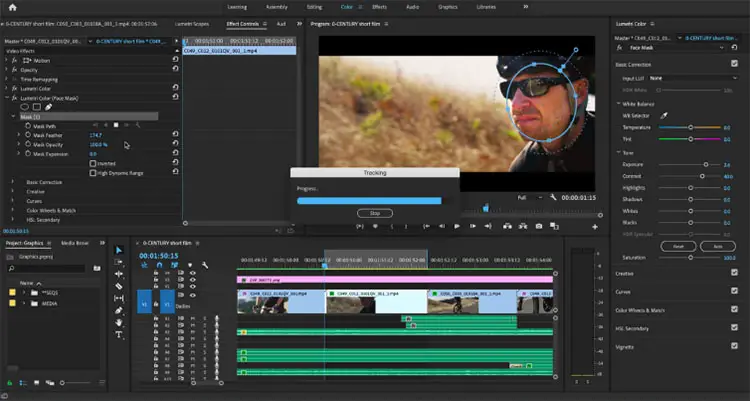 Mask Tracking is also significantly faster in the latest Premiere Pro CC, even at high resolutions, for more efficient Lumetri Color and effects workflows. Hardware encoding for H.264 and HEVC is improved for smoother playback. Metal acceleration improves playback for RED footage.
Better load-balancing for multiple GPUs, including eGPUs, provides faster rendering and exporting, especially with professional codecs, like Apple ProRes, RED, and others. A new System Compatibility Report utility checks for known issues, such as out-of-date graphics drivers to help ensure reliable performance.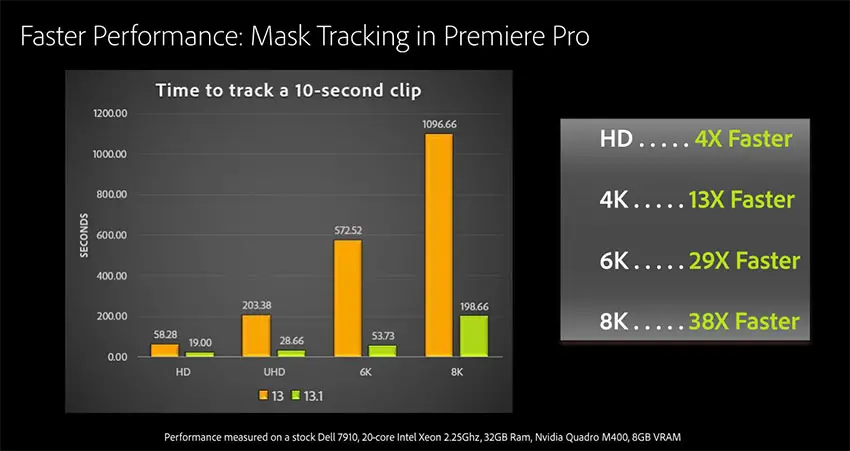 After Effects CC
The latest release adds new features for removing objects from video clips, a better way to create Expressions, and more. First introduced in Photoshop, Content-Aware Fill is now available to editors and visual effects artists working with After Effects allowing them to remove unwanted elements from video clips, such as production equipment, boom microphones or special effects wires that have inadvertently been included in a shot.
Powered by Adobe Sensei, Content-Aware Fill replaces masked objects, shadows, or blemishes with backgrounds generated from adjacent pixels and other frames in the clip.
Writing Expressions just got easier and more colorful with the Expressions Editor, a full-featured code editor built into After Effects. Designed to help you code faster and more accurately, the Expressions Editor allows you to navigate your code visually with syntax highlighting, line numbers, matching brace highlighting and code folding.
Users can customize their workflow with a wide range of color themes to show the structure of the code in question. They can also locate issues faster with in-line error messages to find the solution more easily and conveniently. Building on the Expressions engine, added in the Fall 2018 release, the Expressions Editor provides an improved workflow for creating compelling animations.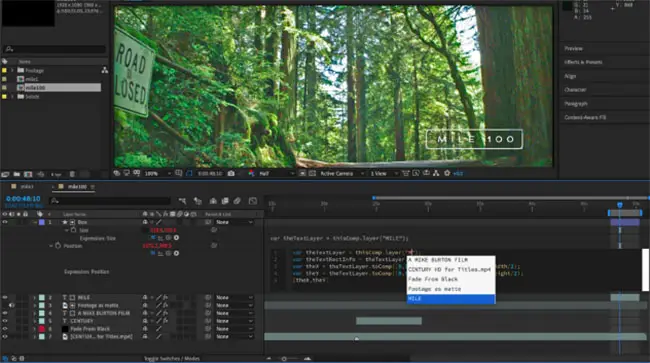 The latest iteration of After Effect CC also provides accelerated rendering when applying GPU effects such as Roughen Edges and Change Color. Both effects now support 16- and 32-bit color. Users can sync missing typefaces automatically with new automatic syncing for Adobe Fonts in After Effects and for Motion Graphics templates.
Complex Team Projects now load faster and offer improved workflows between Premiere Pro and After Effects. Content creators and visual artists can work more efficiently with RED RAW footage with new deBayering support for Metal on macOS. Support for Sony VENICE v3 has been added as well.
After Effects also offers improved hardware decoding for H.264 and HEVC, providing smoother playback performance. Ensuring visual consistency in designs across creative teams has never been easier with the option to save Guide Templates in After Effects and share them with editors for use in Premiere Pro CC.
Adobe Audition CC
The industry-leading DAW now offers full Punch and Roll recording, Auto-Ducking for Ambience, and workflow refinements that improve efficiency. Users can also move clips between tracks without taking their hands from the keyboard with useful new shortcuts.
A new Zoom to Selected Clips command gives you a flexible option for instantly zooming in or out to see your whole selection. while manual keyframe value editing ensures your adjustments are exactly what you intend.
Adobe Character Animator
With growing numbers of animation studios and productions embracing Character Animator, this release of Character Animator is tightly focused on streamlining the toolset, including better Puppet rigging and tagging, improved jaw movement and lip-synching, a new Twitch extension, and more.
You can now shape the gestures and movements that give personality to your characters more easily. With better Puppet rigging you can also apply behaviors, tag layers, and search through puppet rigs, allowing you to accomplish more within your established workflows.
You can now apply attributes to single layers or any group of layers, simplifying the setup for complex puppets that allow for more nuanced performances. A new search filter makes it easy to locate layers and behaviors for improved efficiency.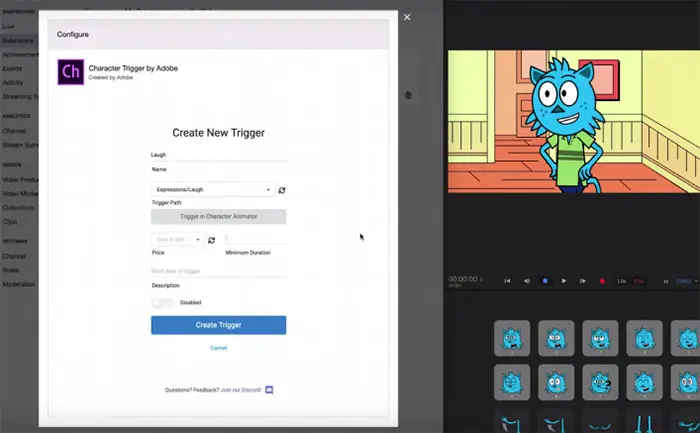 Further, you can use the new Character Trigger extension for Twitch to enhance livestreaming performances by allowing viewers to trigger on-the-fly costume changes, impromptu dance moves, or signature gestures and poses.
Surprise and delight your viewers, while adding interactivity and monetization to your Twitch channel. Characterizer now offers a faster UI, three new styles, and better final results, thanks to the power of Adobe Sensei.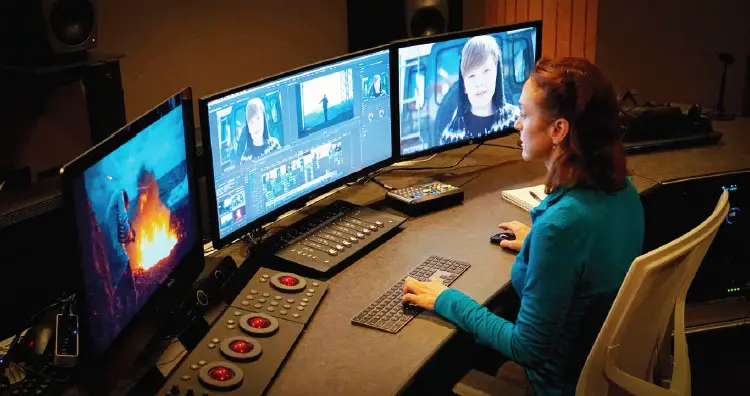 The latest Creative Cloud updates are already available to download to all Adobe customers via CC subscription plans.
[source: Adobe]
Claim your copy of DAVINCI RESOLVE - SIMPLIFIED COURSE with 50% off! Get Instant Access!