For NAB 2019, Fujifilm have announced a new cinema zoom range – the Fujinon "Premista" Series, which have been designed for large-format sensors and 4K+ high resolutions. At the moment, two large format cine zooms in the range have been announced – the Premista 28-100m T2.9 and Premista 80-250mm T2.9-3.5.
The Fujinon Premista will make its debut at ASC Clubhouse the first week of April and will also be shown at NAB Show in Las Vegas, April 8-10 at Fujifilm/FUJINON booth C7225.
The FUJINON Premista 28-100mm T2.9 will be the first of the two to ship this Summer, followed by the launch of the FUJINON Premista 80-250mm T2.9-3.5 before the end of 2019. Together, the lenses will cover the most frequently-used focal lengths from 28mm to 250mm.
The Premista 28-100mm features a constant T2.9 speed across the entire zoom range, while the longer Premista 80-250mm has a constant T2.9 speed from 80-200mm, before gradually ramping less than a full stop to T3.5 between 201-250mm.
Both Premista zooms have a minimum image circle of 46.3mm which provides full frame sensor coverage, so those of you thinking of picking up an Alexa Mini LF or a Sony VENICE are covered.
Fujinon Premista Highlights
Premista 28-100mm T2.9
Premista 80-250mm T2.9-3.5
Large format sensor coverage

image circle that exceeds 46.3mm in diameter

Lightweight and durable construction:

28-100mm is 28% shorter and 46% lighter than Premier HK18-85

Both zoom lenses are colour matched
Matched Focus, Iris, Zoom ring locations
0.8M gear pitch for standard follow focus accessories
13-blade iris / T2.9 constant for 28-100mm
280 degree focus travel for more precision
Fluorescent paint on all indexes, easily readable in the dark
Focus scale ring can be switched between feet or metric scale
Available Summer 2019/Late 2019
Price: £30,000 for 28-100mm / 80-250mm TBD
Fujinon Premista Technical Specifications:
Model Name
28-100mm T2.9
80-250mm T2.9-3.5
Focal Length
28-100mm
80-250mm
Aperture
T2.9
T2.9 (80-200mm)
/ T3.5 (250mm)
Lens Mount
PL
Image Circle
46.3mm
Close Focus
0.8m / 2ft 7in
1.5m / 4ft 11in
Angle of View (H x V)

40.96mm x 21.60mm (1:1.90)

28mm: 72.4° x 42.2°

100mm: 23.1° x 12.3°

80mm: 28.7° x 15.4°

250mm: 9.4° x 4.9°

Angle of View (H x V)

36mm x 24mm (1:1.50)

28mm: 65.5° x 46.4°

100mm: 20.4° x 13.7°

80mm: 25.4° x 17.1°

250mm: 8.2° x 5.5°

Angle of View (H x V)

27.45mm x 15.44mm (1:1.78)

28mm: 52.2° x 30.8°

100mm: 15.6° x 8.8°

80mm: 19.5° x 11.0°

250mm: 6.3° x 3.5°

Focus Rotation
280°
Zoom Rotation
120°
Iris Rotation
48°
Matched Focus / Zoom / Iris 
Yes
Iris Blades
13
Front Diameter
114mm
Length (approx.)
255mm / 10in
Weight (approx.)
3.8kg / 8.4lbs.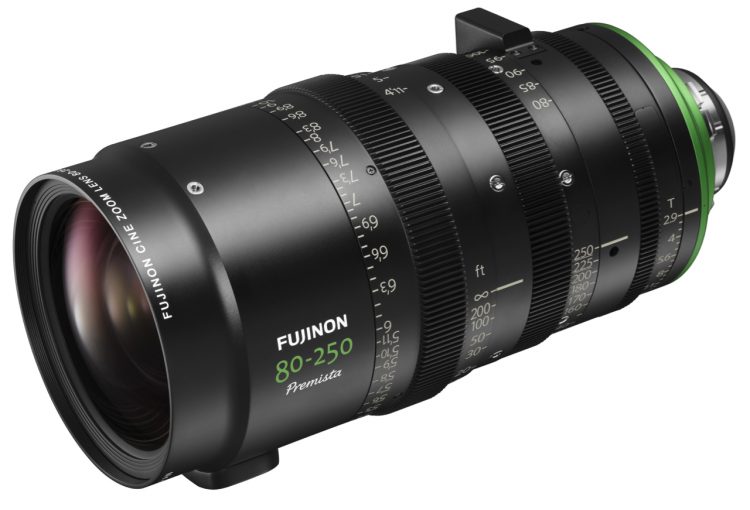 The Fujinon Premista 28-100mm will have a list price of £30,000 GBP at launch and will be available from August 2019. The Premista 80-250mm will have its price confirmed closer to release and will be available before the end of 2109.
For more details visit Fujifilm.
Disclaimer: As an Amazon Associate partner and participant in B&H and Adorama Affiliate programmes, we earn a small comission from each purchase made through the affiliate links listed above at no additional cost to you.
Claim your copy of DAVINCI RESOLVE - SIMPLIFIED COURSE with 50% off! Get Instant Access!