Sick of new camera and lenses announcements lately? Yeah, me too. But don't worry there will be more. However, the good news is NAB is not just about the flashy camera/lens announcements, and when it comes to high-end pro audio, Sound Devices know a thing or two about making workhorse gear for pro sound mixers and recordists.
Just before the doors open for NAB 2019, Sound Devices announce their highly-anticipated premium portable mixer/recorder Scorpio. The Sound Device Scorpio is a beast of machine – it's a 32 channel, 36 track portable mixer-recorder designed for state-of-the-art production sound. This flagship mixer-recorder elevates the company's existing product line, which includes the popular 6-Series mixer/recorders and the best-in-class A10 Digital Wireless System.
According to Sound Devices, their new Scorpio is the most powerful product ever designed by them, and the ideal tool for the new era of production sound.
Sound Devices Scorpio Features
16 Low-Noise, High-Quality Mic/Line Ins
32 I/O over Dante, AES I/O
Per-Channel EQ, HPF, Limiting & More
48V Phantom Power
XLR, TA5 & TA3 Inputs / 12 Analog Outs
12 Busses, Fully Routable Matrix
Accurate Timecode Generator
Internal 256 GB SSD
Simultaneous Recording to SD Cards
Multiple Battery & Powering Options
Whether it's a commercial or narrative drama project, with its 16 mic/line preamplifiers, 32 channels of Dante in and out, AES in and out, 12 analog outputs and multiple headphone outputs, the Sound Devices Scorpio is well-suited for just about any type of production.
A fully-customizable routing matrix enables sound professionals to send any input to any channel, bus, or output. Up to 12 buses may be individually mixed. Due to its compact form factor, the Scorpio is equally at home over-the-shoulder or in a mobile rig.
Scorpio incorporates Sound Devices' most cutting-edge technology. An ultra-powerful engine comprised of three FPGA circuits and six ARM processors deliver the horsepower needed for the most complex tasks. FPGA-based audio processing with 64-bit data paths ensures the highest sound quality and reliability.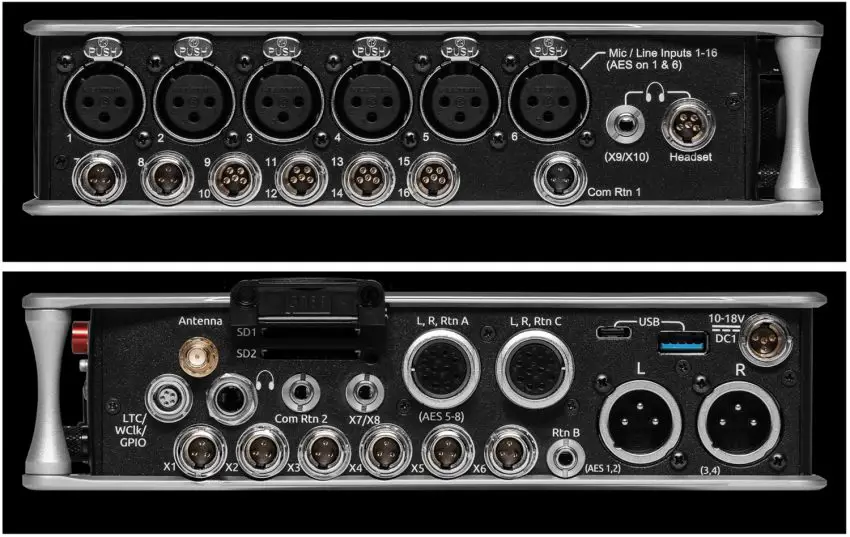 The Scorpio also features Sound Devices' latest and best in analog microphone preamplifier design. These preamps have the smoothest sound and lowest noise of any preamp in the company's 20-year history and include built-in analog limiters, high pass filters, delay, 3-band EQ and phantom power.
Just like the popular Sound Devices 788T, the new Scorpio has an internal SSD and adds the ability to simultaneously record to two SD cards for redundancy. On higher end productions, reliability redundancy and preserving audio/video data is of utmost importance since the production is usually burning through tens and hundreds of thousands of dollars per day; among other things, redundant recording options usually separates high end gear from mid-tier and low-end stuff.
For additional flexibility, sound professionals can send different files to their choice of media. The companion SD-Remote Android application allows for control of the Scorpio via a large display.

Great attention to detail has been paid to every aspect of the Scorpio's design. Most common menus are accessible with only one or two button presses, and many menu shortcuts can be achieved with only one hand.
Scorpio features a built-in dual L-Mount battery charger and may be powered with L-Mount batteries or via the TA4 DC inputs using smart batteries, NP-1 batteries, or in-line power supplies. The ultra-accurate, fully-featured timecode generator contains its own battery to hold timecode for up to four hours after power off.
The Sound Devices Scorpio will debut at NAB 2019 in Las Vegas next week, where attendees will be able to demo this powerful hardware in person. The Scorpio is available to pre-order from Sound Devices authorized resellers such as B&H for $8,995. First units are estimated to ship in the second quarter of 2019.
To learn more about the Sound Devices Scorpio visit: www.sounddevices.com/scorpio
Claim your copy of DAVINCI RESOLVE - SIMPLIFIED COURSE with 50% off! Get Instant Access!