Yep, after it leaked a couple of weeks ago, Zeiss just announced the 1.4/100 Otus and now it is time to max out that credit card you just paid off in January… Because with ultimate performance, comes a hefty price tag.
All jokes aside, when it comes to flagship image performance, Zeiss are not faffing about – the Otus family of lenses are as serious as a heart attack. With mind-numbing attention to detail and craftsmanship, jaw-dropping sharpness and detail, the manual lenses carrying the Otus logo may be just a handful, but their performance is legendary.
Yes, the Otus 100mm f/1.4 is a metal beast – it weighs over 3 lbs and has no autofocus or image stabilization whatsoever, but this is the ($$$) price you pay for top-tier image quality, if that's your thing. This is definitely one lens purchase you won't be telling your wife about anytime soon.
The new Zeiss Otus 100m f/1.4 is the fourth lens in the prestigious lineup, consisting also of the Otus 28mm, Otus 55, and Otus 85mm all at the super-fast f/1.4 maximum aperture.
ZEISS Otus 1.4/100 Features
Full-Frame 35mm coverage
Apochromat, Sonnar Lens Design

chromatic aberrations are corrected with elements of special glass with anomalous partial dispersion

No colour fringing
Corner-to-corner sharpness
"Medium Format" Look
Aspherical Lens Design

for consistent image and sharpness

Available in Canon EF or Nikon F mount
86mm filter front
Manual Focus lens
1.4 kgs/3.1 lbs
Price: Expected around $5,000 USD
Release: TBD
The new Otus 100mm f1.4 shares the same uncompromising performance with the rest of the Otus lenses; some even call them "baby" Master Primes when used to shoot moving images.
Although developed for 35mm full-frame cameras, the Zeiss Otus 1.4/100 gives you the quality and look of a medium-format system. Whether in the studio or on location, this lens stands out in every situation thanks to its high resolution and excellent sharpness – even at the maximum aperture of f/1.4.
The 100mm Otus "bokeh" monster has an apochromatic lens design with aspherical lenses and special glass prevents almost all conceivable aberrations. In addition, the high-quality coating keeps the contrast high, even when shooting against the light, and minimizes lens flare.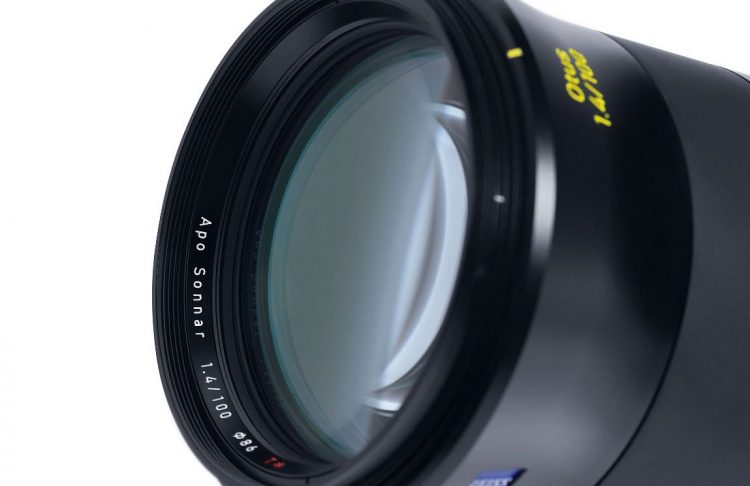 ZEISS Otus 1.4/100 Tech Specifications
Focal length: 100 mm
Aperture range: f/1.4 – f/16
Lens mounts:

Canon EF Mount (ZE)
Nikon F Mount (ZF.2)

Format compatibility: Full Frame 35mm
Focusing range: 1,0 m (39.4″) – ∞
Free working distance: 0,83 m (32.7″) – ∞
Angular field:

(diag. | horiz. | vert.) 24° / 20° / 14°

Image Circle: 43 mm (1.69″)
Coverage at close range (MOD):

206 x 309 mm (8.11 x 12.17″)

Image ratio at minimum object distance: 1:8.6
Lens elements | groups: 14 / 11
Flange focal distance:

ZE: 44 mm (1.73″) | ZF.2: 47 mm (1.83″)

Filter thread: 86mm
Rotation angle of focusing ring: 315 degrees
Diameter max:

ZE: 101 mm (3.96″)
ZF.2: 101 mm (3.96")

Diameter of focusing ring:

ZE: 90 mm (3.54″)
ZF.2: 90 mm (3.54″)

Length (with lens caps):

ZE: 152 mm (6.00″)
ZF.2: 150,1 mm (5.91″)

Length (without lens caps):

ZE: 129 mm (5.07″)
ZF.2: 127 mm (4.98″)

Weight:

ZE: 1405 g (3.10 lbs)
ZF.2: 1336 g (2.95 lbs)
Expect a price tag of around $5,000 USD at launch. For sample images and more info head over to Zeiss.
Claim your copy of DAVINCI RESOLVE - SIMPLIFIED COURSE with 50% off! Get Instant Access!