Not a drone, not a stabiliser, but a friggin' robot on wheels with a fully functional gel bead blaster! Whaaaat!? How cool is that?
At first, I thought this was a spoof, but apparently it's real. DJI just unveiled the DJI RoboMaster S1, an advanced educational rover robot for children and "tech enthusiasts of all ages".
DJI has been investing in educational technology for the past six years, but the launch of the RoboMaster S1 is their first official consumer-oriented ground-based robot that you can buy at launch for $499 in the US, China, and Japan.
According to DJI, their S1 was built to introduce new users to the fun and possibilities of robotic technology, with powerful brushless motors, an omni-directional 4WD chassis that can move in all directions, a high-precision 2-axis gimbal, and interactive modes for programming, play, and competition.
The RoboMaster S1 may not be targeting filmmakers (it has a tiny 1/4″ 5 megapixel CMOS sensor and is limited to 1080/30p), as its clearly designed for a different audience and has a different purpose, but from the looks of it, the S1 will surely end-up on a lot of grown up's wish lists.
The S1 looks like one hell of an educational tool for kids though as it combines doing actual science stuff like coding and math all in fun form factor.
The RoboMaster S1 means serious business tough and it's not just your average toy – the 'gel-and-laser-shooting 4-wheel-drive remote control car' has been designed to be tinkered with heavily; it can be assembled with designated and custom hardware, and allows for custom programming with Python or Scratch! This way you can beef up your "robo-rig" and go into competing with friends in multiple modes.
Despite being a highly advanced rover, the S1 comes with simple controls, a dedicated RoboMaster app, easily navigable menus, and a wealth of tutorials, making the S1 approachable to n00bs while offering advanced features to users already experienced in AI, engineering, and robotics.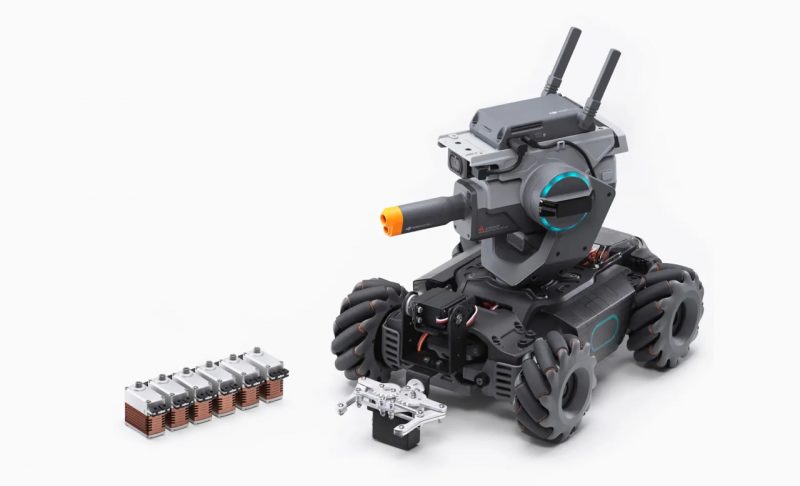 The S1 is equipped with 31 sensors to help map the world around it, including six on its intelligent body armor, which are used to detect hits. Atop the durable S1 frame is a first-person view (FPV) camera that sends a stabilized live feed from the S1 to the RoboMaster app.
It also features a specialized mechanical gimbal with an infrared and non-toxic gel bead Blaster, which automatically limits launching rate and angle to help ensure safety.
The S1 is modular with DJI parts and also includes six Pulse Width Modulation (PWM) control ports for advanced users to take advantage of third-party hardware.
The S1 has 6 intelligent recognition functions, including:
Line Follow: Create a fun and interactive course and map out the path desired for the S1. Program Line Follow through the RoboMaster app and the S1 will automatically follow the line.
Vision Marker Recognition: The S1 can recognise up to 44 Vision Markers, including numbers, letters, and special characters, which opens more potential for coding, combat, and training.
Follow Mode: Built into the RoboMaster app, the S1 can identify and follow a person selected in the S1's field of vision.
Clap Recognition: A built-in clap recognition module on the S1 can be programmed for unique responses based upon clap quantity.
Gesture Recognition: The S1 can be programmed to recognise an array of physical hand gestures similar to some DJI drones.
S1 Recognition: The S1 can recognise other S1 units and perform unique movements based on how it is programmed.
In China, DJI runs the super-popular and prestigious RoboMasters robotics competition, with a prize pool of over half a million USD, where students do battle with robots they built. And the S1 is more user-friendly and tamed consumer robot that has its roots in the competition.
The launch of the RoboMaster S1 marks DJI's first step into the robotics education field, supported with courses, educational materials, events, and hardware. DJI will continue to partner with schools, robotics clubs, organisations, and others to expand its presence in the field.
In August of 2019, DJI will also host the first RoboMaster S1 Challenge during the RoboMaster finals in Shenzhen, China.
DJI RoboMaster S1 Camera Specs:
FOV: 120°
Max Still Photo Resolution: 2560×1440
Max Video Resolution:

FHD: 1080/30fps
HD: 720/30fps

Max Video Bitrate: 16 Mbps
Photo Format: JPEG
Video Format: MP4
Sensor: 5 Megapixel CMOS 1/4-inch
Operating Temperature Range:

-10 to 40 °C (14 to 104 °F)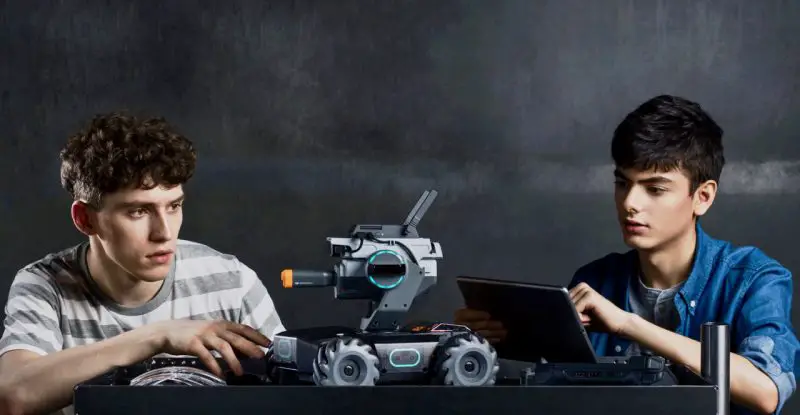 DJI RoboMaster S1 Features
Intelligent Controller – Using a powerful CPU, the Intelligent Controller can simultaneously support functions such as low-latency high-definition image transmission, AI computing, and programming development.

Blaster – uses LED lights to outline launch trajectories for its gel beads and infrared beams. Vivid sound effects and recoil action add to the experience for an immersive battle simulation. For added safety, the Blaster uses non-toxic gel bead projectiles and even features limitations on launching rate and angle.

2-Axis Mechanical Gimbal – The gimbal's yaw/pitch rotation range is 540° × 65°, offering an expansive field of view for the FPV camera. The built-in direct drive brushless motor works together with the IMU and advanced algorithms to allow gimbal movements with a vibration control accuracy within ±0.02°, delivering smooth image transmission and a precision control experience.

Mecanum Wheels – comes with four Mecanum wheels, each with 12 rollers that allow omnidirectional movement and precision control. Front axes suspension allows for added versatility during operation.

High-Performance Motor – a customised M3508I motor that features an integrated FOC ESC with an output torque of up to 250 mN•m. Linear Hall-effect sensors with advanced algorithms allow closed-loop control for added precision. Additional safety mechanisms deliver outstanding stability.

Intelligent Sensing Armor
Starting June 12, the DJI RoboMaster S1 will be available for purchase for the retail price of $499 US from store.dji.com and at flagship stores.
A "PlayMore Kit", which includes the dedicated gamepad, additional gel beads, one battery, and a gel bead container, will be available for purchase at a later date.
Pricing and availability for RoboMaster S1 accessories will be available at a later date. The RoboMaster S1 will offer exclusive education pricing to students and teachers.
To learn more about the new DJI RoboMaster S1 check out: https://www.dji.com/bg/robomaster-s1
Claim your copy of DAVINCI RESOLVE - SIMPLIFIED COURSE with 50% off! Get Instant Access!