One of the more infuriating things about the "modern" MacBook Pro laptops after 2015 is the lack of any other native port except for USB Type-C. Call it Thunderbolt 3 or USB-C, the fact that the good old HDMI port and the SD card slot, which I still have on my MacBook Pro 2015, are now extinct on the MBP product line, leaves users with no other option but to use USB-C dongles and adapters.
Pengo, hailing from Taiwan where they've been specialising in home computing connectivity, are on the ball with their latest USB Type-C docking station. The Pengo 8-in1 USB-C Dock offers a decent amount of connectivity such as HDMI with HDCP support for 4K/30p, DisplayPort 1.2 for your 4K monitor, Dual USB-A 3.1 Gen 1 ports, a built-in SD Card Reader, audio input and output, Ethernet connector,  Gigabit networking and USB-C connector that supports USB Power Delivery 3.0 charging up to 60Watts.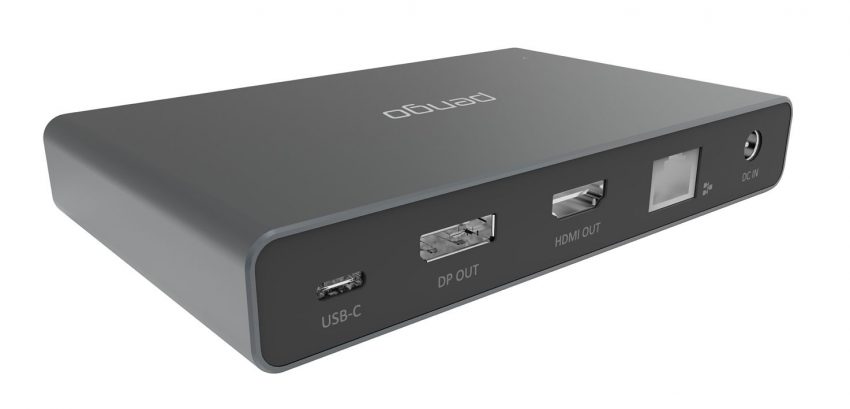 The Pengo USB C-Dock comes with a sleek aluminium housing and rubber feet pad which increases stability and prevents damage to your desk, or other surface it is placed on. The USB-C Dock uses a high-quality USB chip to deliver continuous high data-transfer rates, optimal connectivity, and a host of high-end features for today's mobile users.
A dedicated power adapter supplied with the USB-C Docking station guarantees stable power towards every port, even while charging a laptop using the USB Type-C port.
The back of the device features a USB Type-C port to connect to an ultra-portable laptop where it can deliver up to 60-Watt power through USB Power Delivery 3.0. It outputs 4K resolution, supports HDCP and provides a DisplayPort 1.2 port with a similar configuration. In addition, a Gigabit Ethernet port allows for high-speed connectivity to a local network.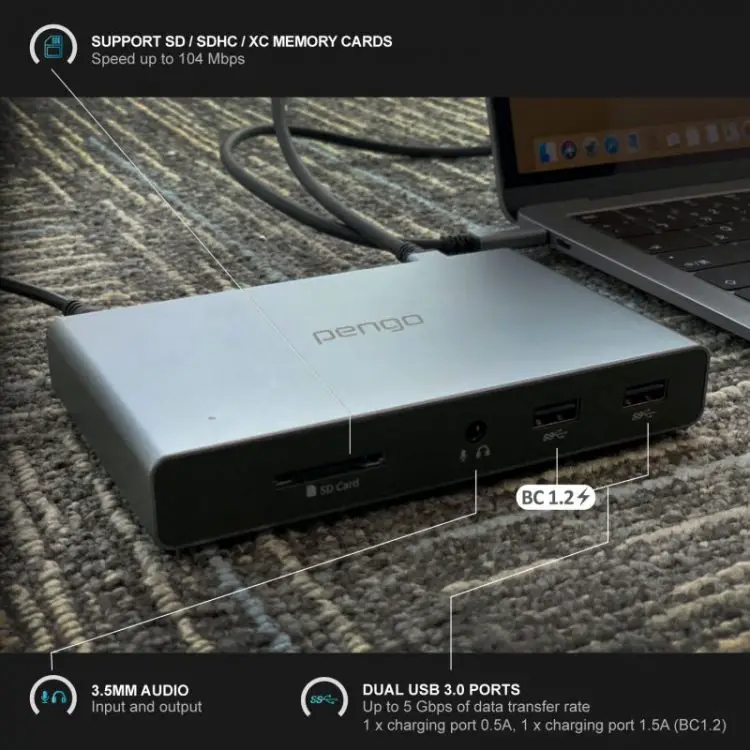 The Front of the USB-C Dock features legacy connectivity with SD card reader for high-speed SDHC/XC UHS-I cards. A combo headphone/microphone jack and dual USB 3.1 Gen1 Type-A ports (charging port 5V/900mA and charging port 2.1A (BC1.2 (5V/1.5A)) complement the rest of the front panel.
One of these ports also supports 1.5A Quick Charge for rapid charging of compatible devices. By using an external charger, the USB-C Dock provides ample power to all other devices connected to it, whether that is through USB Type-A or Type-C.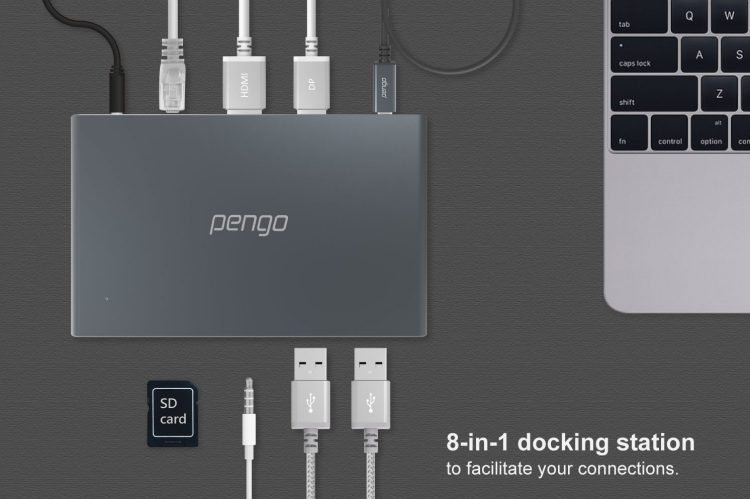 The USB-C Dock comes with bundled with a high-quality USB 3.1 Gen 2 Type-C cable, fully capable of delivering power as well as transferring audio, video, and network data.
Its external 70W power adapter can provide ample power to fully charge a laptop through USB Power Delivery while at the same time charge other connected devices with its USB 3.0 ports.
PC laptop users don't sweat it – the Pengo USB-C Dock is compatible with both Windows and Mac OS unlike many other products on the market right now. Read about the Pengo USB Type-C docking station here.
The Pengo USB-C Dock is now available in Titanium Gray for $149 on Amazon US.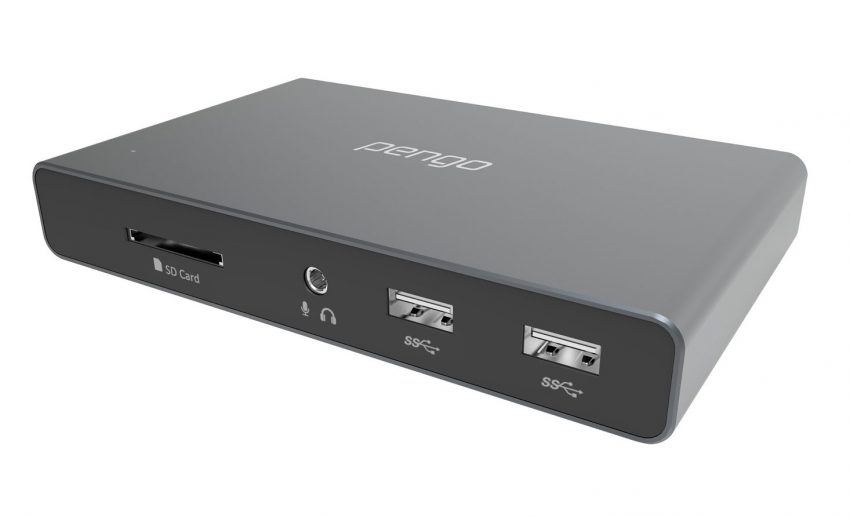 The USB-C docking station game is very saturated right now, with numerous affordable solutions from other Asian manufacturers and some more established players, so I'd be interested in seeing how Pengo will fair against the competition, as they appear to have a solid product, albeit a very new product. At the end of the day, the marketplace will device.
I am personally using a Belkin Thunderbolt 2 dock since I am still rocking a Thunderbolt 2 MacBook Pro 2015, which is considered ancient by today's standards, and as soon as I upgrade to the upcoming 16-inch MacBook Pro (hopefully coming this September) I'd be on the lookout for a USB-C dock.
What USB-C docking station are you using? Let me know in the comments below.
Claim your copy of DAVINCI RESOLVE - SIMPLIFIED COURSE with 50% off! Get Instant Access!