The latest trend and advancement in the world of long-lasting camera batteries is the shrinking size of power cells, while still retaining the same, if not even higher energy output. This allows battery manufacturers to make even more compact V-mount batteries, giving rise to the trend of the so-called "Micro" V-mount batteries.
Not that long ago, if you wanted a 150Wh V-mount battery, you'd pretty much had to attach the equivalent footprint and weight of a brick to the back of your camera. The "Micro" style V-mount batteries that have been released in the past year from companies like Hawk-Woods and IDX, among a handful of others, have been more and more sought after by camera professionals as these new batteries offer a tremendous power to size benefit.
The IDX iMicro-98 and iMicro-150 are examples of such, rated each respectively at 97Wh and 145Wh, the iMicro-98/150 have been designed for the working camera professional often on the move. The IDX micro batteries meet the passenger aircraft carry-on limit while remaining useful in many diverse applications. The 98Wh battery weighs just 1.21lbs, while the more powerful iMicro-150 (145Wh) is just 1.6lbs.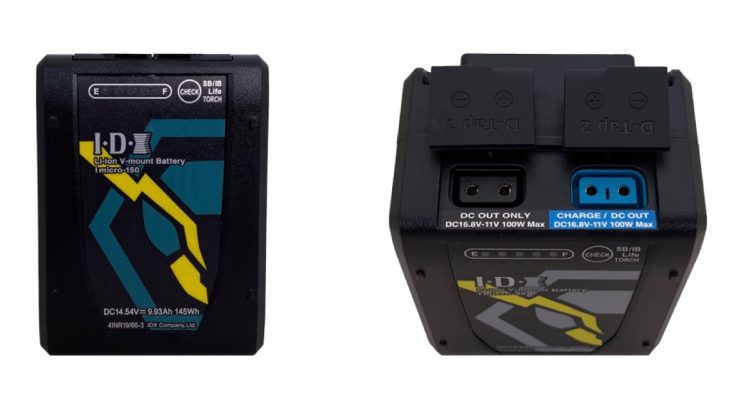 Their compact size make them very useful for gimbal applications and also for smaller mirrorless style cameras – as with the proper battery plate and dummy battery they can easily power something like a Sony A7 iii or a Blackmagic Pocket 6K for ages. small equipment and gimbal set ups.
The IDX iMicro V-mount batteries also includes 2x D-Tap outputs for powering accessories, with one of them being an Advanced D-Tap, meaning you can use it to charge the battery with the compact and affordable IDX VL-DT1 battery charger. The Imicro batteries from IDX also come with a handy 5-step LED power indicator, so you know how much juice you have left in the battery.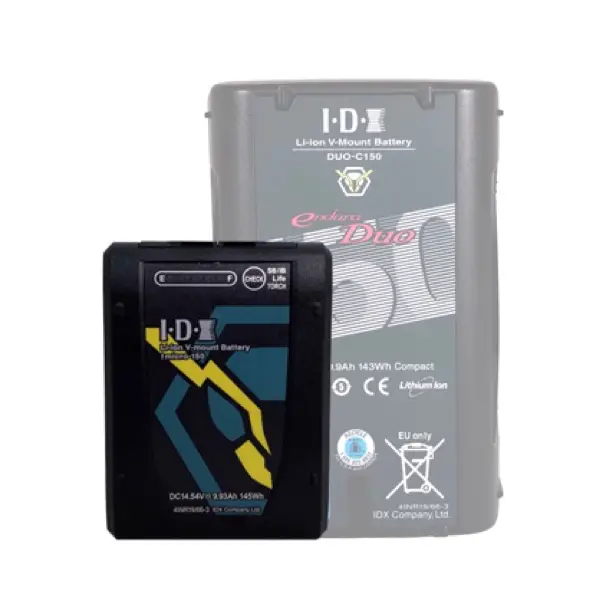 Both batteries offer all sorts of protection from over charging, over discharging, over current, and thermal protection; and they even come with a little torch light on the back where the V-mount mechanism is, which can be quite useful when swapping batteries in a dark environment.
IDX Imicro-98 and Imicro-150 V-mount Features/Specs
97Wh and 145W capacities (iMicro-98/iMicro-150)
Meets passenger aircraft travel regulations
Capable of handling up to 14A loads
1x 100W D-Tap Advanced Output (unregulated)

compatible with VL-DT1 D-Tap Charger

1x 100W D-Tap Output (unregulated)
5 Power Indicator LEDs (displaying 10% increments)
Battery circuit protection

Over charge, over discharge, over current protection
protects exposure to high temperatures

Uses highest grade Lithium Ion cells
11V auto cut-off prevents over-discharging (while load is applied)
Fully compatible with all ENDURA V-Mount Battery chargers and accessories.
Environmentally friendly and recyclable
Pre-order: 
The IDX iMicro batteries are priced at $299 for the 98Wh version, and $395 for the 145Wh capacity. Pre-order links are available above, and to learn more including full technical specs head over to IDX here.
Disclaimer: As an Amazon Associate partner and participant in B&H and Adorama Affiliate programmes, we earn a small comission from each purchase made through the affiliate links listed above at no additional cost to you.
Claim your copy of DAVINCI RESOLVE - SIMPLIFIED COURSE with 50% off! Get Instant Access!