Well, that's one of those ambiguous questions that will almost certainly spur a rigorous debate every time you ask any of your fellow filmmakers which one of those counterparts they would pick. Hence, making a choice between the two doesn't seem to be simple nor straightforward by any means.
This is where The Everyday Dad comes in with his insightful video that should help you make up your mind more easily and pick a favorite based on the pros and cons each camera brings to the table. So, without further ado, let's dive right into the comparison, shall we?
Many video shooters are still convinced that the Panasonic S1H is simply the upgrade version of the ubiquitous GH5. Even though this could be a viable statement to a certain degree, both camera systems are quite different in many ways than one might initially think.
For instance, the recently released S1H is a fully-fledged video-oriented mirrorless camera with a 24.2MP Full-Frame CMOS sensor that's capable of shooting 10-bit 4:2:2 6K24p video internally, whereas the GH5 comes with a much smaller Micro 4/3 20.3MP sensor that's limited to internal 10-bit 4:2:2 4K recording at 24/30p.
Furthermore, unlike the GH5, the color science integrated into the S1H is inherited from the professional camcorder lineup of Panasonic which instantly puts the full-frame beast in a different league when compared to its little sibling. You should also take into consideration the Dual ISO capabilities of the S1H, especially if you are a low-light shooter.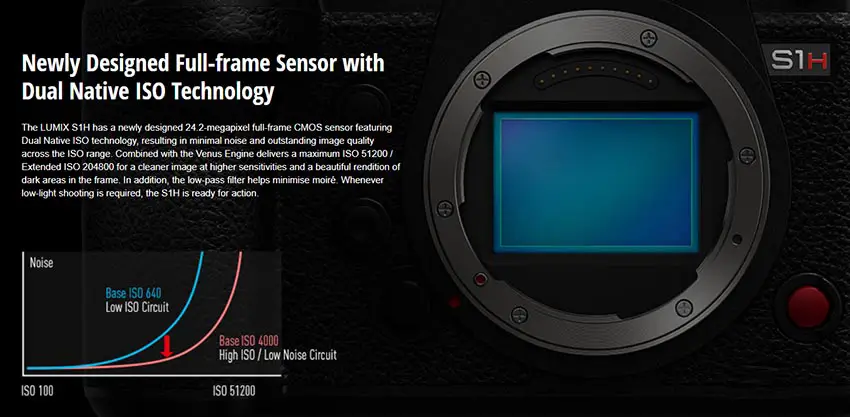 It's also worth mentioning that the S1H is the first approved Netflix hybrid camera which seems to be a pretty big deal for those content creators looking to get their project on one of the most popular and quickly growing video streaming platforms in the world.
All in all, the Lumix S1H does everything that GH5 can do, plus much more. As the Everyday Dad points out, the former matches and exceeds in recording specs, color science, image stabilization, autofocus capabilities, low light performance, battery life, and the list goes on.
But, in return, the full-frame behemoth costs three times more and for a good reason. You should also keep in mind that the lens options for the S1H are limited in many ways, not to mention that they are much more expensive too.
The Panasonic GH5, on the other hand, gives you access to a more robust and established lineup of native lenses from both Panasonic and Olympus. Plus, you can adapt virtually any lens on the camera without much hassle due to the smaller sensor size and shorter flange distance of the Micro 4/3 mount.
Apparently, the Panasonic S1H is the more expensive camera which combined with the higher price tag of the third-party accessories and native full-frame lenses available out there puts it in a challenging position for the average online content creator.
Of course, there are many other differences covered in greater detail by the Everyday Dad, so I highly recommend to watch the full video, if you want to make better judgments and a more informed decision.
Meanwhile, let us know which one of the two camera systems you prefer based on your own experience and creative needs by leaving a comment below.
[source: The Everyday Dad]
Order Links:
Panasonic Lumix DC-S1H Mirrorless Digital Camera (B&H, Amazon)
Panasonic Lumix DC-GH5 Mirrorless Micro Four Thirds Digital Camera (B&H, Amazon)
Disclaimer: As an Amazon Associate partner and participant in B&H and Adorama Affiliate programmes, we earn a small comission from each purchase made through the affiliate links listed above at no additional cost to you.
Claim your copy of DAVINCI RESOLVE - SIMPLIFIED COURSE with 50% off! Get Instant Access!