Innovative camera maker Insta360 has just announced the Insta360 ONE R, a versatile action camera with unique interchangeable-lens design that enables 360-degree capture, standard 4K wide-angle capture, and use of a groundbreaking 5.3K 1-inch sensor all with a single device.
The just-announced action cam sports a compact, rugged body with dual-lens design backed by Insta360's signature FlowState stabilization. The unit offers three main shooting modes – the Dual-Lens 360, 4K Wide-Angle, and 1-Inch Wide Angle Mod.
The Dual-Lens 360 Mod supports 5.7K capture on two lenses that cover every direction at once. It enables a real-time 360-degree preview on ONE R's touchscreen. The 4K Wide Angle Mod, on the other hand,  allows users to capture 4K video up to 60fps and supports up to 8x slow-mo.
Last but not least, the 1-Inch Wide Angle Mod uses a best-in-class 1-inch sensor to capture high-res 5.3K video and 19MP photos even in the most challenging lighting conditions. Additionally, the ONE R also provides some decent low-light capabilities along with an automatic de-noising mode that preserves detail when shooting on those specific occasions.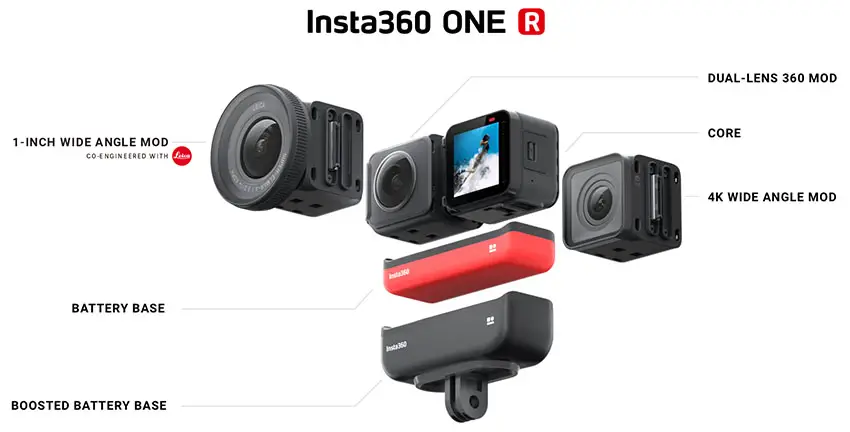 Due to the reversible design of the camera, users can flip the touchscreen from back to front in a snap. Furthermore, the ONE R uses a fully upgraded FlowState stabilization algorithm to achieve gimbal-like stabilization whether you're shooting in 360 or with a standard wide-angle lens. The Insta360 ONE R is IPX8 waterproof to depths of 5 meters (16.4 feet) straight out of the box. For those who want to go deeper, a Dive Case enables descents of up to 60 meters (197 feet).
Regarding audio, the modular action camera comes equipped with two onboard mics and an automatic wind-reduction algorithm that achieves excellent sound straight off the camera. Optionally, users can take advantage of the available USB Type-C port and top-mounted Accessory Shoe for easy third-party 3.5mm mic connection.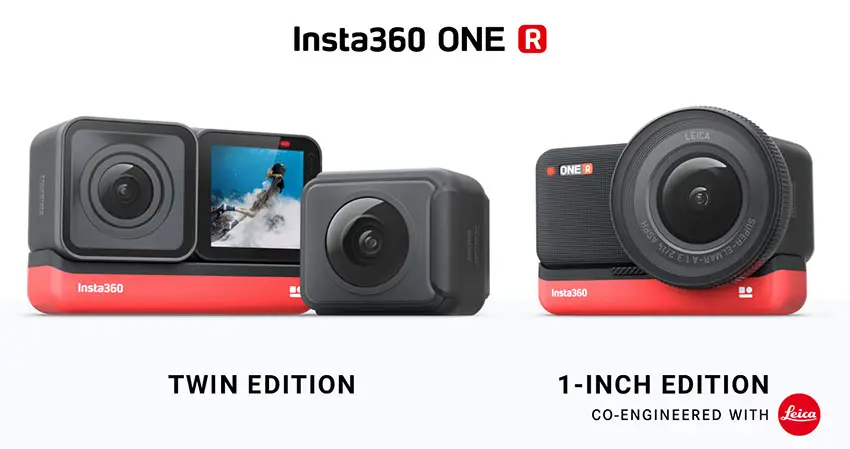 Other than that, the proprietary ONE R app comes with a range of new editing features designed to help creators take advantage of all ONE R capabilities.
The TimeShift hyperlapse effect, for instance, can now be completed with a couple of taps, whereas the new pose-detection algorithm lets you instantly identify and extract every frame of a clip in which there's a similar posture. ONE R app's Auto Frame feature, on the other hand, helps you quickly narrow down the shots worth considering and does the reframing for you.
You can also take advantage of the FlashCut – the ONE R app's content-aware editing algorithm. In short, it can filter and combine 360-degree or standard footage for you.
The ONE R comes in a range of prepackaged editions that give creators everything they need to get started with some of the most powerful combinations of Mods. You can choose between Insta360 ONE R Twin Edition featuring the Dual-Lens 360 Mod and 4K Wide Angle Mod in one convenient package selling for $479.99.
Insta360 ONE R 1-Inch Edition comes standard with the premium 1-Inch Wide Angle Mod retailing for $549.99 whereas the Insta360 ONE R 4K Edition offers the versatile 4K Wide Angle Mod selling for $299.99. For more information and full specs, head over to Insta360 official website here.
[source: Insta360]
B&H Pre-Order Links:
Claim your copy of DAVINCI RESOLVE - SIMPLIFIED COURSE with 50% off! Get Instant Access!