Adobe has just announced that the brand new Productions feature set is now available in Premiere Pro 2020. Just as a reminder, Productions provides a flexible and highly scalable framework for organizing projects, sharing assets between them, and keeping everything streamlined, whether you're working on your own or collaborating with a team.
Additionally, the company is also extending the availability of Adobe's Team Projects video collaboration capabilities to Premiere Pro and After Effects users with a Creative Cloud for Individual license until August 17, 2020 at no additional cost.

Managing multi-project workflows with Productions
When you have large or complex workflows, Productions allows you to divide them into smaller pieces, based on the existing Premiere Pro project format. Productions connects the projects, making them into components of the larger workflow and enabling a variety of use cases. For example, an editorial team working on a film can use Productions to organize their workflow around reels and scenes.
Episodic shows can be grouped by season, so it's easy to access other shows to retrieve things like title sequences or audio elements. Agencies can allocate a Production to each client, so they can quickly reference and retrieve assets from existing projects.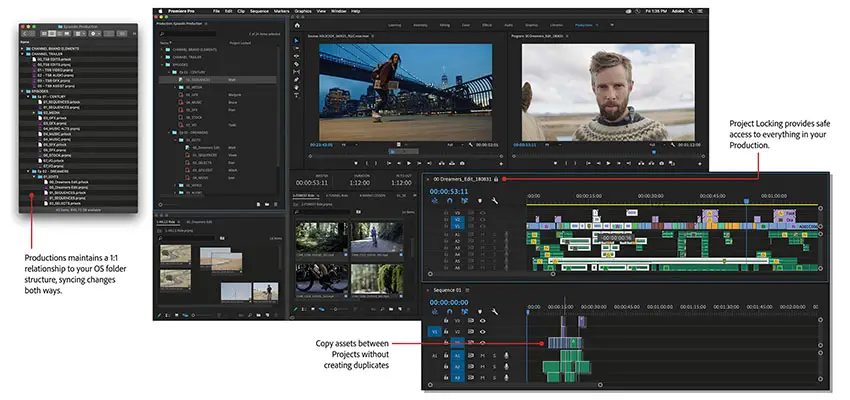 Organized and synchronized
Media referencing across projects means you can reuse assets within your production without creating duplicates. This helps you keep individual projects light and fast.
The new Production panel in Premiere Pro provides a command center for managing multi-project workflows. Any projects you add to the Productions folder become part of the production. Whether you are working on macOS or Windows, any changes you make on disk are reflected in Premiere Pro. All tweaks in Premiere Pro are applied on disk. Productions keeps everything in sync.
Designed for collaboration
Using shared local storage, multiple editors can work on different projects in the same production. Project Locking ensures that no one overwrites your work: your colleagues can still access your project and copy content from it, but they can't make changes until you've completed your edit.
All projects in a Production share the same settings, including scratch disks. This means that preview files rendered by one editor can be available for all editors who use that project, ensuring smooth playback and time-saving for the whole team.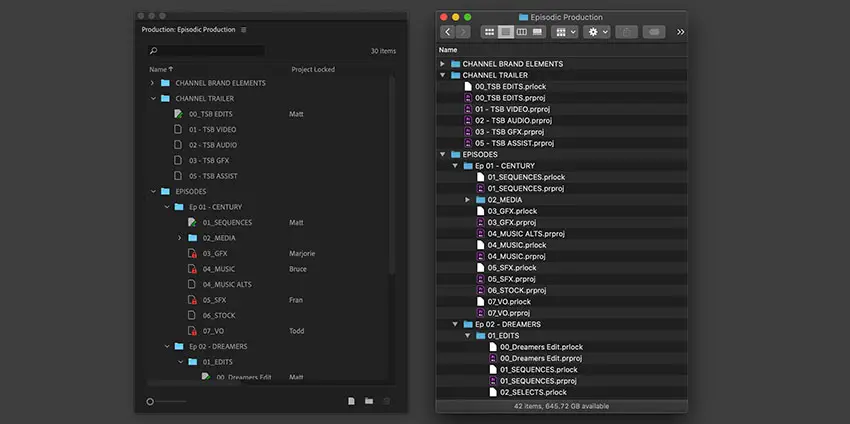 The Production panel gives you a bird's eye view of all your projects and shows you who is working on what so you and your team can track your progress.
Security: you control your media
With Productions, you have full control of your content. Your projects and assets can live entirely on your local storage. Nothing is on the cloud unless you put it there. If needed, you can do all your work without an internet connection.
A Note about Productions vs. Team Projects
Productions is designed for collaborators working on shared local storage. Team Projects, on the other hand, is built for remote collaboration. Assets can be stored locally with individual users while project files are securely stored in Creative Cloud. The two toolsets are distinct and currently cannot be combined.
Productions is part of Premiere Pro and is included with all licenses. Team Projects is part of Team and Enterprise licenses for Premiere Pro and After Effects. In order to support users working from home due to COVID-19, Adobe is making Team Projects available to all users from April 14 through August 17, 2020.
To access the Team Projects collaboration capabilities as well as the brand new Productions feature set, you'll need the latest versions of Premiere Pro CC and After Effects.
[source: Adobe]
Disclaimer: As an Amazon Associate partner and participant in B&H and Adorama Affiliate programmes, we earn a small comission from each purchase made through the affiliate links listed above at no additional cost to you.
Claim your copy of DAVINCI RESOLVE - SIMPLIFIED COURSE with 50% off! Get Instant Access!