French filmmaker Julien Widmer shares his insights on a BTS story of how he shot one of the latest McDonald's adverts for their Wrap the World commercials. The ads are done as FPV shoots, taking viewers through a rollercoaster trip through each of the countries the wraps take inspiration from.
Julien's was for India. He filmed the commercial using a BMPCC 4K camera in conjunction with his innovative 'helmet cam' which he built a decade ago from an American Football helmet. First and foremost, let's take a look at the ad itself.
The advertising brief from TBWA Paris for McDonald's 'Wrap the World' limited edition was very clear: transport the audience to each of the countries that the range takes its inspiration.
For the commercial promoting the McWrap Indian Veggie, Julien Widmer, Director & Director of Photography of the film, in collaboration with Parisian production house Badass Films, created an immersive, high-speed first-person view (FPV) trip, shot with the Blackmagic Pocket Cinema Camera 4K and an innovative helmet rig.
Julien Widmer takes us behind the scenes of the shoot. Here are his thoughts on the creative process and his overall experience with the Pocket 4K.
Can you tell us how you got involved?
My friend Blaise Izard, producer and co-owner at Badass Films, called me to make a joint pitch for the next "Wrap the World » TVC, for the McWrap Indian Veggie commercial. We had already shot FPV films together in the past, and I had some nice experience of shooting all over India with great crew contacts there.
We loved the script from TBWA Paris. There were some great ideas and it was very inspiring for me to challenge it with new scenes and suggest some creative improvements to bring my vision to the series. From Paris to India, there was a great collaborative effort to propose the best solution.
Tell us more about how you handled the first person view?
I've always preferred to shoot a 'real' FPV with a camera mounted on the head, where the operator takes the main actor role. It produces more authentic movement and dynamics, than trying to recreate the effect with an operator and actor separately. If I fit with the character, I operate myself, to get exactly what I have in mind.
A decade ago, at the early beginning of the DSLR era, for my first collaboration with Blaise, we had a FPV project to shoot, where I decided to build a rig that could support a DSLR. I wanted something strong, lightweight and that work in hot weather conditions, so I designed it around an American football helmet.
This 'DIY Helmet Rig', one of the first seen for DSLR cameras found fame online with its unique look. It remained a faithful partner on many shoots. When Blaise announced we had won the Indian shoot, he naturally told me: Time to put your Miami Dolphins helmet, mate!
Why did you decide on the Blackmagic Pocket Cinema Camera 4K and how did it fit with the helmet?
A FPV shoot requires specific planning. The camera is supported on your neck all day long. You can't cheat with light and it's better to work with a small crew, so you can move the camera easily to get a nice immersive feeling. As always for FPV, I like to shoot with the best camera available that can mix high quality picture, versatility and a light weight body.
I needed to have a sensor with a good dynamic range to capture the natural light. I also wanted to shoot RAW to capture all the colours of India throughout our fast movements. I thought there was a good chance the BMPCC4K , this new lightweight champion with its internal 5-inch screen could be the perfect match for my helmet rig. I had the chance to test it, checked the files of the new Blackmagic RAW, and loved the result.
Could you tell me more about the setup and accessories around your Helmet?
Being fast and efficient in the crazy heat of India is crucial; in locations like Rajasthan it feels like the sun is literally burning you. You have to direct and operate without latency. For this shoot, with a lot of travel, we had a small crew configuration : with just one camera assistant, I needed my FPV setup to be ready to go at a moment's notice.
During prep, when building my setup, I wanted to keep it minimal. You always think : "Is adding this worth the extra weight? Can I support it during the whole week of shooting?".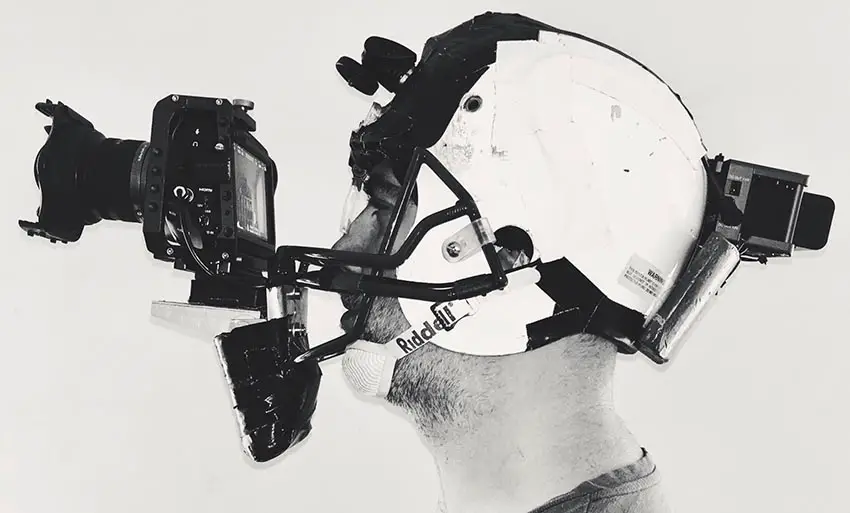 To keep your neck strong, you have to counterbalance the weight of the camera. This is a good place to add some accessories in the back, for example an external battery that gives you more autonomy and the added ability to power some lights, if needed.
To get the most authentic FPV movements, I wanted the sensor as close as possible to my eyes, but there it was impossible to see the internal screen in focus. To avoid an extra screen, I designed a pair of glasses to bring the screen into focus, and also gave me the look of an X-Wing pilot."
Can you tell us more about the shoot – what were the biggest challenges?
On the shoot, our biggest challenge was probably managing time and travel.
To reflect the diversity of India meant many different locations, so our travel schedule was hectic – taking us in few days from Delhi to the Himalayas, Agra, Jaipur, Jodhpur and down to Kerala. Then, timing for each of the scenes had to be incredibly dynamic; constantly coordinating transitions, fast movements and very clean interactions with people and the Wrap, on super short period of time, for all these 2 second shots.
Heat was also a challenge. I remember that for the Holi Festival shot, It was more than 45° in Jodhpur, and I needed to operate with my helmet inside a plastic bag (don't do this at home) to protect the whole camera set up from the colour pigments being thrown around. It was fun and despite the heat, the camera performed well.
Preparation is really the key on this kind of road trip shooting. We had the chance to team up with a great crew and a confident agency, so we enjoyed the shoot – it was an unforgettable trip.
Tell us more about the edit and post process
Back in France, I edited the film with DaVinci Resolve. I made the switch two years ago, but this was my first project edited with the new Blackmagic RAW. Eliminating the need to convert the rushes saved a lot of time and I loved the fluidity of the workflow by staying in Resolve.
Working on your original file from edit to final grade gives far more control over the post process, and no time is wasted. In the fast moving world of commercial content production, the way Resolve can maximise time for creativity is a game changer.
[source: Blackmagic Design]
Order Links:
Blackmagic Design Pocket Cinema Camera 4K (B&H, Amazon)
Claim your copy of DAVINCI RESOLVE - SIMPLIFIED COURSE with 50% off! Get Instant Access!