Yeap, we have another great news for you! Since the Complete Video Creators Bundle 2020 is so popular this year, the 5DayDeal system was severely inundated with purchasers.
The team doesn't want anyone to miss out, so they have decided to extend the 96% off sale for 8 more hours. Long story short, if you still haven't got this exclusive package providing a plethora of video making resources totaling over $2,700, this is your very last chance! The 5DayDeal Complete Video Creators Bundle sells for just $89 while bringing a ton of value for the price.
Again, here's a brief summary of all the products included:
Complete Movie Making Bundle Pack by FilmRiot
Seamless Video Pro by Parker Walbeck
Learning To Light by Shane Hurlbut, ASC
High-End Stock Music Bundle by Pleasant Pictures Music Club
Introduction to Video by Fstoppers
Music Packs by  Andyax .com
QuickStart Guide by filmeditingpro .com
Final Cut Pro X Masterclass by Marcos Rocha
Videos That Convert by Clarke Scott
Video Editing with DaVinci Resolve + Twitter For Filmmakers by Indie Film Hustle
Screenwriting and Story Development by Indie Film School
Post Audio And Sound Design by Story & Heart
Grow (How to Grow your YouTube Channel) by Serge Ramelli
Film Overlays Mega Pack by Smash Workshop
Acting Cinema Course by Tomorrow's Filmmakers
Rocket Rooster Filmmakers Essentials by Rocket Rooster
HD MP4 – Stock Footage Pac by FILMPAC .com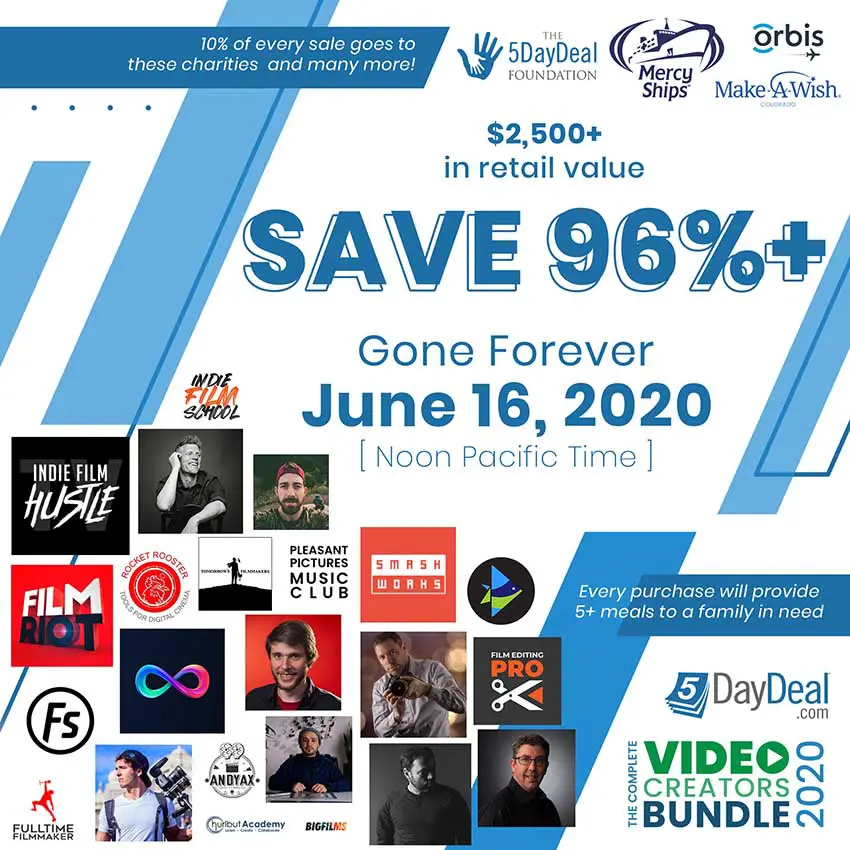 After 8 PM PST later today, this exclusive offering will be gone for good. Don't miss the unique opportunity to grab this year's most popular video making bundle and save thousands of cash right off the bat!
Claim your copy of DAVINCI RESOLVE 16 - SIMPLIFIED COURSE with 50% off! Get Instant Access!