Venus Optics just unveiled three new ultra-wide cine lenses including the Laowa 7.5mm T2.1 Cine for Micro Four Thirds, Laowa 9mm T2.9 Zero-D Cine for Super 35 and the Laowa 15mm T2.1 Zero-D Cine Lens for full-frame cameras.
All three lenses feature the same optical design and premium optical performance as their popular stills counterparts. They also provide an ultra-wide angle of view and fast aperture for optimal low light performance and more flexibility in terms of depth of field control.
On top of that, both the 9mm and 15mm models feature the distinguishing Laowa close-to-zero distortion (Zero-D) design that significantly reduces the optical distortion across the entire frame.
All three wide-angle prime lenses are extremely compact and lightweight. Both 7.5mm and 9mm weigh close to 0.5 lbs (226g), whereas the 15mm sibling is a little bit heavier due to the larger coverage topping at 1.2 lbs (540g).
Unlike many of the wide-angle cine lenses on the market, the new Laowa offerings are extremely handy for run-and-gun productions, shooting with gimbals, in-car shots, indoor scenes, etc.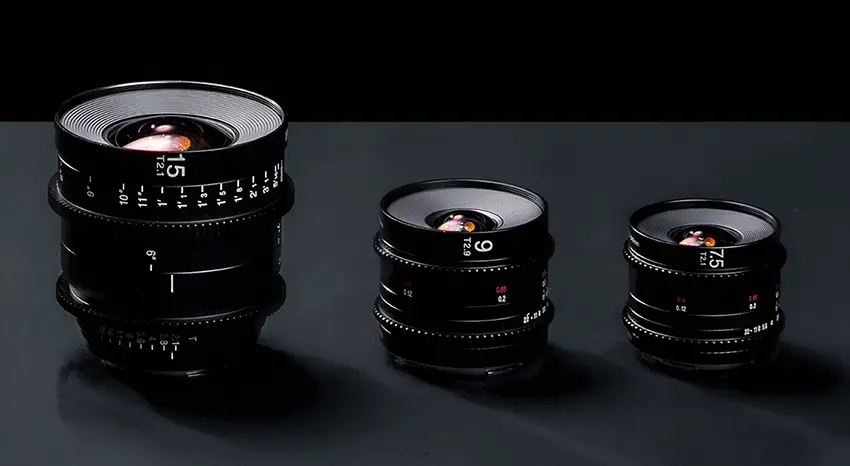 Plus, all three units boast an extremely close focusing distance. This provides a great deal of flexibility for creative professionals, thus allowing them to compose shots at any distance. Both the Laowa 7.5mm and 9mm can focus as close as 4.7" (12cm) from the sensor to the subject while the 15mm can focus up to 5.9" (15cm).
Both the aperture and focus rings on the newcomers have been built with industry-standard 0.8 mod pitch gears for pairing up with follow-focus motors. The aperture ring is now click-less for smooth iris control. Each one of the Laowa cine lenses comes with a filter thread to use screw-in filters and mini matte-boxes.
The Laowa 7.5mm T2.1 in available for Micro Four Third cameras, while the Laowa 9mm T2.9 Zero-D Cine comes in Fuji X, Sony E mount, and Micro Four Thirds versions. Both sell for $599.
The 15mm T2.1 Zero-D Cine, on the other hand, is available in Sony FE mount while being priced at $1,199. All three cine lenses are currently available to purchase via Venus Optics' official website and authorized resellers.
[source: Venus Optics]
Claim your copy of DAVINCI RESOLVE 16 - SIMPLIFIED COURSE with 50% off! Get Instant Access!