SmallHD has just unveiled the shipping dates and prices of its brand new 4K Production Monitor lineup. The monitor series in question consists of four brand new models including the OLED 22, Vision 17, Vision 24, and Cine 24.
All newcomers combine the 4K HDR post-production viewing experience with the rugged construction needed for physical production environments while bringing stunning color reproduction alongside extreme contrasts with infinite blacks and pristine highlights. The Vision series will ship in September, whereas the OLED 22 and Cine 24 models should hit the shelves in August 2020. Let's take a closer look at the details below.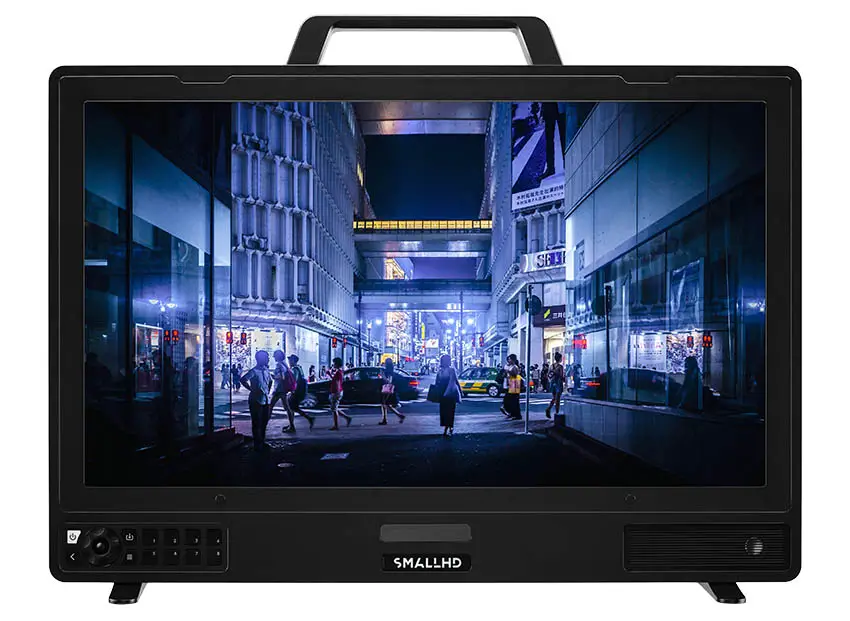 SmallHD OLED 22
OLED 22 is a stunning new entry into the reference monitor space and SmallHD's new standard for color perfectionists. It features a >1,000,000:1 contrast ratio with an absolute black point, and 100% P3 / 135% Rec 709 color gamuts that generate beautiful, true-to-life color accuracy.
OLED 22 has virtually no image degradation at any viewing angle, providing a real-time image as vivid and pristine as the final output.
3840×2160 Resolution
Color Depth: 10-bit
1,000,000:1 Contrast Ratio
Brightness: 1350nits
Inputs: 4x 12-G SDI, 1xHDMI 2.0/Outputs: 4x 12-G SDI, 1xHDMI 2.0
9.3 Lbs
Price: $11,999

SmallHD Vision 17
Employing the same SmallHDR dual-modulation hardware as Vision 24, this 17" FALD counterpart boasts over 2400 zones, with 1000nits of brightness to achieve perfect uniformity in contrasts and latitude, with even deeper blacks and greater highlight detail. Compact, durable, and lightweight, Vision 17 is capable of traveling to any on-set environment.
HDR
4096×2160 Resolution
1,000,000:1 Contrast Ratio
Brightness: 1000nites
Inputs: 4x 12-G SDI, 1xHDMI 2.0/Outputs: 4x 12-G SDI, 1xHDMI 2.0
10.7 lbs
Price: $8,999

SmallHD Vision 24
The model is engineered to equal modern sensors' increased sensitivity to highlight and lowlight image retention. It is also powered by SmallHDR, a proprietary Full-Array Local Dimming (FALD) hardware that enables nuanced control of over 2100 zones, rendering hyper-sharp contrasts with deep blacks, crisp highlights, and stunning 10-bit color depth. The unit is ideal for use in any production environment where HDR monitoring is a necessity.
HDR
Color Depth: 10-bit
1,000,000:1 Contrast Ratio
4096×2160 Resolution
Brightness: 1000nits
115% DCI-P3 Color
Inputs: 4x 12-G SDI, 1xHDMI 2.0/Outputs: 4x 12-G SDI, 1xHDMI 2.0
19.7 lbs
Price: $11,999

SmallHD Cine 24
Cine 24 brings 4K monitoring to virtually any environment. It boasts 1350nits of sustained brightness which enables clear viewing in bright daylight environments, thus eliminating the need for a sun hood or viewing tent.
Small4K Video Processing Architecture, on thet other hand, offers a total 4K Input / Output workflow with 4x 12G-SDI hardware and PageOS 4 Quad-View* for multiple 4K-input viewing. Lightweight for faster setup and teardown, this monitor is the all-around solution as a director's monitor or for production & broadcast video villages. Cine 24 is SmallHD's ultimate production workhorse.
100% DCI-P3 Color
Color Bit Depth: 10bit (8+2)
1350nits
Inputs: 4x 12-G SDI, 1xHDMI 2.0/Outputs: 4x 12-G SDI, 1xHDMI 2.0
16.5 lbs
Price: $5,499
Along with the four new 4K production monitors, SmallHD is also introducing PageOS 4 that should bring easier access to a diverse and customizable array of curated exposure tools and workflows.
Beyond a host of improvements for simplicity and speed, PageOS 4 supports a streamlined color-calibration experience with Color Pipe, an intuitive rendering tool that accurately converts log formats into SDR and HDR.
PageOS 4 includes significant upgrades in user page presets, 4K HDR (PQ) waveforms, improved false color, and dual/quad viewing options – as well as retaining the same dependable features known to users of previous PageOS-equipped monitors.
To learn more about the Vision 24, Vision 17, OLED 22, and the Cine 24 monitors, head over to the SmallHD's official website.
[source: SmallHD]
Disclaimer: As an Amazon Associate partner and participant in B&H and Adorama Affiliate programmes, we earn a small comission from each purchase made through the affiliate links listed above at no additional cost to you.
Claim your copy of DAVINCI RESOLVE - SIMPLIFIED COURSE with 50% off! Get Instant Access!