With 125 million views and counting, SOKRISPYMEDIA's action-packed viral YouTube series, Chalk Warfare has become a true global phenomenon. The team's latest instalment is 16-minute Chalk Warfare 4.0, an epic battle that took the production to a whole new level.
Director and DP Sam Wickert and producer Micah Malinics tell us more about crafting everything from a chalk robot nemesis, to a Mission Impossible-inspired skydiving sequence.
"We've been lucky enough to have Chalk Warfare watched by millions, but for 4.0 we wanted to steer away from the traditional viral video. We wanted to make something that had more substance," begins Sam, who co-created the series with Eric Leigh when they were both just sixteen. Back then, most of the talent doubled as on-set crew, and we filmed on DSLRs.
Chalk Warfare 4.0 was set to be their most ambitious production yet. The cast of sixteen included well-known actors and social media personalities such as Jamie Costa (The Price of Fame, Kenobi: A Star Wars Story), YouTuber HelloImLana and Sam Loya as seen from episodes of VideoCopilot in the VFX community.
Inspired by the Battle Royale video games, the majority of the short was lensed with two URSA Mini Pro 4.6K G2s running concurrently on location throughout Los Angeles and South Carolina.
Sam explains: "We created more dynamic, exciting sequences by using one URSA Mini Pro handheld for an in-the-moment, action cam feel, while the second was rigged onto a MoVi for a smoother look, whenever cinematography went in tighter. We even had some low angle shots, where our MoVi was mounted on the Freefly Tero RC camera platform, which gave it wheels and 3-axis control."
Blackmagic RAW was selected to record as much colour and pixel information as possible for the VFX work, without the need for terabytes of storage on set. This was crucial considering the extensive 3D tracking work required for the film.
On previous episodes, actors would use cardboard weapons. Sam and Eric would then recreate these in post-production to look like they'd been drawn out of chalk for the final shot. For Chalk Warfare 4.0, Sam and visual effects lead Brendan Forde created props in CG during preproduction with the help of fan suggestions, all using 3ds Max.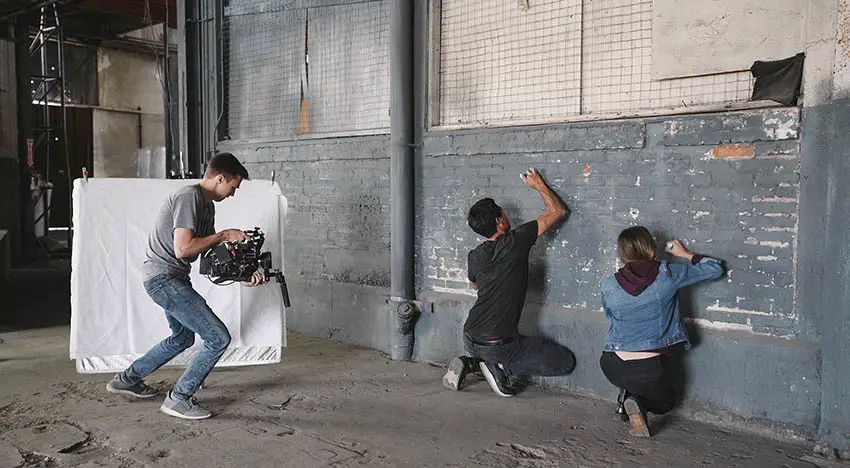 Tracking markers were then attached to all props and weapons, which were made out of laser cut Plexiglas. This allowed the team to match-move each prop to its CG counterpart using software including SynthEyes and Mocha Pro. All final VFX compositing was completed in DaVinci Resolve's Fusion.
"The G2's ability to shoot at higher frame rates was key to using this technique," Sam continues. "We opted to capture several action sequences at 300fps, which meant we could better incorporate our practical cinematography with the extensive visual effects. We had some amazing slow motion shots where a giant robot leaves a path of destruction, with falling debris everywhere.
"The fast shutter meant we were able to easily track all the dots on our weapons. We were shooting at a higher shutter speed over 1/48 so that the motion was crisper and we were keeping motion blur at a minimum. We could apply more accurate chalk textures, fluid dynamics, particle animation, and even lightsabre effects in post, making Chalk Warfare look more realistic than ever before.
"We had so much more creative freedom when compared to our old DSLRs," adds Micah. "We were able to shoot the majority of 4.0 in 4.6K resolution in 16:9, for editing and export at a more cinematic 2:35:1 ratio. As a lot of the film was shot wider than it appears on screen, we had a lot more wriggle room when it came to adding in tracking points for Brendan. Having that flexibility with resolution allowed us to benefit even after we completed production."
The film's standout set piece is a skydiving action sequence that could be straight out of the Mission Impossible franchise. Here, the team swapped out the G2 for the Pocket Cinema Camera 4K for its smaller form factor.
"We considered creating the skydiving sequence entirely with visual effects, but really wanted to make it look as authentic as possible," Micah remembers. "Eventually, we were put in touch with Keith Creedy, a skydiving cinematographer who had 7,500 jumps under his belt."
Sam and Brendan built the entirety of the sequence in 3ds Max in previs, in order to storyboard their vision accurately. This was then shown to Keith and fellow skydiving cinematographer Chris Patz, who recruited eight skydivers as stunt doubles. The Pocket 4K fitted with a 13mm lens was then strapped to Keith's helmet to help them achieve a more stable final shot.
"We were impressed with our results," says Sam. "To give you an idea, we had budget for four jumps, giving us four takes. For each jump, we were able to get about 30 to 40 seconds of usable footage, and we only had a few minutes between runs to review what we had captured. I was nervous, but it all went so smoothly.
Our final sequence came in at around 40 seconds, much longer than we had envisaged, as we were able to really utilise elements from every take. Cutting between the Pocket and the G2 was seamless through the DaVinci Resolve edit. It truly speaks to the quality of both cameras."
[source: SokriSpyMedia]
Disclaimer: As an Amazon Associate partner and participant in B&H and Adorama Affiliate programmes, we earn a small comission from each purchase made through the affiliate links listed above at no additional cost to you.
Claim your copy of DAVINCI RESOLVE - SIMPLIFIED COURSE with 50% off! Get Instant Access!