One of the key aspects of creating a successful cinematic film is high-quality post-production, where the whole team works to create the perfect frames. In digital cinema, it is not uncommon to encounter situations when the post-production team needs to collaborate remotely.
For example, you may want to avoid the extra expenses of travel and facility rental, or perhaps you just want to find the best people for the job, wherever they may be located. But what is the best way to organize remote work?
In theory, for a colorist to work, you can transfer all the necessary equipment to their home. However, for whatever reason, this may not be practical, and the question of organizing remote work for the rest of the team still remains. A more viable solution would be to organize remote access.
In this case, each member of the post-production team needs a professional monitor, a computer with remote desktop software (TeamViewer, AnyDesk, Google Remote Desktop, etc.), and internet access. The main difficulty with this option is transmitting high-quality images. The problem is that neither Skype, Zoom.us nor any other video conferencing program supports the transmission of 10-bit or 12-bit frames.
The guys at Fastvideo have created their own solution for this kind of task – Live Remote Color Grading. It does not replace applications for remote desktop or color grading (Blackmagic Davinci Resolve, Adobe Premiere Pro, AVID Media Composer, Baselight, etc.), but works with them and solves specific tasks: receiving, encoding, transmitting, decoding, and viewing high-quality images wherever you need it.
Low latency software
Fast and reliable data transmission over an internal or public network
Fast acquisition and processing of SD/HD-SDI and 3G-SDI streams (unpacking, packing, transforms)
Realtime JPEG2000 (J2K) encoding and decoding (lossy or lossless)
High image quality
Precise color reproduction
Maximum bit depth (10-bit or 12-bit per channel)
How does this application work? You can find detailed technical information on Fastvideo's website, where you can get comprehensive recommendations on hardware and software. In this article, we will limit ourselves to considering the main workflow of the application for remote color grading:
Video Source (Baseband Video) -> Capture device (DeckLink) -> SDI unpacking on GPU -> J2K Encoder on GPU -> Facility Firewall (IPsec VPN) -> Public Internet -> Remote Firewall (IPsec VPN) -> J2K Decoder on GPU -> SDI packing on GPU -> Output device (DeckLink) -> Video Display (Baseband Video)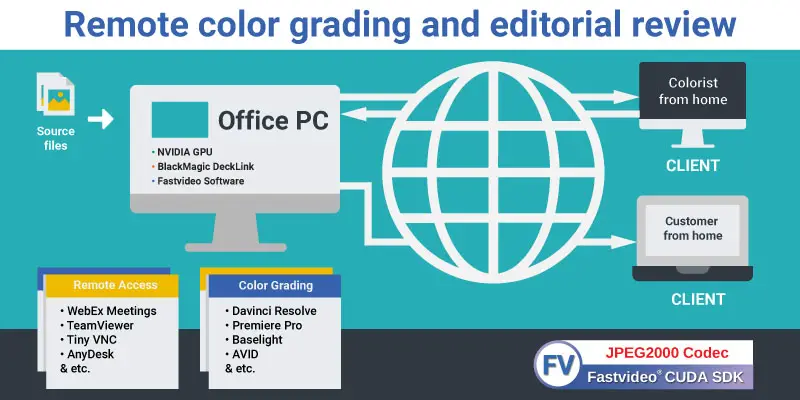 Here are a few stories from Fastvideo customers who have already appreciated the usability of Live Remote Color Grading software:
1. One of the Fastvideo clients, a colorist, had to take a paid vacation due to Covid-19. Remaining at home, he decided to continue working in his field and began to take orders for remote color grading. His skills were in great demand and he had to manage several projects at the same time. Moreover, the projects had tight deadlines and all adjustments and approvals had to be done quickly and sometimes in real-time.
The application made this process possible and convenient for both the colorist and his customers. The post-production teams remotely viewed the resulting material together with him and offered their own adjustments, which he then made, and the result was immediately displayed on their screens. This process completely avoided the need for offline meetings, and also allowed our client to manage several projects at the same time and work in his usual color grading software.
2. Another client, a film company, was faced with a situation where a highly skilled out-of-state specialist was required for successful post-production. But the budget didn't involve multiple business trips, and the company had to choose between working remotely with a renowned professional and finding another specialist for color grading. The company took advantage of the capabilities of our application and, at no extra cost, was able to quickly establish remote work with the desired specialist.
As you can see, Fastvideo application allows you to quickly implement remote color grading into your workflow without having to learn new color grading applications or time-consuming software customization. An ordinary PC with an NVIDIA GPU (required for Live Remote Color Grading software), a professional monitor, and internet access are enough to work with it.
It should be noted that there are a number of the well-known hardware solutions for remote color grading, such as Nevion, Streambox, and Sohonet. They are reliable but very expensive. Fastvideo requires less hardware to work and offers the same high quality, low latency, and a lower cost.
As a result, the entire post-production team will no longer be tied to a specific place, and if you need to organize a joint viewing of a film and discuss crucial points, it's enough to have a professional monitor or TV that supports high bit-depth color, a home computer, and the Internet.
[source: Fastvideo]
Claim your copy of DAVINCI RESOLVE - SIMPLIFIED COURSE with 50% off! Get Instant Access!