Recently, we covered the DisplayPort 1.3 capabilities of transferring the impressive 120fps of 4K video or 8K video at 60fps respectively.
Soon, we will have another option as an alternative to DisplayPort 1.3 with similar features. The Video Electronics Standards Association – VESA just announced a USB Type-C 'Alternate Mode' to enable DisplayPort Capabilities over the New, Slim, Reversible USB Type-C Connector.
Using the DisplayPort Alt Mode, a USB Type-C connector and cable can deliver full DisplayPort audio/video (A/V) performance, driving monitor resolutions of 4K and beyond, SuperSpeed USB (USB 3.1) data and up to 100 watts of power–over a single cable. The DisplayPort Alt Mode can also drive adapters that support the huge installed base of existing DisplayPort, HDMI, DVI, and VGA displays.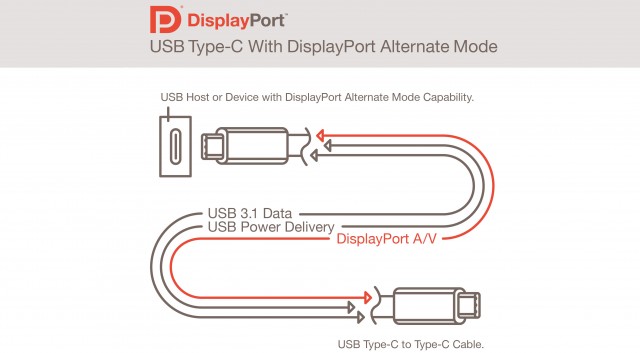 Video source devices that support DisplayPort Alt Mode on a USB Type-C connector can use an appropriate adapter to drive an HDMI, DVI or VGA display. All adapters and converter cables will comply with all USB Type-C characteristics, including reversible plug orientation and cable direction. Like USB, DisplayPort uses a packetised data structure and differential AC-Coupled signal "lanes" that carry high speed data with an embedded clock.

This allows the same electrical circuits and cables to carry either SuperSpeed USB data, at up to 10 Gbps per lane, or DisplayPort, at up to 8.1 Gbps per lane, as defined in the new DisplayPort 1.3 Standard. Early implementations of DisplayPort Alt Mode USB Type-C devices will likely use existing DisplayPort 1.2a capabilities that support up to 5.4 Gbps per lane. Using 5.4 Gbps across all four high-speed lanes will support up to 4K (4096 x 2160) display resolutions at a 60Hz frame rate with up to 30-bit color.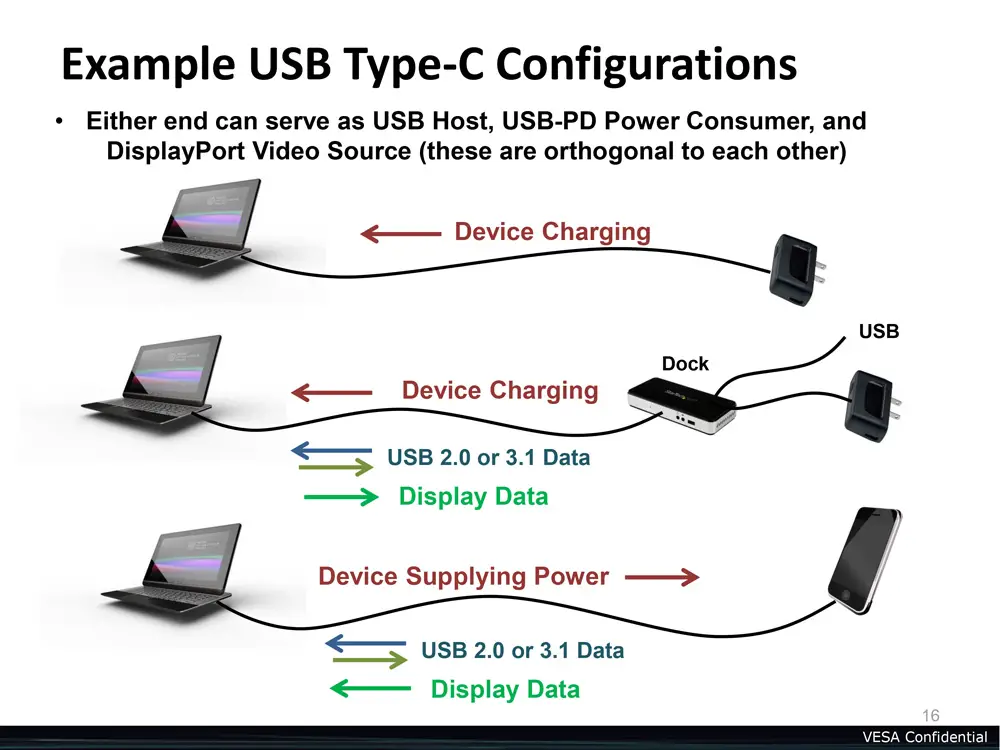 This is the next step towards adopting the new connectivity protocols and interfaces to the demanding formats and 4K acquisition. Caring flawlessly 4K signal through a single USB port sitting on the front panel of your work station will be a dream come true for many 4k shooters. Soon, instead of having a range of DisplayPorts, HDMI ports, DVI ports, and USB ports, your device could simply have a bunch of USB Type-C ports to transfer all the 4k video data you work with.
According to VESA, the first devices with USB Type-C connectors that also support DisplayPort Alternate Mode will be available in 2015. Mobile devices will probably be the first where the new protocol will be implemented. Presumably, desktop motherboard makers and graphics card vendors will follow at some point in 2015 and 2016, as well.
[via redsharknews.com and www.extremetech.com]

Claim your copy of DAVINCI RESOLVE - SIMPLIFIED COURSE with 50% off! Get Instant Access!