Needless to say, the Apple Studio Display is a work of art. Centered around a 5K Retina display, Apple's flagship 27" monitor is ideal for content creators and photographers looking to have the most accurate colors represented in their content without breaking the bank on a ProXDR display.
Consequently, it also has a $1600 price tag, not including the $400 premium for the tilt base option. By comparison, the 5K LG UltraFine monitor has similar features, for $300 less.
That's still far too much for Luke Miani, a YouTuber who didn't see the need to spend that kind of coin for a new Studio Display, when a used 2014 5K iMac uses the exact same technology. So he converted one into his own home-built Studio Display.
This project is not for the faint of heart, mind you, but it's a great way to could save a thousand dollars and repurpose a perfectly good retina display, while getting the color accuracy everyone craves. And it even tilts.
Miani argues that since the 5K Retina display that is the face of the 2014 iMac is exactly the same panel as the 2022 Studio Display, why not turn it into one? Miani set out to convert an original model he picked up on eBay for around $600. He was hoping to find one cheaper with a dead logic board, but in the end, he settled for a working model.
Miani's plan was to then gut everything except the display panel itself, and then add a few custom parts which provided HDMI and DisplayPort connections. The key here was having the right tools, and that's where iFixIt's ProTech Tool kit comes in.
The ProTech tool kit comes with picks, prybars (called spudgers), and Torx screwdrivers that Apple just loves to use to secure sensitive electronics. There's also an adhesive strip that keeps the panel secure, and that must be pried loose, which will need to be replaced. iFixIt has that too.
Using his tools, along with iFixIt's comprehensive guide to removing the display safely online, Miani carefully levered the display off and set it aside. Doing so, revealed a disgusting, caked-up melange of dust.
Once cleaned, he took out the fans, logic board, speakers, and power supply. He had to be extra careful with this step, however, since there are some connectors on the power supply that may contain a residual charge, which could seriously shock if touched.
With everything removed, it was time to add a few custom components he found online. Miani picked a screen adapter on eBay for around $180, careful to verify that it supported 5K resolution. This was simply a matter of identifying the model number on the back of the retina screen and inputting that into Google's search parameters with the term "conversion board."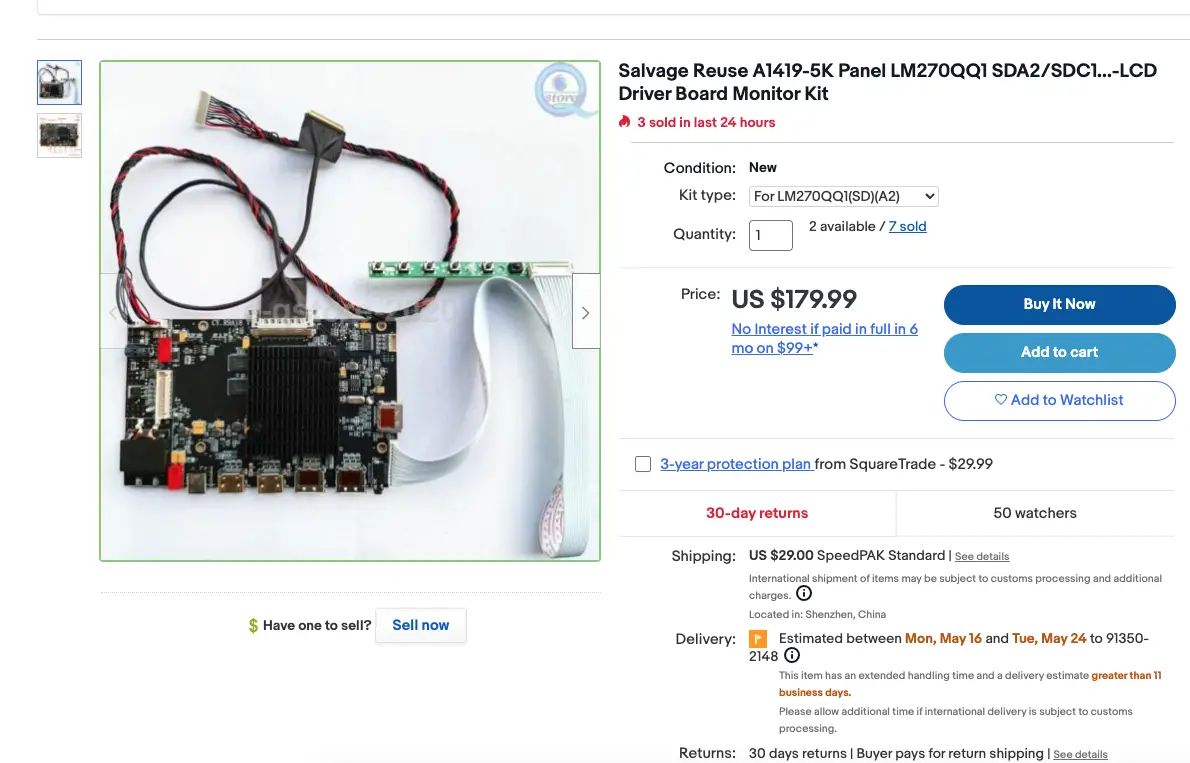 Not cheap, to be sure, but it came with all the connectors, cables, and features that will run multiple 5K displays. The power cables could also be routed through the removable RAM hatch in the back, so there was no need to drill.
Finally, with the converter installed and connected to the panel, Miani tested the display, attached some iFixit adhesive strips to the screen, and put it all back together.
Consequently, while his new 5K display still looks like an iMac, it functions in the same manner as that pricey Studio Display. The only thing missing is P3 color support, and if that is needed, then choosing a donor machine from 2015 or later will do the job.
The total cost for the build was $871. Keep in mind, however, that this price also includes the internal components from the donor iMac, plus the keyboard and mouse, which Miani could sell on eBay. This could bring the total cost down to only a few hundred dollars.
For a 5K Studio Display, that even tilts! So, if you're on a tight budget, a little bit handy, fear not – an Apple Studio Display is still within reach.
Order links:
Claim your copy of DAVINCI RESOLVE - SIMPLIFIED COURSE with 50% off! Get Instant Access!