Canon has come out with a gaggle of firmware updates for their R full-frame mirrorless cameras. The updates pertain to the Canon EOS R3, R5, and R6 cameras, but depending on which model you have, new features and fixes abound.
The two firmware versions that have been released are version 1.2.0 for the Canon R3, and version 1.6.0 for the Canon R5 and R6.

What both of this firmware have in common are two additional features which include the ability to convert HEIF images into JPEG images, and enhancement of the Movie Digital IS, which stabilizes the image when shooting with your camera and a wide angle lens while walking. This is especially beneficial when using your video for vlogging or shooting selfies.
From there, that's where the two firmware updates diverge. Version 1.6.0 gives the Canon R5 to adjust the temperature sensor while shooting video.
Adjusting the Auto Power Off Temperature setting can be switched from Standard to High, essentially disabling the automatic shutdown feature when the temperature of the camera body and media card rises to a higher temperature. This can provide additional shooting time before the camera shuts down to protect the processor and sensor.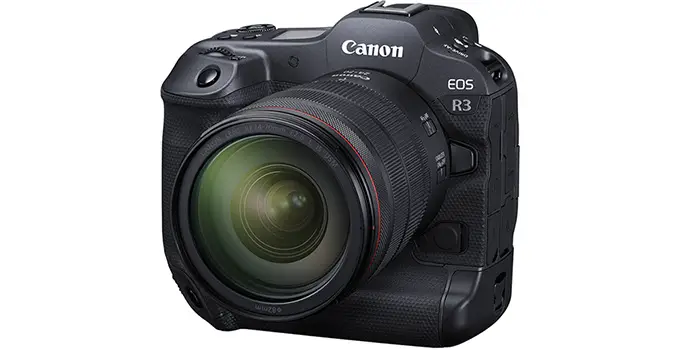 Looking at version 1.2.0, the Canon R3 receives several new features including creating a custom high-speed continuous setting, which enables the camera to capture bursts of 2 to 50 images at a speed of between 30-195 frames per second. The high frame setting gets expanded with the option to select "FHD 239.76 fps/200.00 fps."
There's also creating depth compositing with focus bracketing, especially when using the Speedlite EL-1 flash attachment. R3 shooters can now also create time-lapse movies by enabling it in the settings.
Even if the camera powers off automatically,, as long as the time-lapse function is triggered beforehand, it will continue to completion.
Canon is also offering an online Raw Processing function, where the camera will upload Raw images to the cloud for processing. Users must purchase a Canon Imaging App Service Plan, which will be available starting July 25, 2022.
Finally, version 1.2.0 fixes an issue, which displays Error Code 70 on the camera, that may occur, in rare instances, when the [Disp. performance] setting is set to [Smooth].
Both updates can be downloaded through the Canon Support page.
[source: Canon]
B&H Links:
Claim your copy of DAVINCI RESOLVE - SIMPLIFIED COURSE with 50% off! Get Instant Access!