A report from Canon Rumors suggests that the original Original Canon R Mirrorless Camera, which was discontinued back in 2021, will have its place taken by the upcoming Canon R8 or what could also be known as the EOS R MK II full-frame mirrorless camera.
The rumor was picked up from a post by Camera Beta on Weibo, which suggested that the R8/EOS MK II would be positioned as an entry-level full-frame mirrorless camera below the current R6.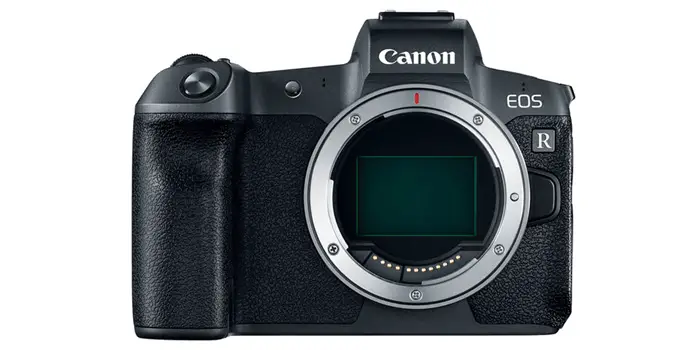 The rumors picked up steam after it was reported that prototypes for an EOS Mk. II was spotted in the wild recently.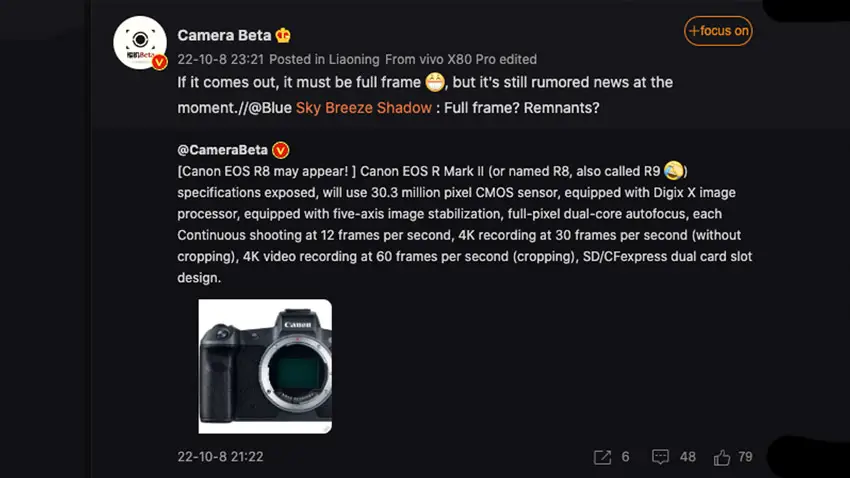 Specifications of the reported EOS R8 are still speculative but are rumored to include a full frame 30.3 CMOS image sensor with a DIGIC X processor and five-axis in-body image stabilization.
The camera will be capable of recording 4K video at 30 frames per second, or up to 60 frames per second when shooting cropped.
The camera will also be able to shoot still images in burst mode at up to 12 frames per second, have dual pixel AF (but no word if it'll be the second generation), and will write to dual CFExpress and SD card slots.
Outside of these particulars, Canon Rumors pours a little water on the rumor, stating that if an EOS Mk. II or R8 comes out, it will likely not be this year, as the website believes that the next mirrorless camera out will be another APS-C model. This would leave the R8 to be announced sometime in 2023.
All of this is highly speculative, mind you, so it should be taken with a huge grain of salt. But there's also talk that Nikon may be poised to push out third-generation Z6 and Z7 models by the end of the year, which could put pressure on Canon to answer in kind.
Such is the way with these rumors. You see a camera in the wild and maybe have a brief conversation with the photographer testing it, then suddenly, there's a new model coming. The fact is, camera companies are testing camera configurations all the time, testing out new features or new camera designs for future use. That doesn't mean they will ever hit the market.
What do you think? Is there room for a MK II replacement for the EOS R, or has the market grown beyond that?
[source: Canon Rumors]
Disclaimer: As an Amazon Associate partner and participant in B&H and Adorama Affiliate programmes, we earn a small comission from each purchase made through the affiliate links listed above at no additional cost to you.
Claim your copy of DAVINCI RESOLVE - SIMPLIFIED COURSE with 50% off! Get Instant Access!