Owners of the new DJI Avata FPV drone are taking to the internet to complain about a problem with DJIs latest UAV, which causes the drone to suddenly lurch downward and fly straight into the ground at full speed.
The lightweight drone was the company's attempt at cashing in on the so-called "cine-whoop" aerial filming technique which relies on an extremely nimble and highly maneuvering design that enables creatives to film around tight spaces with turns at high angles of attack while capturing cinematic 4K videos.
The design relies on a unibody-like design with prop guards built into the exoskeleton, and provides for a robust bounce should the drone impact an obstacle.
However, users are saying that this design may be part of what's causing the Avata to suddenly crash, and worse, DJI may be aware of the design flaw.
Drone pilots are calling the Avata Crash phenomenon "Tumble," or "flight controller flip out," and users point out that with its high center of gravity and battery placement, the Avata is particularly susceptible when flying in manual mode.
Due to its consumer-grade drone motors, once the drone experiences an excessive amount of yaw, the motors in the rear of the Avata are unable to compensate and recover in time before the drone tumbles straight into the ground, with up to 90% of impacts resulting in making the Avata drone unflyable afterward.
And if flying over water, the drone will be a total loss.
Home-built cinewhoop drones have smaller batteries that are placed side to side to provide better balance when flying, while the Avata drone is large and rectangular, taking up the majority of the drone's weight.
Placed in a front-to-back configuration, on top of the drone itself, the high center of gravity puts a lot of lateral force on the drone as it navigates around those tight turns.
Pilots also state that the drone's built-in fan ducts also reduce the amount of airflow which could overcome the tumble forces causing the phenomenon.
One pilot even went so far as to remove the drone's prop guards and reports that the tumble issue seems to have gone away, though he experiences a bit of prop waggle.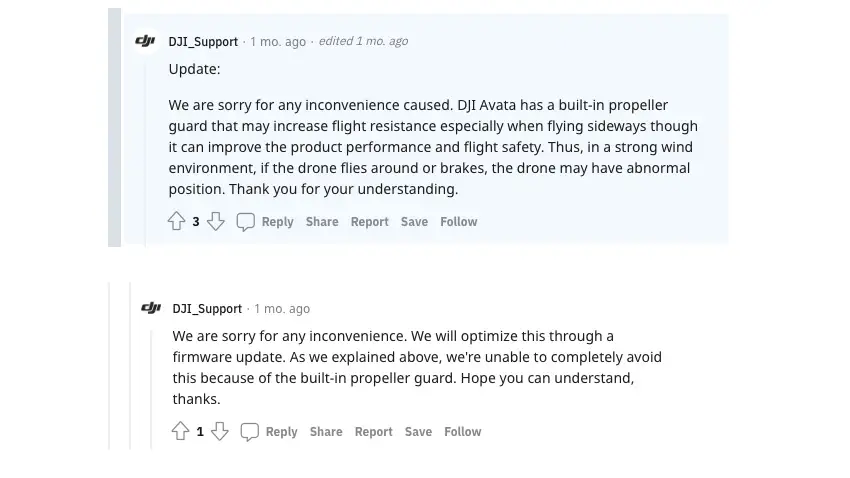 DJI has responded through Reddit that it is aware of the flight resistance caused by the built-in propeller guards and how it could prevent flight performance while flying sideways, especially in windy conditions.
The company adds that it is developing a firmware update that could improve the flying capabilities of the Avata in these conditions and minimize the risk that flight controller flip out could occur.
Still, other pilots have reported that when viewing the footage recorded on the DJI Goggles 2, the home point suddenly resets to a strange location just before the UAV experiences the tumble.
Additionally, telemetry of the controller sticks reveals that the drone thinks it's receiving input which causes the drone to suddenly go into an unrecoverable tumble.
This leads pilots to conclude there may be an issue with GPS and other electronics in the drone design that's causing the issue.
One such user on Twitter also complained that the Avata suddenly lurched upwards uncontrollably and wouldn't respond to commands. This could also point to a software issue.
DJI Avata suddenly went upwards. Sticks were not responding anymore. Seems like an issue. @DJIGlobal @JasperEllens @DJISupport #dji #fpv #avata pic.twitter.com/d70uFZdIPJ

— David (@jdverolme) August 29, 2022
The company has not responded to the home point issue, or that drones may be responding to some sort of errant flight command triggered by software that could be causing the flight controller to flip out.
Being that the company is working on a firmware fix is a positive sign, but if there's a flaw in the overall Avata design, that's something that may not be fixable with a few lines of code.
Until then, drone pilots, especially beginners, are encouraged to avoid flying in manual mode and to perhaps sit out the session when conditions become windy.
It is also recommended to avoid sending the Avata over water or other terrains which could cause a total loss if the tumble occurs.
And if a crash caused by the controller Flipout has already occurred, then a user can submit a repair request and request a replacement. Here's a video that outlines how:
Drone beginners are also recommended to check out DJI's Avata Guide for Beginners for other tips for flying the cinewhoop UAV.
Then again, it may be a better idea to look at a UAV that's easier to fly, like the Mini 3 Pro.
Updated:
Here's what DJI have answered:
We are aware of these reports, and we are looking into each of them as a matter of priority as flight safety is of utmost importance to DJI.
[source: PiunkaWeb, DJI Forums]
Order Links:
Claim your copy of DAVINCI RESOLVE - SIMPLIFIED COURSE with 50% off! Get Instant Access!