The rumor mill isn't taking the holidays off, with talk that Canon is planning to announce the next mirrorless camera at CP+. The Canon R8 APS-C mirrorless camera is coming.
There isn't much we know at this stage about the camera designed to fit square between the R7 and R10, but we can infer a few things. First, being the latest R series mirrorless design, we know it'll have an RF-S mount right off the bat.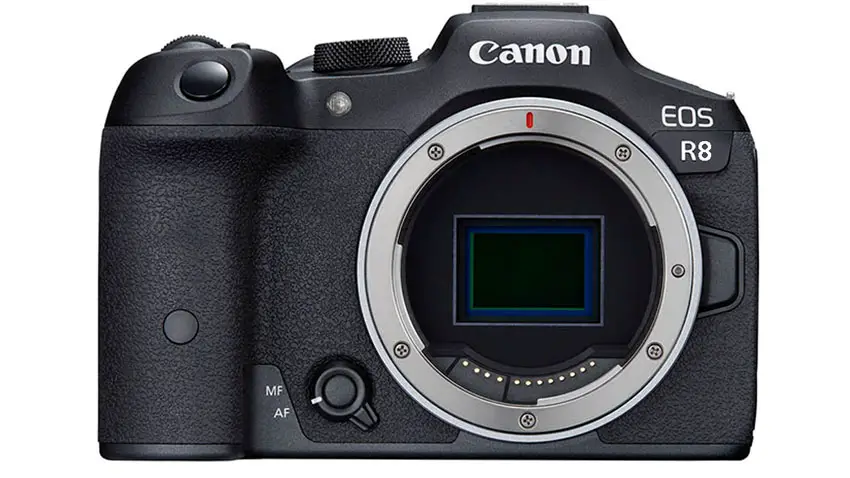 Not that it's all that important, since both RF and RF-S lenses will work on the camera, but that leads to the second given point and that's positioning.
Since it's placed between the R7 and R10, we can infer it will be an APS-C camera, and that means RF-S lenses are well-suited for that image circle.
The other question is what sensor will Canon use? The R7 is a 32mp APS-C image sensor, while the R10 is a smaller, 24MP APS-C variant.
Either way will seek to cannibalize the interest of either of the ones the R8 fits in between, so it has to have a unique feature set behind it to distinguish itself without taking sales from the other models.
APS-C or Full Frame?
But it's a good bet it'll be a 24.2 CMOS sensor similar to the R10, and chances are, it'll have the DIGIC X image processor since that's the current design for both R7 and R10.
But there is also talk that the R8 won't be an APS-C camera at all, but instead will be another full-frame camera with a 30.3 CMOS sensor with the capability of capturing 12 fps mechanical.
Video
Video may also offer 4K30 with no crop, and 4K60 with crop. That would be huge, especially if it can oversample to get there. And it could also have in-body image stabilization (IBIS), but since all rumors end up throwing that in, don't hold your breath.
If any of that is accurate, then it's likely we can't even look at the price points, with the R7 listed at around $1,499 (body only) and the R10 listed at $979, for any clues. It's likely it'll cost more if the full-frame rumor holds up, and frankly, I don't think it will.
One final hint there is talk that the R8 will have a "flippy screen," as the report goes from Canon Rumors. This may be a new kind of flip-out screen.
Canon Rebel cameras were known for their flip-out articulating screen, and if the rumors hold of a new design, could it be that Canon has a new design for moving the screen across multiple axes?
Anyway, all the rumor says is that the camera will have a flip-out LCD touchscreen and that we should expect it announced at CP+ in February. It's a safe bet that more rumors will surface between now and two months into 2023, so expect other tidbits to leech out in the meantime.
However, the reality is that any given point coming out before CP++ is pure speculation and should be taken with a grain of salt. But it sure is fun to talk about.
What would you like to see in the rumored Canon R8 which would make it more attractive than the other two?
[source: Canon Rumors]
Order Links:
Canon R7 APS-C Mirrorless Camera (B&H)
Canon R10 APS-C Mirrorless Camera (B&H)
Disclaimer: As an Amazon Associate partner and participant in B&H and Adorama Affiliate programmes, we earn a small comission from each purchase made through the affiliate links listed above at no additional cost to you.
Claim your copy of DAVINCI RESOLVE - SIMPLIFIED COURSE with 50% off! Get Instant Access!