DJI's Action 2 camera is now the first action camera to take advantage of using gyro stabilization data support thanks to a new firmware update.
The GoPro killer's version 1.04.05.10 update offers what the company calls GyroFlow compatibility, which receives movement data from its built-in gyro stabilizer and then uses it to more accurately correct image stabilization and dampen out the rolling shutter.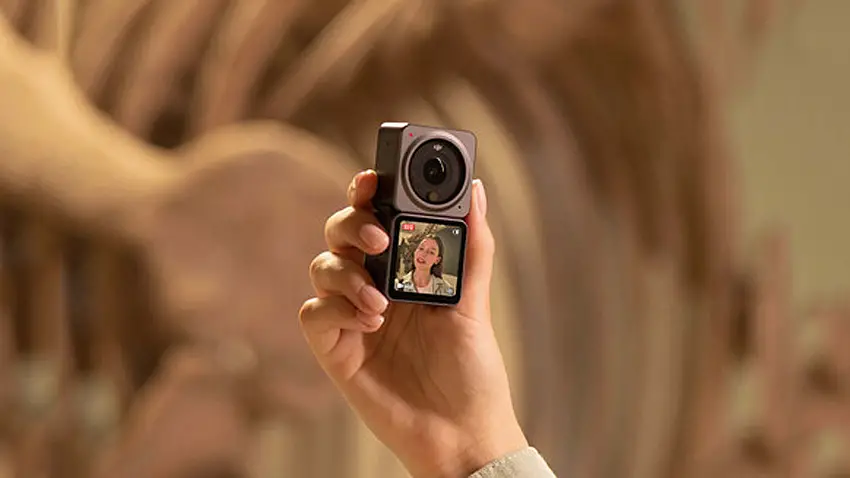 More details for the open source GyroFlow feature include that it provides data in resolutions including 4K 4:3 aspect ratio at 24 through 60 frames per second, and 4K 16:9 wide angle at 100-120 fps.
The data is also available even if stabilization is turned off, and the field of view is set to wide.
According to the GyroFlow website, the app analyses video footage, using the gyro-based movement data to correct for lens distortion while using multiple video orientation smoothing algorithms, including horizon leveling and per-axis smoothness adjustment to achieve a more stabilized look.
The app uses 16-bit video processing and supports ProRes, DNxHR, 32-bit OpenEXR, and Blackmagic RAW video formats.
Being open source, the app also supports GoPro and Insta360 action cameras, and even translates gyro data from the latest cinema cameras from Blackmagic and RED.
Drone camera data can also be leveraged for image stabilization functions of the DJI Avata, and drones using the DGI O3 Air Unit.
Moreover, DJI has done some housekeeping and has improved overall compatibility with Android-based handsets running Android version 13.0. DJI has also provided updates for the DJI Mimo app to add support for the new features as well.
Users can download the DJI version 1.04.05.10 update through the DJI Mimo app on your smartphone.
DJI advises that in the event that the Action Camera 2 fails to update, simply restart the camera, along with the DJI Mimo app on your smart device, and try the update again. If a problem persists, users are advised to contact DJI directly.
Users will also need to update Gyroflow to version 1.4.2 to be able to take advantage of the new gyro-based stabilization features.
The GyroFlow app is free to download from GyroFlow.xyz and will be able to read the gyro movement data provided by the camera and stabilize the video footage and remove the rolling shutter.
[source: DJI]
Order Links:
DJI Action 2 Camera (B&H)
Claim your copy of DAVINCI RESOLVE - SIMPLIFIED COURSE with 50% off! Get Instant Access!