Canon has released firmware version 1.4.1 for the EOS R3 Mirrorless Camera. The update addresses a few bugs and adds some new features for improved white balance and image transfer. Let's take a look.
The new update was rolled out after users discovered an Error 70 issue when using certain EF-mounted lenses that popped up after the previous vs. 1.4.0 update. This forced users to power down the camera, remove the battery, then reinstall and power it back on. This fix clears that issue.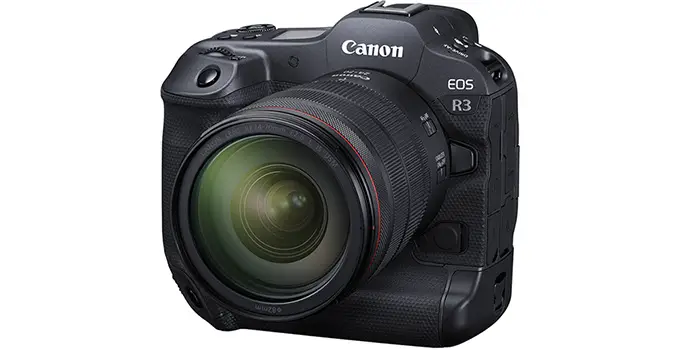 There was also an issue with tracking performance in Servo AF, which caused a problem using the high-speed continuous shooting electronic shutter under certain conditions. Version 1.4.1 fixes both these issues, as well as performing a few "housekeeping" duties to address a few other unmentioned "minor issues."
New Features
Meanwhile, Canon has also added some additional new features including support for the new Speedlite EL-5 flash. The R3 will not, however, support the EL-5's automatic light intensity adjustment in AF-Assist beam mode.
Register People Priority is a newly supported feature that can detect and track designated subjects with priority.
This feature, however, is limited to face size, and if faces are too small to detect or are either partially hidden or at an angle, the detection may not acquire the subject until it gets larger in the frame.
Panning Assist has been added to the camera menu, which enables compatible lenses to apply image stabilization and blur correction during panning shots.
There is also an improved auto white balance (AWB) setting which reduces the time it takes to for the camera to show the AWB settings in the camera viewfinder.
Lastly, the R3 now has a Protect Images During FTP Transfer option in the menu settings. In this mode, images are automatically encrypted and protected while transferring data via FTP. Users can also determine which images have already been transferred previously.
Download and Installation
The firmware is available now from the Canon R3 Support Downloads page under "software and drivers." Select the applicable user operating system version and the firmware under the type option, and the update will appear.
Users are advised to have a fully charged battery when performing any firmware update.
[source: Canon Rumors]
Order links:
Claim your copy of DAVINCI RESOLVE - SIMPLIFIED COURSE with 50% off! Get Instant Access!