In what looks to be a studio camera aimed squarely at social media-based content creators, Yongnuo is set to announce a new 4K micro four-thirds model in the coming days.
The YN433 Camera is expected to run on Android OS and will be capable of not only 4K/30p video capture but also 2K live streaming through an onboard USB-C connection.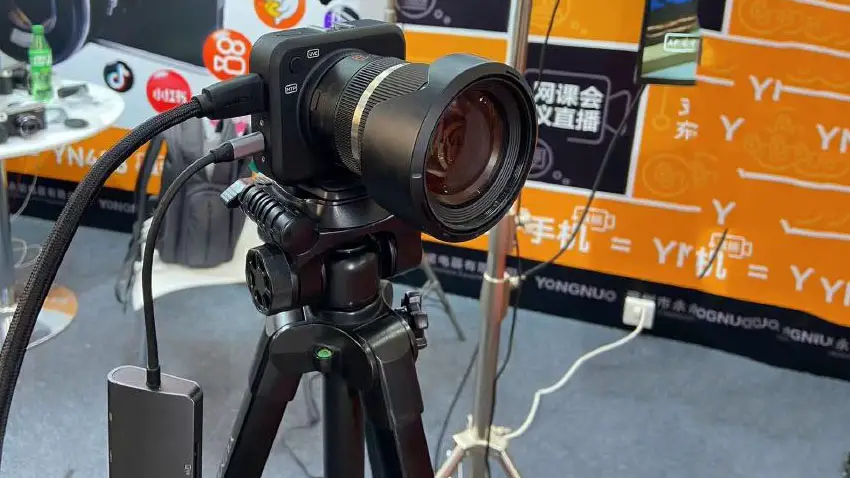 Taking lessons (and mistakes) from their previous M43 cameras, the YN450 and YN455, the Chinese-based camera gear company has moved away from the Canon EF lens mount in favor of a micro four-thirds lens mount to keep everything in the proper aspect ratio.
Yongnuo showcased the Android-based studio cam at a recent trade show event in China, with images picked up by the Chinese social media website Weibo.
There isn't a lot in terms of specs, but sharp eyes can divine several features from the Weibo-based images.
The camera is very modular and compact, being powered by what looks to be a Canon LP-style camera battery.
The camera also has what looks to be a pair of USB-C ports, one for power and one for USB Data transfer. There also looks to be an HDMI connection.
What is even more interesting is that there is no LCD screen for viewing the camera image, with the camera being connected to a large TV monitor via HDMI.
There are no control buttons or interfaces, leading to perhaps a possible direct control through a mobile app via WiFi or Bluetooth connection.
This would make sense if the camera is using Android OS as reported by 43Rumors.
Rounding out the observation, there is also a hot shoe connection on top and a pair of 1/4-20 mounts on the bottom and the left-hand side, along with a 2.5mm or 3.5mm minijack for headphones and connecting of an external microphone.
Pricing and availability
The Yongnuo YN433 hasn't officially been announced just yet, and even when it is, it's likely that it will only be available in China, much like the YN450 and YN455.
But those who saw the camera in person say that it is expected to cost around $600. With its extremely limited feature set, however, it could simply just be a prototype design to gauge interest. Only time will tell.
[source: 43Rumors]
Disclaimer: As an Amazon Associate partner and participant in B&H and Adorama Affiliate programmes, we earn a small comission from each purchase made through the affiliate links listed above at no additional cost to you.
Claim your copy of DAVINCI RESOLVE - SIMPLIFIED COURSE with 50% off! Get Instant Access!