Blackmagic Design slashed the price on their 4K Production Camera (commonly abbreviated as BMPC 4K) just five months after it was released. Even though it is shipping at a reduced price, it hasn't been flying off the shelves as BMD expected, and finding the camera in stock at different resellers can be difficult.
There are some limited quantities on the market out there, but the main question that we all should ask ourselves now is  "Do we still need it"?
Before answering this question we will try to cover  the pros and cons of the camera by sharing this great video review of Tom Antos and his thoughts on the topic.
Blackmagic Production 4K Camera Review and Tests from Tom Antos on Vimeo.
So here is what Tom Antos likes about the camera:
clean 4K resolution images
great ProRes 422 (HQ) compression at 880 Mbps
global shutter means no more jello or rolling shutter issues
SSD recorder built in
6G SDI output
Super 35 image sensor
12 stops of dynamic range
And, the things he dislikes:
monitor like a mirror (useless in bright daylight)
built in battery lasts max 20-30 min. & can't be exchanged
awkward design makes it uncomfortable for handheld use
no way to delete clips or format SSD in camera
no audio pre-amps results in horrible audio
no way to monitor audio levels
bad low-light performance
no slow motion, maximum 30 fps (despite what the company claims about 60i)

One of the great advantages that BMPC 4K has is the ability to produce 4K images out of the box. It is the first 4K camera in this price range that has a global shutter and records 4K proress HQ internally to SSD (Solid State Disk). Nevertheless, you will need a lot of accessories to make it work on an actual shooting situation. You will definitely need a battery solution, a decent shoulder rig, a monitor (especially if you are shooting outdoors), an audio recorder with proper XLR inputs,  and some more additional accessories like ND filters, SSD Dock and more.
Also, one should keep in mind the lack of high ISO settings (only 200, 400 and 800 are supported). The limited options to set a proper white balance are another drawback. This is something that you shouldn't be concerned about if you shoot raw, but the BMPC 4K camera is still not able to record in raw mode. BM users eagerly await the promised firmware update.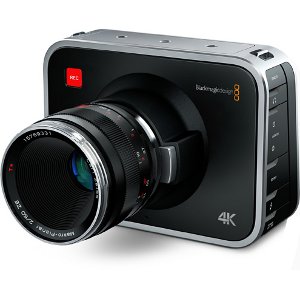 Nevertheless, back in January the camera was a decent choice for 4K shooters, mainly due to the unbeatable price tag of $1995 and the fact that there were no other 4K products in this price range. However, post NAB 2014 there are a couple of other options and some still to come in the near future that definitely should be considered. And, we are not just talking about the new URSA from Blackmagic Design.
"Do we need a 4K Camera from BlackMagic Design?" I don't know. That's something that you have to decide. I think it's a good thing to have a 4K camera with a global shutter for $3K. And maybe for a certain type of production where a global shutter is a must – for example: heavy handheld action sequences, or scenes involving fast moving objects. Of course, having the option to reframe in post and deliver in 2K or HD with the benefit of the added sharpness and detail helps.
Again, there is no such thing as the perfect camera. There are only right tools for the right job. This is a common expression that we all used to hear often.
Disclaimer: As an Amazon Associate partner and participant in B&H and Adorama Affiliate programmes, we earn a small comission from each purchase made through the affiliate links listed above at no additional cost to you.
Claim your copy of DAVINCI RESOLVE - SIMPLIFIED COURSE with 50% off! Get Instant Access!