The Apertus company started a little less than 2 years ago in December 2012 by Oscar Spierenburg. His goal – to create the first ever open-source digital cinema camera. Their first project – the AXIOM camera, was actually a passion project for him dating back to 2006.
The Apertus Company operates as the legal entity for the Apertus Project – a community-based open source project created by Oscar, his team and the many supporters and contributors, in order to serve the filmmaking community with free and open technology.
Largely responding to the limitations imposed in camera models by large corporations such as Sony, Panasonic, Canon, Nikon etc., the Apertus Project embraces the DIY mentality of independent filmmakers by utilising the resources of the community and incorporating their feedback on what features they'd like to see in the camera.
I'd like to view this as – "What if MagicLantern made a digital camera"? What the amazing team at ML did for the software in the Canon DSLR's, Apertus is doing to hardware. Soon enough, Oscar and his team of creative and resourceful engineers created the proof-of-concept AXIOM Alpha.  At first glance, it is basically a sensor (the CMOSIS CMV 12000 – which some say is the same sensor in the BlackMagic Production 4K Camera) with a board and a Nikon F lens mount.
But underneath the concept, it's a whole different story. Utilising the collective power of the Web, the team at AXIOM, were able to show a working prototype at the Photoniks Congress in Berlin earlier this year. It is not a finished camera, and it is not available for sale. However, the next cameras from Apertus will be, but more on that later. Here's a photo and specs for the AXIOM Alpha by Apertus.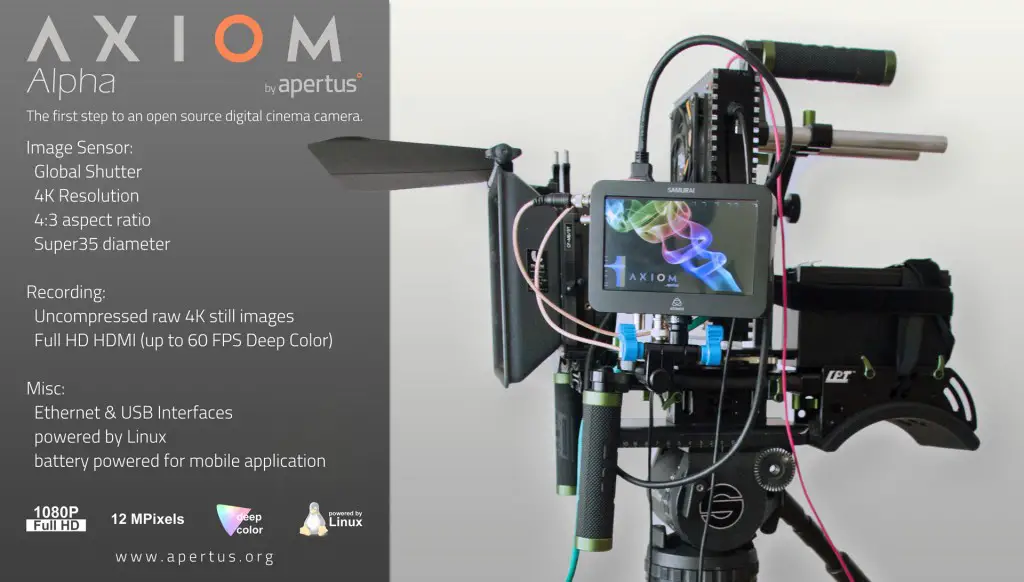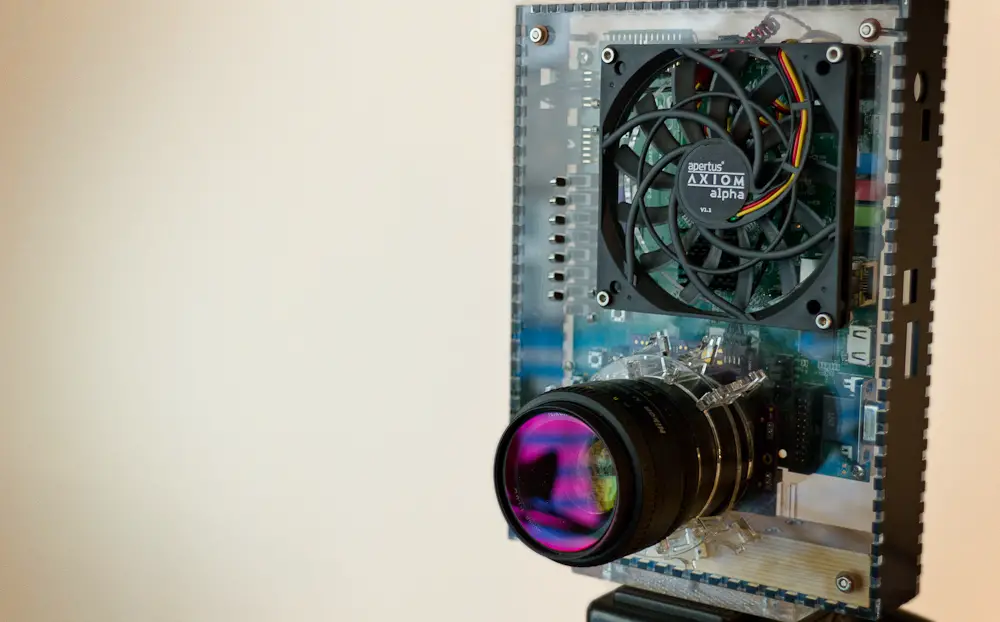 AXIOM Alpha's Tech Specifications:
Lens Mount Nikon F-Mount
Image Sensor Diameter Super 35 / APS-C
Still Resolution 4096×3072
Video Resolution 1920×1080 (down-scaled from 4K)
Output HDMI
Video Frame Rate up to 60
HDMI Bitdepth up to 12bit deep color
Inputs/Outputs Power In (12V DC), USB 2.0 (Serial Console), Ethernet (Camera Control), HDMI Out
Naturally, the AXIOM Alpha gave way to the next step into the evolution of the Apertus Project – the AXIOM Beta.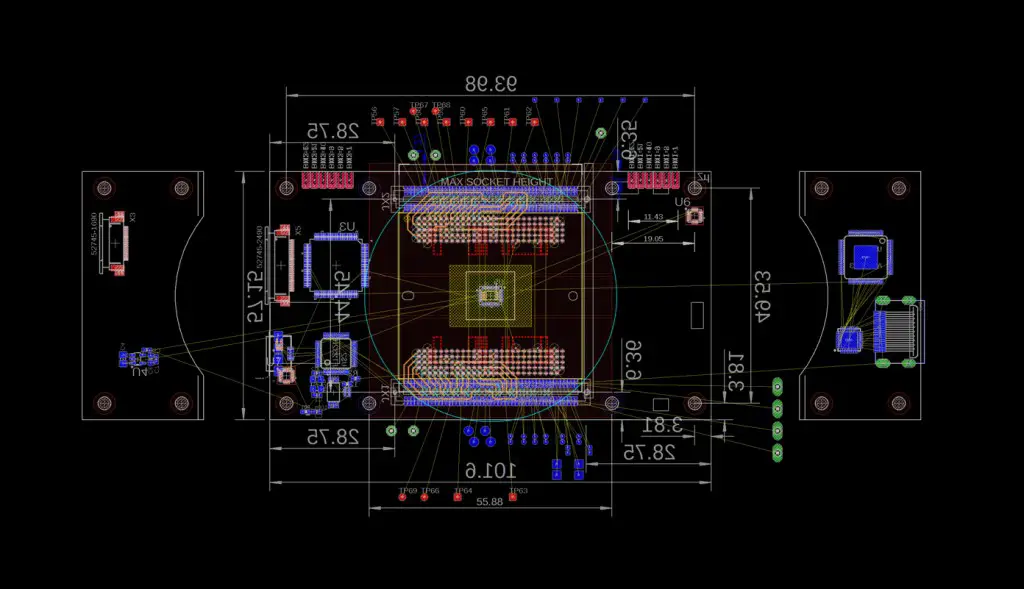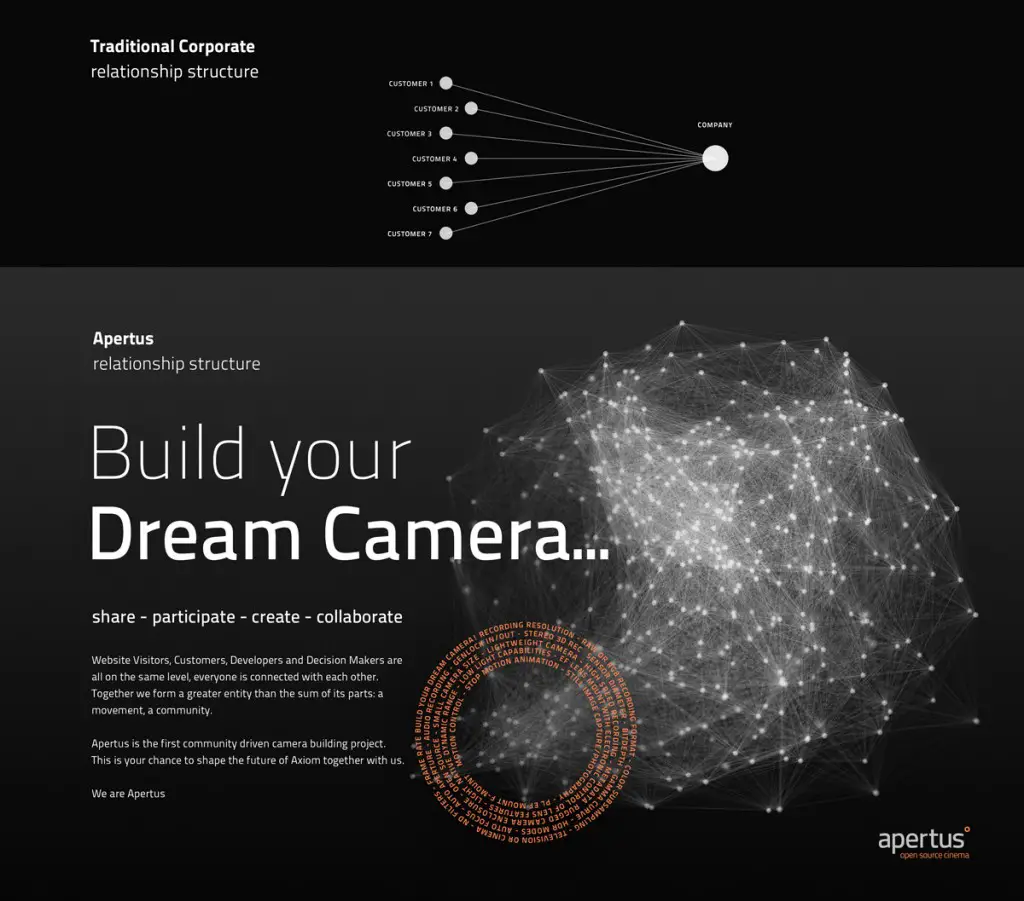 The 2nd camera from the community-based creative is going to be a more streamlined version of the Alpha camera with the following planned specs:
AXIOM Beta Camera – planned features include:
HDMI Full HD (4:4:4) output at up to 60 FPS
4K raw output via experimental HDMI formats
Capture full resolution, full bit depth raw still images to MicroSD card
Remote control of all camera functions from smartphone, tablet, laptop
Power management and monitoring (e.g. voltage, current, temperature)
Highly customizable via modular I/O add-ons (e.g. SDI)
Accelerometer, magnetometer and gyroscope e.g. for image stabilization
Different lens mount options (e.g. Nikon F-mount, EF and M4/3)
Wide input voltage range (5-40V)
Very lightweight and compact ~110x60x50mm
Embedded Linux (e.g. Raspian, ArchLinux)
LUTs, matrix color conversion, FPN compensation, false color display, overlays, dead pixel compensation
Using Microzed board (instead of Zedboard used in AXIOM Alpha)

Certainly many exciting options above and Apertus are planning a crowd-sourced limited initial run of 250 cameras. Those early adopters will be the actual beta testers for the BETA camera, as Apertus themselves acknowledge – the AXIOM Beta is a beta camera – therefore the possibility of bugs and problems is inherent. Early adopters can get the cameras at cost, and at significant savings at that. Prices are expected to be in the range of 350 EURO and 550 EURO for the manufacturing cost plus the cost of the sensor. Yes, you can choose your sensor. Here's the options:
Cmosis CMV12000 – around 1,300 EURO
Resolution
4096 x 3072
Optical format
Super35/APS-C
Frame rate
300 fps (10 bit)
180 fps (12 bit)
Dynamic range
10 F-stops, up to 15 F-stops (HDR)
Shutter
Global
Truesense KAC12040 – around 650 EURO
Resolution
4000 x 3000
Optical format
4/3″
Frame rate
70 fps
Dynamic range
12 F-stops (Rolling Shutter)
9.3 F-stops(Global Shutter)
Shutter
Global & Rolling
Cmosis CMV8000 – around 450 EURO
| | |
| --- | --- |
| Resolution | 3360 x 2496 |
| Optical format | 4/3″ |
| Frame rate | 104 fps (10 bit) |
| Dynamic range | 10 F-stops, up to 15 F-stops (HDR) |
| Shutter | Global |
Apertus are planning to release details on their crowd-funding campaign soon, and here at 4Kshooters.net we'll keep you updated on this exciting project.
Disclaimer: As an Amazon Associate partner and participant in B&H and Adorama Affiliate programmes, we earn a small comission from each purchase made through the affiliate links listed above at no additional cost to you.
Claim your copy of DAVINCI RESOLVE - SIMPLIFIED COURSE with 50% off! Get Instant Access!