Just a few years ago, we as filmmakers, were stuck with video images, we desperately tried to make more filmic by optical filters, 3:2 pulldowns, and all sorts of DIY diffusion.
That was until FilmConvert came about and gave us an incredible film emulator software as a plugin for major NLE's such as Adobe Premiere Pro, Final Cut Pro, Apple Motion, Sony Vegas, and Adobe Photoshop.
They are currently working on a beta version for Avid Media Composer as well.
Their pedigree comes from making video images from digital cameras more filmic by adding celluloid colour and grain from your favourite film stocks of yesteryear made by film giants Kodak and Fuji.
The cool thing about their emulator, which can be installed either as a NLE plugin, or as standalone software, is that it works with all sorts of cameras from the Panasonic GH2, GH3 and the upcoming GH4, to Canon 5D Mark II, Mark III, Canon 7D, and even higher-end digital cinema cameras like the Red Epic.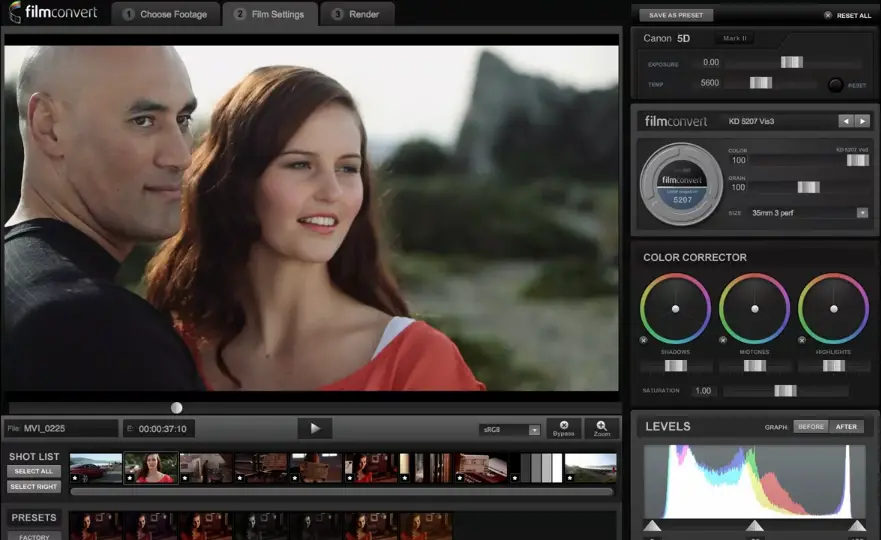 Just today, FilmConvert released a 4K Pack for the Blackmagic Design Cinema Camera. The pack is specifically designed to improve the colour accuracy of the camera and makes the images coming from it, even more filmic, by adding celluloid texture and depth.
You can download the PC/Mac version of the new 4K Pack for the BMCC directly from FilmConvert HERE.
Here's a video example of what FilmConvert can do:
They way FilmConvert achieves the filmic effect on a video image is by modelling the characteristics of different digital sensors used in popular modern digital cameras and utilising a complicated algorithm, they are able to match the video image to the characteristics of the film stock.

The emulator adds real film grain from real celluloid scans (scanned in 6K!) to the video footage, and in essence realistically alters the amount of grain needed for each colour value and exposure level in the digital footage from the camera.
Here's another video from FilmConvert giving more details on how to use the Film Settings Tab on their film stock emulator:
Most shooters using the BMCC apply grain in post or use optical filters, such as Schneider's Hollywood Blackmagic, or Black Gilmmerglass to diffuse the sharpness in 4K.
However, now with the new 4K Pack from FilmConvert, specifically designed for the sensor and colour science of the BMCC, shooters can apply the film grain quicker and save on filters, or simply have a more streamlined rig without a mattebox in "run-and-gun" types of situations. This new 4K pack will be really helpful to shooters, who have not yet used or mastered DaVinci Resolve, and a more used to grading with After Effects or Premiere Pro.
The creative opportunities are really limitless, and the new 4K Pack for the Blackmagic Cinema Camera from FilmConvert is another powerful tool in the BMCC shooter's arsenal.
Check out these tutorials below on how to use FilmConvert:
via Mattias Burling
[Link – FilmConvert 4K Pack for the BMCC]
Claim your copy of DAVINCI RESOLVE - SIMPLIFIED COURSE with 50% off! Get Instant Access!