Metabones, most known for their Speed Booster series of optical adapters, just announced the Mark IV version of their highly successful Canon EF/EF-S to Sony NEX (E-mount) Smart Adapter.
Note, this adapter is not a Speed Booster version.
The Mark IV Smart Adapter is great news for shooters heavily invested in Canon EF mount glass. The adapter provides an electronic pass-through option for most EF lenses, enabling shooters to use Canon EF mount lenses on Sony E-mount bodies, and at the same time control the electronic aperture in those lenses from the camera. Now, Canon 5D/7D shooters can freely use their Canon lenses to the fullest on cameras like the full-frame Sony A7s.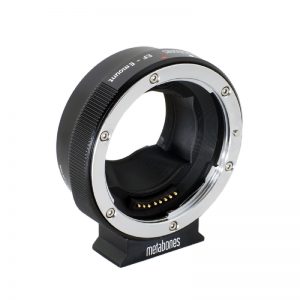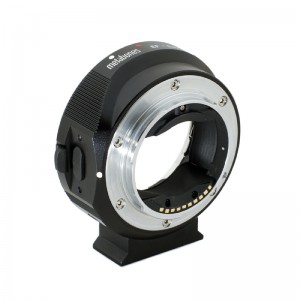 The correct electronic communication between Canon EF electronic mounts and other camera bodies is notoriously hard to get right, and not many adapters on the market get it right. Metabones know their stuff and their adapters, expensive as they may seem, do the job right all the time.
Here are some of the features of the Metabones EF to E-mount Mark IV Smart Adapter:
True electronic integration of aperture diaphragm – let camera automatically choose aperture in P or S exposure modes, or dial in yourself on the camera body in A or M modes.
Powered by camera body. No external power source required.
Wide open button (opposite of depth-of-field preview function) makes manual focusing easy.
The tripod foot is detachable and compatible with Arca Swiss, Markins, Photo cam ball heads.
High performance 32-bit processor and efficient switched-mode power supply.
The new design of the inner housing in the Mark IV upgrade has a bigger inner hole.
Improved the Tilt shift lens performance.
The inner hole is painted with matt coating (unlike the Mark III) which can further reduce the internal reflection.


One important thing to remember while using this adapter on a full-frame body like the Sony A7s, is that this adapter does not have any optics inside like a Speed Booster version would do, so it will not make your lenses faster.
Using a Speed Booster on a full-frame body is not advisable due to the severe vignetting that a boosted image would yield – as in essence, a Speed Booster makes a lens "wider" or in other words – it approximates a full-frame FOV on smaller sensors like APS-C or Micro Four Thirds. However, when a Speed Booster is used on a full-frame sensor it will vignette.
Now, the interesting thing about the Sony A7s, is that it has a crop-mode, or what they refer to as APS-C crop mode, which utilises the APS-C area of the full-frame sensor in order for EF-S lenses to be used on a full-frame body. On the A7s, a Speed Booster will only be beneficial in APS-C crop mode as evidenced by the video below via PhilipBloom.net.
Some great EF-S lenses that would benefit from the Metabones Speed Booster and the crop mode on the A7s are the Tokina 28-70mm f2.6-2.8 AT-X Pro Version 1 (designed by Angenieux) and the Canon EF-S 17-55mm f2.8 IS. Of course, the Mark IV Smart Adapter would also be an excellent addition to the kit bag of any Sony A7s shooter who wants to use his/hers Canon lenses.
I am very excited about adaptor, and I can't wait to get my A7s and the Mark IV adaptor so I can try the above lenses and share my findings on 4K Shooters. What do you guys think about the new Metabones adapter? Let us know in the comments below.
Claim your copy of DAVINCI RESOLVE 16 - SIMPLIFIED COURSE with 50% off! Get Instant Access!