In the past two weeks we've seen more updates and announcements from Blackmagic Design than we got all year last year!
First, 4K Raw, and now All flavours of Prores (without 4444) at no additional charge in all current Blackmagic cameras.
We weren't expecting that to say the least.
In this latest update, Blackmagic shooters can get more recording times with Prores 422/LT/Proxy on the BMPC/BMCC and Pocket Cinema Camera. Blackmagic Design just released firmware update 1.8.2. Of course, as with previous firmware updates – this one is FREE too!

See details below:
What's new in Blackmagic Camera Utility 1.8.2 – Download for Mac OS X / Windows
Adds support for Apple ProRes 422, Apple ProRes 422 LT and Apple ProRes 422 Proxy recording support on:

Before installing the software, we recommend that you run "Uninstall Camera Utility" first.
After loading the software on the Blackmagic Cinema Camera EF or MFT, you may notice a slight flickering on the built-in LCD screen. This is normal and expected behaviour. The flickering will go away after a few minutes of operation.
The Blackmagic Cinema Camera Installer package installs:
Blackmagic Camera Utility
Blackmagic Media Express
Blackmagic UltraScope
Blackmagic Disk Speed Test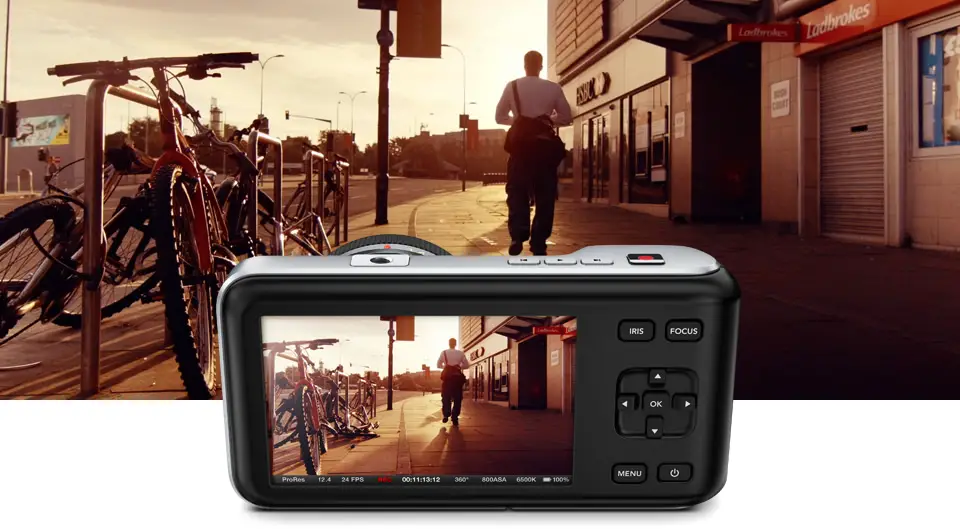 From the Blackmagic Design press release: 
 …customers using Blackmagic Design cameras will be able to get significantly smaller video file sizes allowing much longer recording durations on the same media card, all while preserving full frame 10-bit 4:2:2 quality.

Because this update is available to our camera customers free of charge, they simply need to download it, and install the update from their Mac or Windows machine using a simple USB cable connection to the camera. Once the update is complete, customers will see these new formats available in the camera menus.

Because this update reduces the data rate of recording, it means customers can now choose lower cost SSD or SD cards while still recording high quality video in SD, HD and Ultra HD resolutions. Using ProRes 422 Proxy it is possible to record 230 minutes of 1080HD video on a single 64GB SD drive. Selecting the type of ProRes format for recording can be set via the on screen menus and all ProRes types can be played back instantly.

The Apple ProRes 422 formats are designed specifically for multi-stream non linear editing, minimal generation loss and fast export, making them very popular video file formats for post production and broadcast. All ProRes files recorded with Blackmagic Cinema Cameras and Blackmagic Production Camera 4K can be opened directly in DaVinci Resolve 11 and Apple Final Cut Pro X™ for immediate color correction, editing and finishing.

"We are extremely excited to release this next update for our camera customers ," said Grant Petty, CEO of Blackmagic Design. "With the addition of the 3 new ProRes formats, cinematographers can now record for longer on low cost SSD's and SD cards without sacrificing image quality, as they are still recording in full 10 bit 4:2:2 quality. Because our cameras feature a software centric design, we are very excited to be able to update our cameras with more and more features over time and make the cameras better and better! And there is more to come!"
Read more on the full press release here.
Disclaimer: As an Amazon Associate partner and participant in B&H and Adorama Affiliate programmes, we earn a small comission from each purchase made through the affiliate links listed above at no additional cost to you.
Claim your copy of DAVINCI RESOLVE - SIMPLIFIED COURSE with 50% off! Get Instant Access!