It's quite natural for most of us, albeit most times unrealistic, to want to have a top quality performing product at an affordable price.
We want the best gear, but we don't want to break the bank. When a $5,000 camera shooting raw wasn't cheap enough, we got a cheaper one.
In July 2014, so far the theme in the camera and film gear making world seem to be – slashing prices. Earlier this week, Blackmagic Design started selling their smallest camera – the Pocket Cinema Camera at $495/£325, which was 50% off the original price of $995.
Such a drastic reduction of price, even though temporary by end of the Summer, is by definition quite disruptive and unheard of in the realm of "professional cameras".
Read our post about the Pocket Cinema Camera price drop here.
Ever since the 3-axis handheld gimbal stabilisers craze started with the introduction of the FreeFly Systems' MOVI M10, and after its success, rival companies started popping up left and right and rushed some pretty sub-standard gimbal stabilisers of their own to market in an attempt to capitalize on the rising demand in a niche market.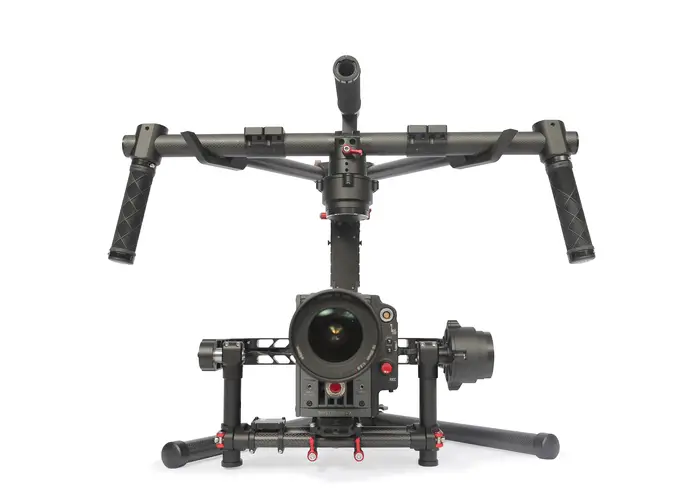 Earlier this week, DJI announced their are dropping the price on their new 3-axis handheld gimbal stabiliser from 4,500 USD, to 2,999 USD, (around £2,165 VAT Incl. in the UK) which is impressive to say the least.
The company, mostly famous for their quad-copter series of area stabilisers – the Phantom 2, Vision, and Vision +, which have been flying GoPros and capturing stunning vistas all around the world, is now offering a lower priced competitor handheld gimbal to the Movi M10.


The DJI Ronin also offers some exciting new features, not supported on the Movi M10 such as an "Upright" mode for getting higher angles and POV's. And like the Movi M10 and other higher-end gimbal stabilisers you can have a 2nd operator/assistant control focus/lens movement via an additional controller.
Here's an overview of the features of the DJI Ronin:
3-Axis Stabilisation
Supports a multitude of cameras and lenses (from DMC's like the GH4 and Sony A7s, to Red Epic)
Simple and quick 5 minute setup and balance
Precision of Control: ±0.02°
Built-in adjustment balance does not require any tools
Built-in receiver and remote control for remote follow focus systems or other accessories
Mobile Bluetooth assistant software
Based on DJI ZENMUSE Technology
Firmware upgradeable
Check out also this RED Epic Carbon Dragon 6K Demo on the DJI Ronin from NAB 2014:
DJI Ronin / RED Carbon Dragon Demo – NAB 2014 from Zeb Tao on Vimeo.
The DJI Ronin at least on paper and from the promos we've seen so far looks impressive, and we here at 4K Shooters are extremely excited to see this unit in the field properly tested and reviewed by shooters. We'd share reviews with you as soon as they come about.
It will definitely be a worthy consideration for a high-quality 3-Axis Handheld Gimbal stabiliser for the Panasonic GH4, the Sony A7s and even bigger form-factor cameras like the Canon C100 / Red Epic. The DJI Ronin is set for release in late August 2014.
Get the full DJI Ronin brochure here.
[via F-Stoppers and DJI]
Claim your copy of DAVINCI RESOLVE 16 - SIMPLIFIED COURSE with 50% off! Get Instant Access!