Sony A7s is one of the hottest full-frame hybrid cameras of 2014 with an incredible sensor, low-light capabilities and can shoot 4K as well (externally). Many shooters have a great collection of proven Canon glass already that easily can be adopted to the A7s' Sony E-mount.
One of the reliable and popular solutions is the  Smart EF Mark IV adapter by Metabones.
It is referred to as a "Smart Adapter" because it retains electronic communication between the camera and lens and therefore provides automatic aperture control, EXIF data, image stabilisation and autofocus.
The adapter is powered by the camera body, so no external power source is required. The Mark IV provides the same functions as the Mark III but provides optimized performance and an improved internal structure.
Only Canon-branded lenses introduced in or after 2006 are officially supported. Autofocus speed is very slow and inadequate for most moving subjects. Autofocus may be disabled for older Canon lenses and most third-party lenses, including most Sigma, Tamron and Tokina lenses and all Contax N lenses modified by Conurus. This Smart Adapter is also compatible with fully manual lenses which have no electrical contacts.
For a list of reported compatibility with specific lenses please see the Metabones website.
Besides the fact that it is a great adaptor, many users still experience problems and bugs using it with some of the Canon lenses, especially with the Canon 70-200mm F2.8L. Recently, Metabones announced a firmware update for their Smart EF Mark IV adapter (E-Mount). This is a must-have update for A7s shooters who have experienced buggy behaviour with their camera using Canon lenses.
According to Andrew Reid from EOSHD.com, If you own the earlier Mark III version of the adapter the firmware update must be done back at base. To do this users should contact Metabones to arrange the return.

This Smart AdapterTM has the following features:
True electronic integration of aperture diaphragm – let camera automatically choose aperture in P or S exposure modes, or dial in yourself on the camera body in A or M modes.

Powered by camera body. No external power source required.

Wide open button (opposite of depth-of-field preview function) makes manual focusing easy.

The tripod foot is detachable and compatible with Arca Swiss, Markins, Photo cam ball heads.

High performance 32-bit processor and efficient switched-mode power supply.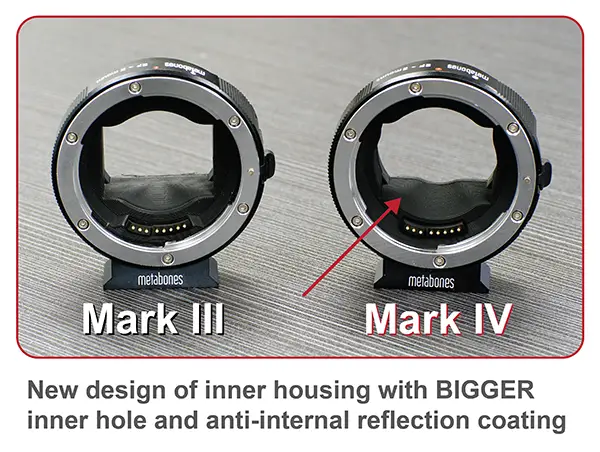 Enhancement on MARK IV vs. MARK III:
The new design of inner housing in MARK IV has a bigger inner hole. Improving the Tilt shift lens performance.

The inner hole is painted with matt coating. This can further reduce the internal reflection.
There are some recommendations from Metabones that you should consider during the firmware update. When performing it, don't disconnect the USB cable, otherwise, the adapter may become inoperable due to the sudden power shutdown. Don't connect the adapter to any camera and lens when performing the firmware update.
For all Windows users the firmware update is available here. Mac Version of the update was also announced, however, it is still unavailable.
[via EOSHD.com]
Disclaimer: As an Amazon Associate partner and participant in B&H and Adorama Affiliate programmes, we earn a small comission from each purchase made through the affiliate links listed above at no additional cost to you.
Claim your copy of DAVINCI RESOLVE - SIMPLIFIED COURSE with 50% off! Get Instant Access!