Just as I was browsing my twitter feed yesterday, I came across an interesting tweet by @PaulReam who apparently has "unlocked" internal 4K (4096 x 2160p) XAVC recording on his Sony PMW-F5. 
Here's a snapshot of his PMW-F5 with internal 4K XAVC recording.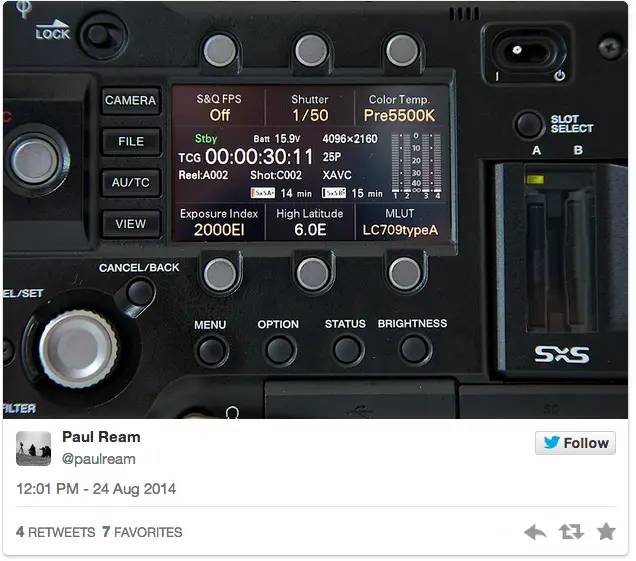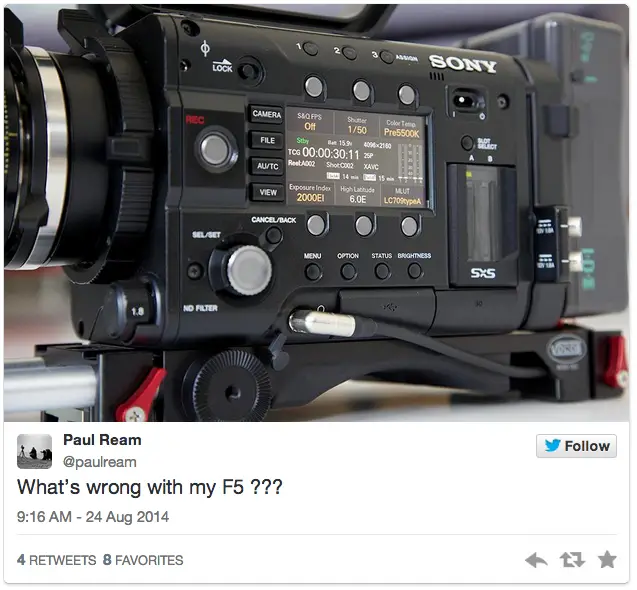 This is potentially huge, as despite the fact that the F5 shares the same sensor (minus the global shutter) with the "bigger" brethren F55, unlike the F55, the Sony F5 is limited to recording 4K only externally (16-bit Raw) via the AXS-R5 4K/2K recorder.
Having 4K internally in XAVC on SxS cards on the F5 unlocks the camera's full potential and bridges the gap between it an the F55, which can do 4K internally as well as 4K Raw externally with the Sony AXS-R5 recorder.
No word yet, on how exactly he was able to do this, but we're guess it is some sort of a firmware mod (dare we say "hack"?) which unlocks the 4K XAVC internal recording on the Sony F5. We do know one thing – it is free. 
Here's at tweet from Paul Ream, who confirms it's not an official Sony upgrade and that his mod does 4K XAVC internally up to 50fps. 

Sony have yet to comment on this, and if Canon is an indication with their (lack of) official response to Magic Lantern, they may let it be as it will probably boost sales of their F5. The flip side is they can try and restrict it with future firmware upgrades in order to protect sales of the F55. We certainly hope for the former, and that this "mod" may become the "Magic Lantern" for the F5.  
Here's a video he shot in 4K XAVC on his "4K-enabled" F5:  
This is all we know about this "mod" at the moment. According to him all details on how he was able to unlock the internal 4K XAVC recording mode on his Sony F5 will be revealed during the next ExtraShot Podcast. 

Disclaimer: As an Amazon Associate partner and participant in B&H and Adorama Affiliate programmes, we earn a small comission from each purchase made through the affiliate links listed above at no additional cost to you.
Claim your copy of DAVINCI RESOLVE - SIMPLIFIED COURSE with 50% off! Get Instant Access!