ARRI have just announced another upgrade, this time of their flagship camera ALEXA XT.
In the beginning of 2015, the ALEXA will be able to shoot 3.2K ProRes internally (in 16:9 aspect ratio only) as an addition to the previous upgrade of Open Gate mode which enables recording of the entire sensor active image area of 3414 x 2198 pixels implemented in the ALEXA XT 4:3 models.
Open Gate mode provides  more resolution for repositioning, resizing, stabilizing or rotating the image. This could be used to reframe a 2.8K window inside the 3.4K acquisition, to work natively in 3.4K for VFX or to render the 3.4K to 4K and "zoom" in as required. 
Thus, the leap of ARRI towards embracing 4K acquisition is becoming more and more of a validation for where broadcast and cinema acquisition are headed.
It is only a metter of time before we see a fully functional 4K camera from the legendary German manufacturer. The announcement of adding 4K UHD (3840×2160) ProRes internal recording mode through an upgrade of ARRI AMIRA was the first official sign that its only a matter of time before ARRI embrace 4K acquisition as a standard for their cameras.

ALEXA Product Manager Marc Shipman-Mueller said:
Designed from the outset to be adaptable and future-proof, Alexa can easily accommodate productions that choose to follow a UHD or 4K workflow. The camera's stellar overall image quality in combination with ProRes 3.2K or ARRIRAW Open Gate allows for simple up-sampling to UHD or 4K in a quality at least as good as other contenders. And because of their unequalled exposure latitude and highlight handling, Alexa images are already uniquely HDR-compatible. Put simply, ALEXA remains the safest available capture tool for asset longevity, no matter what future standards come to fruition.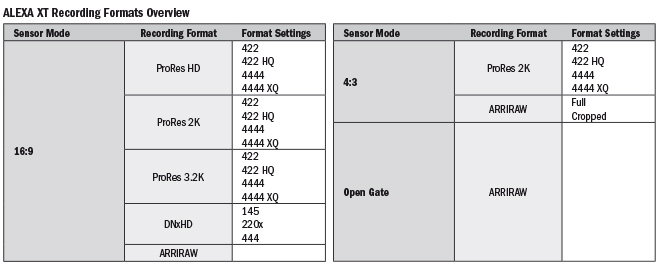 It's not a big surprise that ARRI implements 3.2K ProRes recording mode in the ALEXA XT as it is already capable of recording of 3.4K  RAW in Open Gate mode. The ALEXA's unrivalled exposure latitude, highlight handling and color science already has been proofed as a standard and resulted in images beyond the capabilities of current display technologies and the widely accepted delivery in resolutions up to 2K. 
 The majority of digital film and television productions continue to capture and distribute in HD or 2K, formats for which the ALEXA provides an unmatched solution. Many high-profile movies have been shot in ARRIRAW 2.8K and up-sampled to a 4K for mastering and cinema projection (DCP) with spectacular results. 
We can only guess and speculate what the next generation of sensor technology by ARRI would be. If the upscaled images from their current cameras are as good as those produces by the 4K cameras of their competitors we can barely imagine what type of quality and features would deliver in a future a true 4K ARRI sensor.
[via arrimedia.com]
Disclaimer: As an Amazon Associate partner and participant in B&H and Adorama Affiliate programmes, we earn a small comission from each purchase made through the affiliate links listed above at no additional cost to you.
Claim your copy of DAVINCI RESOLVE - SIMPLIFIED COURSE with 50% off! Get Instant Access!