Every aspect of video creation is rapidly evolving and it's incredibly difficult to keep up. Staying abreast of current trends and technology is essential. It absolutely requires continuous education. I know what you're thinking, "but schooling is expensive".
I hear you. Education can take on many forms, though, and you don't need to go broke to get it. There's a simple way to learn the skills you need to keep your video creation on an upward trajectory, and thousands of creators like you are racing to grab it up.
It's an exclusive bundle of video resources created by some of the industry's top professionals. The Video Creators Bundle event by 5DayDeal (this year, with 3 options) has it all, but only for 5 days in each calendar year.
They are available right now, but there are only 3 days left for you to save at least 95% on over $2,000 in top products. That means you can get a year's worth of educational tools and resources for just $89!
I know, it seems too good to be true, but I assure you it isn't. The folks over at 5DayDeal are just really big proponents of quality creative and they believe that education should not be unattainable for anyone.
So they have made it their mission to find top resources to help folks like you capture success (while also helping raise money and awareness for some amazing charities and making the world a better place to film).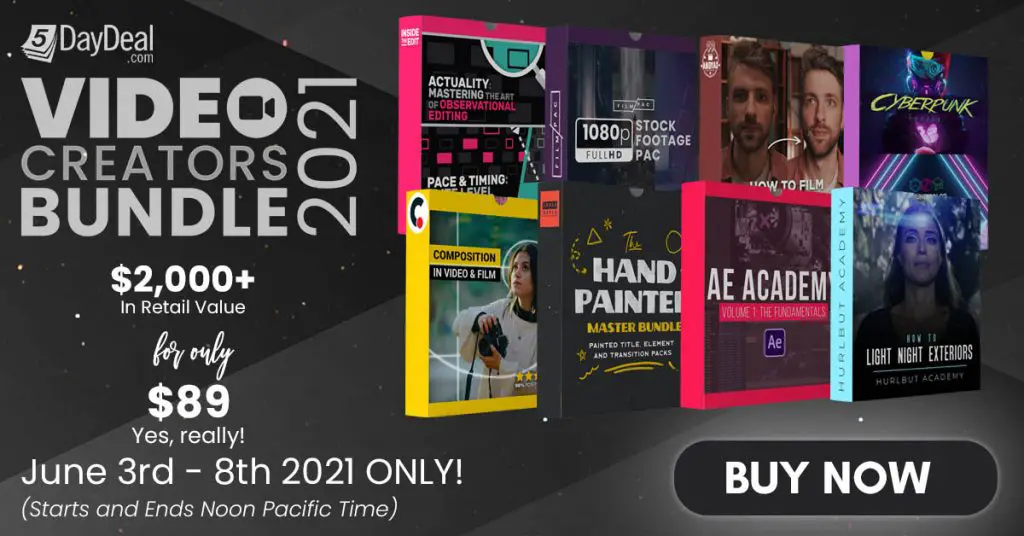 With 3 bundle options and nearly 35 products in total, it's hard to cover them ALL but let's at least mention our favorites.
Learning to Light Night Exteriors by Hurlbut Academy
CYBERPUNK Scores & LUTs Library Vol. 2 by Triune Films
Observational Editing + Pace & Timing by Inside The Edit
Real Estate Video Master Class by Brandon Washington
AE Academy Volume I by Motion Science
Lut Collection by Tropic Colour
Color Grading Secrets Pro by Denver Riddle
The Hand Painted Master Bundle by Smash Works
FILMPAC HD Stock Footage Pac byFilmPac
How to Film Yourself by Andyax .com
The Ultimate Timelapse Guide + Timelapse & Photo Editing by Matthew Vandeputte
Ultimate Editor Bundle by Eric Thayne
Mastering Cinematic Compositions by Cinecom.net
So, what's stopping you?
Think about it, at the rate things are moving, you can't afford to stop learning. You need to hurry, though. The sale ends in less than 3 days! Get the bundle at 96% off before it ends on June 8th at Noon PST! Don't fall behind the competition! Act now!
Claim your copy of DAVINCI RESOLVE - SIMPLIFIED COURSE with 50% off! Get Instant Access!