Follow focus gears have been around for quite some time; they are normally used to wrap around the lens gear of a stills lens, which by default is designed for photography – hence missing the native 0.8 pitch geared ring for traditional follow focus systems. Since everyone and their grandma these days owns at least one stills lens in their lens package for shooting video – getting those stills lenses primed for cine use can be a rather frustrating task. Most follow focus gears are generally rather poor designed and quite cheap.
However, through some trial and error, one could find some gems out there – that are well designed, affordable and can last you some time. Such lens gears as the ones made by UK based Half-Inch Rails (made by a lovely chap and UK based DoP – Sam Morgan Moore). These are also available in the States through resellers like B&H.
A few years back, I bought a bag of these and still have some that I've used for the last two years and never taken off the lens – mainly my Canon EF-S 17-55mm f2.8 IS before I recently sold it. As much as I like the HIR lens gears, they can be fiddly to install, and have a stop at one end where the to ends of the gear meet with the zip tie. I've been looking for a solution to this for quite some time now.
And yes, I know that Zeiss released their own Lens Gears, but as nice as they are in terms of build quality and design, there is different sizes for different lens diameters, which means I have to buy multiples – and each of them cost around $200 and more.
However, recently Josh Turner, the owner of Canada-based Broken Anchor Design got in touch with us and send us some details about their new universal lens gear they've been working hard on for the past few months.
ZERO is the world's first truly universal, 360º seamless follow focus lens gear designed to fit nearly any lens in your kit and boasts a blistering 3-second install time, making lens changes a breeze. The seamless outer gear is completely free of any obstructions, saving you time and letting you simply focus on the shot.
The ZERO lens gear from Broken Anchor Design features an oversized, fixed diameter giving users the highest degree of accuracy when pulling focus and offers you the most repeatable and consistent action; the Zero is also beautifully crafted from premium grade aluminium with high precision.
ZERO Universal 360 Degree Lens gear Features
Patent-pending Universal Size Mechanism and Tension System
Scissor Arms extend 60-90mm providing ample adjustment through range
Full operational range – via less than quarter turn of front ring
Soft grip prevents slippage and prevents any damage to your lens
One-touch release
Industry standard 0.8 pitch gear module
Precision machined from aluminium
Bead blasted and anodized finish
Weight – just 136 grams (0.29lbs)
Outer diameter – 125mm
Width – 26mm
We've all been there, mid shoot, fading light, fumbling through a camera bag looking for some tiny allan key, screwdriver or sizing spoke, before that perfect golden light disappears for another day. Well say goodbye to time-sucking lens changes. – Broken Anchor Design
I really dig this design – simply press a button for release – no more tools, scissors, cutters and such.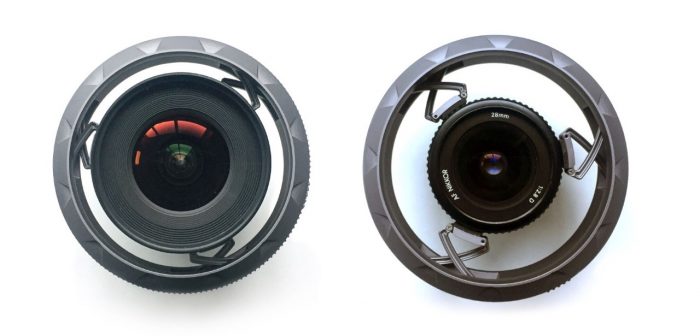 The Zero universal lens gear also solves the tradition short focus travel distance on most stills lenses used for video, by incorporating its own large, oversized diameter of 125mm. The oversized diameter results in a reduction of the gear ratio and produces a longer lens throw. This means it gives you significantly more control and accuracy while pulling focus and more closely resembles the action you would expect from an expensive cinema lens. By creating the outer gear with a fixed diameter, the lens size no longer determines the gear ratio, giving you unmatched consistency, regardless of what lens you are using.
Zero is precision machined with the industry standard 0.8 Module gear pitch, making it is compatible with almost any follow focus on the market. Unlike many gears on the market, Broken Anchor Design have not overlooked the importance of the gear tooth shape and haven't skimped on this very important design piece – these guys use a specialized, involute gear cutter and manufactured ZERO to extremely precise constraints to eliminate the dreaded backlash or grinding, which often occurs when using poorly designed lens gears.
Broken Anchor Design are looking to raise $33,300 USD ($45,000 CAD) via Kickstarter and estimate initial deliveries to start around March 2017.
Super-early bird pricing starts at $275 USD. Visit their Kickstarter page here to claim yours.
Disclaimer: As an Amazon Associate partner and participant in B&H and Adorama Affiliate programmes, we earn a small comission from each purchase made through the affiliate links listed above at no additional cost to you.
Claim your copy of DAVINCI RESOLVE - SIMPLIFIED COURSE with 50% off! Get Instant Access!