After the recent release of the new GoPro Hero4 cameras, we are really excited to see that so many interesting accessories for "the most versatile camera in the world" are emerging as well.
Along with the first 3-axis GoPro gimbal announced by DSLR Pros, today we'll cover the first Wireless Charger system for GoPro cameras called simply Jolt Charger.
Jolt is a wireless charger and battery set for GoPro Hero3, Hero3+ or Hero4 Black. Wireless charging is based on induction. This technology is used to charge some new mobile phones and tablets. However, one of the challenges in front of Jolt's team was to find an efficient solution to charge the GoPro camera from longer distance from the Jolt pad, while the camera is in the housing, for instance.
Besides the team successfully accomplished this task, they create the design of the charging pad in a way that one can place one or more cameras or batteries at the same time and charge them simultaneously.
This is how the whole system works.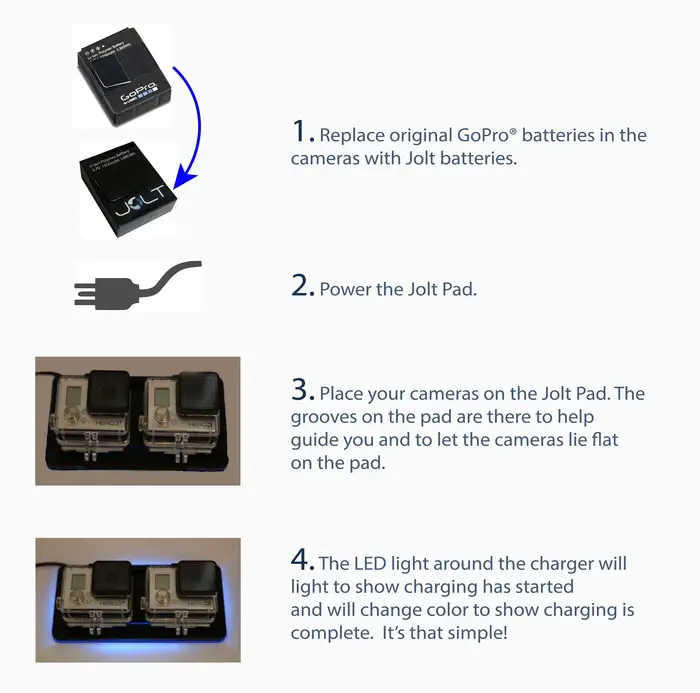 Replace your battery inside the GoPro with the Jolt battery which has the same capacity, size and essentially gives you roughly the same shooting time. Then simply drop one or more cameras (in or out of the Polycarbonate housing) on the pad and watch them get charged rapidly.

The glowing LED light surrounding the charger will tell you if the batteries are charging, or finished charging. The wireless charging receiver is built into the battery so if you want to charge some extra back up Jolt batteries, then also toss them on the pad and they charge too by themselves. The LED on the Jolt battery will let you know it's charging or when the charging is complete.
The Jolt is designed in such a way that it allows to charge up to 3 batteries, or an extra camera, or even a combination of the battery and a camera by simply placing them on the Jolt pad.
Jolt Wireless Charger System features:
Wirelessly charges GoPro camera while in protective case
Compatible with GoPro Hero3, Hero3+ and Hero4 Black camera and battery
Simultaneous multiple device charging: camera and extra battery (ies)
Can be charged via wall or car outlet or any external battery pack
Sleek and soft surface pad
You can even order a customized Jolt Pad with some of your favourite images captured by your GoPro.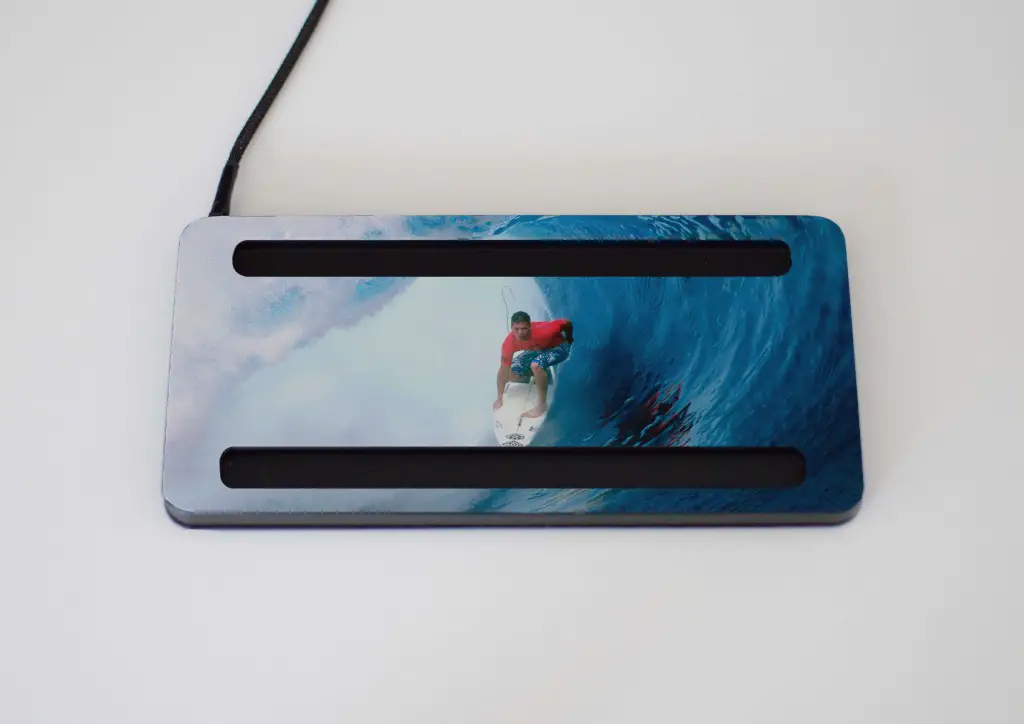 The Jolt Charger System is super efficient tool that can be used not only by GoPro enthusiasts, but by many filmmakers who use the cameras for professional productions. Actually the concept of charging cameras and batteries wirelessly is quite appealing. Imagine how much easier and useful it will be for us to simply drop one or more batteries on a single pad and pick them instantly when they are fully charged. I'm eager to see more similar solutions for other camera systems as well.
The expected retail price for the Jolt Charger is going to be around $89.99 for a bundle for a Jolt pad and Jolt battery. An extra battery will cost around $29.99. There is a Jolt Kickstarter campaign running currently where you can support the project.
[via joltcharger.com]

Claim your copy of DAVINCI RESOLVE - SIMPLIFIED COURSE with 50% off! Get Instant Access!