The South Korean budget lens maker Samyang just announced their first ever full-frame lenses with autofocus – a 14mm f2.8 and 50mm f1.4 for Sony E mount. This is a bit of surprise move by the company made famous by manual lenses and budget cine lenses such as the Ronikon DS Cine, or the new XEEN budget cine primes. You've probably seen Samyang lenses also sold under their other brands Rokinon, Walimex and Bower – essentially they are the same lenses, it just depends on the market territory you are in. Offering probably the industry's best "price to performance ratio", Samyang lenses have long been favourites among independent filmmakers and content creators working on a budget.
However, the new FE lenses are optimised for Sony E mount full-frame cameras like the Sony A7RII and A7sII plus whatever new Alpha7 camera(s) will come out until the end of the year. After all, 2016 is a Photokina year, and you can be on Sony not being too shy about revealing at least another ten new cameras.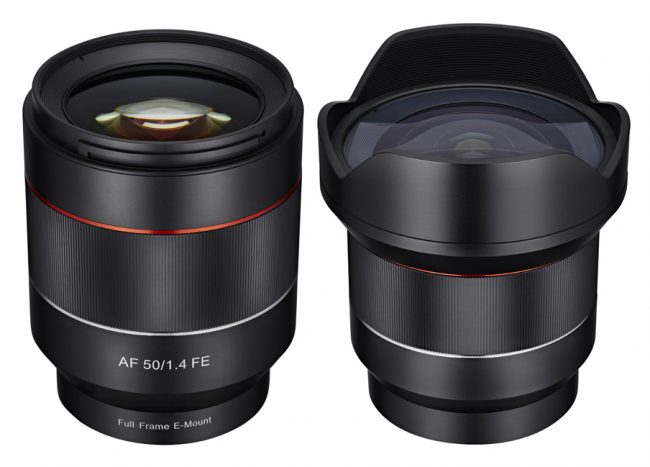 Catering to photographers using Sony E mount cameras, who don't want to max out their credit cards to buy the latest Zeiss or Sony/Zeiss lens, the new Samyang 14mm F2.8 ED AS IF UMC and Samyang 50mm F1.4 AS IF UMC are expected not to cost an arm and a leg. According to SAR the 50mm f1.4 FE is expected to be priced below $600, which not bad considering the Sony Ziess 55mm f1.8 FE costs around $900, and the Sigma 50mm f1.4 Art with the MC-11 adapter is over $1,000.  Sony do however make their own 50mm f1.8 "nifty fifty" for about $250.
Samyang tells us that these lenses have been specifically optimised for full frame mirrorless cameras in Sony E mount, although they should work just fine on an APS-C Sony a6300 for example or a Sony FS5 if you want to use them for video for some strange reason. The focus ring is sadly focus-by-wire again and not a mechanical one, which is a bit of a shame if you are planning on using these for video you'll be in a world of hurt if you try and repeat your focus manually.
The flow of light has apparently been devised based on the uniqueness of the distance from glass to sensor in mirrorless cameras to create optimal performance. Front diameter is 67mm and aspherical lenses have been included in both lenses to minimise aberration and unnecessary light dispersion, delivering high resolution from the centre to the corners of the image.
Expect to see more lenses like these from Samyang soon.
[via: SonyAlphaRumors / source: Samyang Global]
Disclaimer: As an Amazon Associate partner and participant in B&H and Adorama Affiliate programmes, we earn a small comission from each purchase made through the affiliate links listed above at no additional cost to you.
Claim your copy of DAVINCI RESOLVE - SIMPLIFIED COURSE with 50% off! Get Instant Access!