Imagine after a long 12 hour day on set, you are on your way back home. You are really excited as you know that today you've captured some fantastic footage and you want to review it instantly. You pick up your iPad to review your rushes.
Suddenly, an idea arises in your mind. You want to do some quick editing, cut the bits and pieces and create a short draft sequence just to see if the scene would work in that certain way you thought.
Well, the good news is that you won't need your trusted workstation or a Macbook Pro anymore, for that certain situations when you are on the go, at least. Adobe has just released a mobile app version of their popular NLE – Adobe Premiere Pro and called it simply – Premiere Clip. With it, you will be able to import clips into a project and rearrange them into the order you prefer for a rough assembly.
This is how the Premiere Clip interface looks like on an iPad.
Further, you can start trimming the clips, add music (some soundtrack options are included with the app), and make some simple audio-mixing choices, including fading audio in and out, adjusting the soundtrack volume, and employing an Auto Mix feature that reduces the volume of the music when the clip that's playing has audible sound. Projects are continuously synced with Creative Cloud, so you can grab your iPad when the iPhone's canvas gets too small and continue working away from your workstation.

When you're done, you can either share the video directly from Clip using a special viewing URL, or you can import the project into Premiere Pro for detail work and finishing.
The beauty of this workflow is that by the time you are back home you will have a rough cut of your footage that you can easily continue to edit directly on your work station later.
This is what the Adobe's Senior Marketing Director for Creative Cloud Scott Morris has to say about Premiere Clip:
Premiere Clip is our first mobile video-editing application that works on iPhone and iPad, that takes the power of Premiere Pro and makes it available on mobile and also integrates back with the desktop. You can grab video clips and still images, drag and drop them into the order you like, trim out the bits you don't want, add visual polish with cinema-quality color treatments leveraging SpeedGrade technology and slow-motion effects and transitions, and then take them back into Premiere Pro.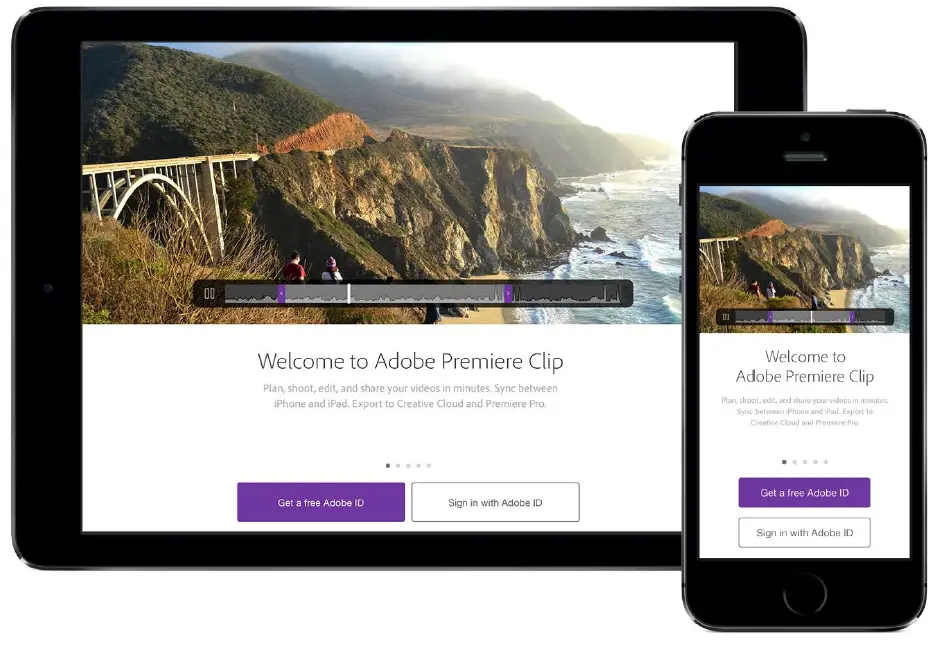 For now, Premiere Clip is only available on iOS. An Android version is expected in the near future as well. This small app is a big step towards a more versatile and convenient mobile editing workflow.
Yet, I doubt anyone would dare to edit a feature-length movie on their iPad, however having another option for better control over the creative process is a welcomed enhancement. Mobility is the future. Kudos to Adobe for that excellent decision.
[via www.studiodaily.com]
Disclaimer: As an Amazon Associate partner and participant in B&H and Adorama Affiliate programmes, we earn a small comission from each purchase made through the affiliate links listed above at no additional cost to you.
Claim your copy of DAVINCI RESOLVE - SIMPLIFIED COURSE with 50% off! Get Instant Access!