Filters are an essential part of shooting stills and video. However, most times with different size lenses and especially stills lenses used for video, one may find themselves in a situation where they have to carry a few versions of the same filter in different sizes or a stack of adapter rings. Not ideal, quite fiddly, it does the job, but not so healthy for your bank account. My Genus Eclipse vari-ND filter, Tiffen Circular Polarizer, and Black Pro mist 1/4 filters are a permanent fixture in my camera bag, as I use them constantly depending on my needs on the day. The issue I have sometimes is that the Genus ND and the Tiffen are circular filters with 77mm threads, but the Black Pro mist 1/4 is a 4×4 filter for which I need a mattebox – this is where the Vocas MB-215 comes in handy, and even though I lug it around in my bag, its compact size doesn't bother me.
However, there are times when I need to swap lenses really quick and although I do my best to unify my lenses to 80mm fronts with 77mm threads by screwing in the adapter rings beforehand, I often find myself wasting times taking the mattebox off so I can change a lens or unscrewing filters on and off. God forbid I have to use a fisheye lens, and then I get really cranky.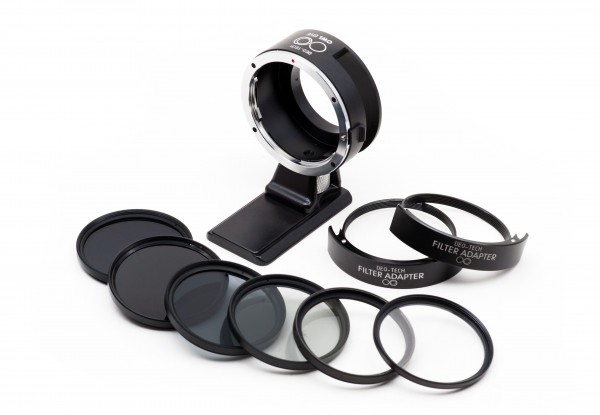 Recently I came across the OWL – the worlds 1st drop-in filter which doubles as a lens adapter. It's made by a startup company from Hong Kong called DEO who have recently launched their Indiegogo campaign to raise production funds to manufacture the OWL. The drop-in filter adapter is designed so let you easily place circular filters behind the lens instead of the front. This not only saves time when you have to change filters, but also lets you filter any lens – regardless if a super wide fisheye, which by design prevents you from putting anything in front, or a lens with a filter diameter larger than your filter.
OWL combines camera adapter and exchangeable filter. User can change filters in a quick and convenient way during filming or photographing. It advances your workflow and cost saving. From now, you just need to prepare one filter to fit all your lenses. You will definitely have a total new experience in photography.
By placing the filters between the lens mount and the sensor, and utilising the hollow metal tube of the lens adapter is a similar way Holymanta do with their innovative VariND system, the OWL drop-in filter makes filter swapping a breeze, saving you valuable time on set especially in a run n' gun situation when time is of extreme importance.
The filter thread on filters you can use with the OWL is 52mm, which is small enough to fit just about anyone's budget. Some of the downsides I can see with this adapter, although it looks like a sturdy build, is the fact that it doesn't an electronic interface with the camera lens mount, which means that Sony A7s or GH4 shooters need to resort to using vintage/manual lenses as changing aperture and utilising any image stabilisation featured in some electronic EF/Nikon/etc and other lenses won't be possible with this adapter. On the positive side, the OWL protects your sensor from dust, oil and other harmful elements and from the crowdfunding promo, the team at DEO have countered the light leak issues.
One thing to keep in mind is although getting a filter as close as possible to the sensor (as in built-in ND's on most professional camcorders) is arguably more beneficial, the filters used need to be of high quality. Otherwise, shortcomings of poorer filters will be more pronounced as opposed to front of the lens positioning.
DEO plans "high quality" filters for the system to include a UV filter, a polarizing filter, color filters (yellow, orange, red, green, and blue), and a variable neutral density (ND) filter. The initial OWL adapter will be offered in 4 versions:
Canon EF to Sony E
Canon EF to M43
Nikon F to Sony E
Nikon F to M43
OWL Basic kits start at $79 and are estimated to ship in April. To claim your OWL kit and support DEO in their crowdfunding venture, head over to their Indiegogo page.
[via DIYPhotography / PetaPixel]
Claim your copy of DAVINCI RESOLVE - SIMPLIFIED COURSE with 50% off! Get Instant Access!