Slowly but steadily, Metabones, who are well-known for their innovative and extremely reliable optical adaptors, continue to expand their products line with some new items. At the end of June this year the owners of the BMPCC were able to purchase the long-awaited Metabones EF-to-MFT BMPCC Speed Booster, which was specifically optimised for the smaller Super 16mm size sensor of the camera. The EF-BMPCC Active Speed Booster reduces the crop factor of the BMPCC from 2.88x to 1.75x, and produces the largest aperture optics currently available, with a maximum output aperture of  f/0.74.
Just a couple of months ago the company shipped the long anticipated Canon EF Lens to Micro Four Thirds Speed Booster Adaptor that turns the Panasonic GH4 into a Super 35mm 4K camera. The EF to Micro Four Thirds Metabones Speedbooster also supports IS (image stabilization) and gets power direct from the camera, which eliminates the need for additional energy sources.
Recently, the new Canon EF to BMCC MTF Speed Booster just appeared on the Metabones official website. It is designed exclusively for the Blackmagic 2.5k Cinema Camera (BMCC). The new 0.64x Speed Booster reduces the full-frame crop factor of the BMCC from 2.39x to 1.53x, thus effectively transforming it into a Super-35 format cine camera.  Also, the speed of any attached lens is increased by 11/3 stops, with a maximum output aperture of f/0.80.
Here is a table of compatibility and resulting crop factors of the different Metabones adaptors: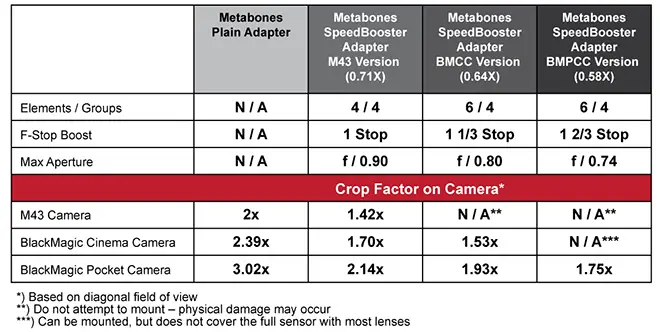 However, you should note that the new Speed Boosters will only attach to Blackmagic cameras equipped with a Micro-4/3 mount(the BMCC MTF and BMPCC).  It can not be attached to standard Micro 4/3 cameras. There is Speed Booster already manufactured and dedicated to BMPCC, however, you can use the new one with the Pocket camera as well.
Key features of the Canon EF to BMCC Speed Boster Adaptor:
Increase maximum aperture by 11/3 stop. (with a maximum output aperture of f/0.80)
Increase MTF.
Makes lens 0.64x wider.
Optics designed by Caldwell Photographic in the USA (patent pending).
When using with "passive" (without electronic control pin) MFT camcorders/cameras, such as BMCC 2.5K MFT and Digital Bolex D16 MFT, the Speed Booster must be powered by external power source via Micro-USB socket. Input Voltage is 5V DC.  (Battery is NOT included in the box).
When using with "active" (with electronic control pin) MFT camcorders/cameras, such as BMPCC MFT, the Speed Booster can be powered by the camera body. No external power source required.
Built-in electronics to control lens aperture.
The Lens aperture is set by the dial button on the adapter.
High-performance 32-bit processor and efficient switched-mode power supply.
The tripod foot is detachable and compatible with Arca Swiss, Markins, Photo cam ball heads.
Another great thing about the Metabones Speed Booster adapters is that, besides the Canon and MFT mount, they already support a multitude of lens mounts ranging from Minolta MD, Olympus OM, Leica R, Nikon G, Sony Alpha, Contax Yashica and others making it possible to adopt these lenses to a variety of camera mounting systems.
Thus, these high optical adaptors give filmmakers the freedom to experiment with different camera systems without the need to spend a fortune on a new set of lenses every time buying a new camera.
[via www.bmcuser.com]
Claim your copy of DAVINCI RESOLVE - SIMPLIFIED COURSE with 50% off! Get Instant Access!