As with any other camera system, the best way to make your GoPro images look more professional, steadier and smoother is by using a stabilizer. Due to the small physical size, the lack of internal stabilization and rolling shutter issues the GoPros are virtually unusable, especially for professional work without being mounted in some way.
It's rarely possible to produce any decent quality images simply by holding the bare body of the camera in a hand-held style. You'll need some mounting support system to be able to capture any sustainable footage. There is certainly a reason why so many GoPro users invest money in additional accessories and mounting systems such as helmet mounts, chest straps, frame bracket holders, selfie rods and many others.
The following video covers three popular GoPro stabilizers that make hand-held shooting a breeze.
The Steadicam CURVE made by Tiffen is a lightweight stabilizer designed to produce an effortless flying look to your footage. This unit is a gimbal-based stabilizer specially made to eliminate the shake and vibration that you get from walking or running with your GoPro camera. The downside of this stabilizer, though, is that it will take you the most time to get balanced and prepared for actual shooting compared to the other two devices.
The Steadicam Curve is the perfect solution when you need to keep the footprint of your gear small and portable. Featuring a lightweight frame, an included weight kit, and built-in ergonomics, the Steadicam CURVE is small enough to fit in your back pocket, weighing in at half of a pound. You should be aware, though, that this gimbal balances correctly only with the LCD Touch Bacpac on the camera which is an optional accessory that is an additional investment.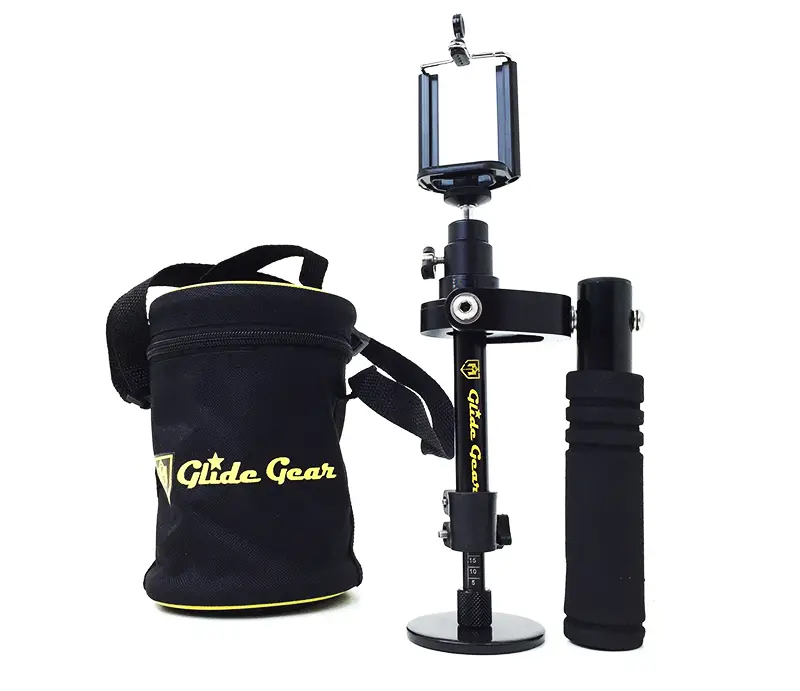 The Glide Gear Cellfie is another support system suitable for your GoPro camera. It will allow you to achieve more fluid moving shots with your cell phone or GoPro camera. There is even a list of presets for various devices so balancing either a smart phone or GoPro shouldn't be a problem.
The Glide Gear Cellfie also features a nice grip and includes a ball head for further fine-tuning adjustments. The gimbal also comes with a variety of adaptors to accommodate most popular smartphones. Made of anodized aluminum and stainless steel coated with a black powder finish, it is a corrosion and scratch-resistant tool that will last for many years ahead.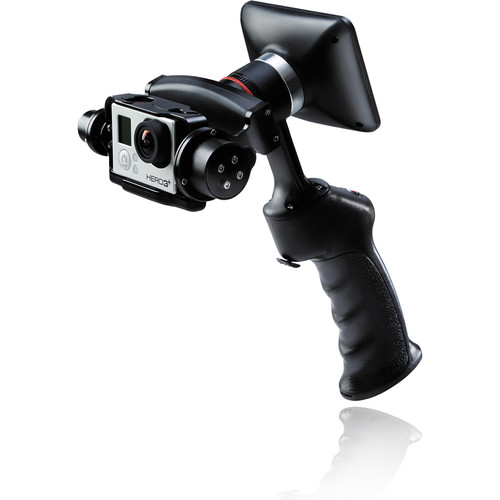 The last one of the three devices is the SYNC Technology Adventure Camera Stabilizer. It features a 2-axis gimbal with brushless motors and utilizes a gyroscope to predict accurately movements to keep your camera level and smooth without any in advance calibration. The SYNC Adventure Camera Stabilizer provides a USB port that enables transmission of a live video monitoring feed to a built-in 3.5″ rotatable LCD screen.
Additional features include a rechargeable Li-Po battery that lasts up to two hours and a toggle switch on the front of the hand grip that provides 180° of controllable tilt. The device has a powerful 32-bit CPU, and it's capable of more than 20,000 motor reactions per second. However, it's recommended to adjust the GoPro settings using a GoPro app or a remote control first before you power on the device. This SYNC Stabilizer is also the most expensive one of the three with a retail price of $349.
Eаch of those tools has its workflow, quirks, and workarounds, so it's highly recommended to invest some time in initial testing and tweaking before you start shooting to get the optimal performance and results.
Claim your copy of DAVINCI RESOLVE - SIMPLIFIED COURSE with 50% off! Get Instant Access!