To celebrate the summer, Motion Array reduces their Annual plans to $199.99/year. You can take advantage of this heavily discounted price for the first week of August from July 27th to August 3rd! That's a total of $150 in savings!
This exclusive Summer Sale will give you unlimited access to the all-in-one video and filmmakers platform, including unlimited templates, footage, music and photos, MA's video collaboration and review system, and portfolio builder at a steep discount.
The company have now reached over 500,000 products in its marketplace, which means you can also enjoy endless options to use in all your projects. The team puts every effort to continuously increase its library and also providing new unique content weekly.
In a world where videos are the main social dialogue, Motion Array has all the stuff to help you stand out in the dynamic film community.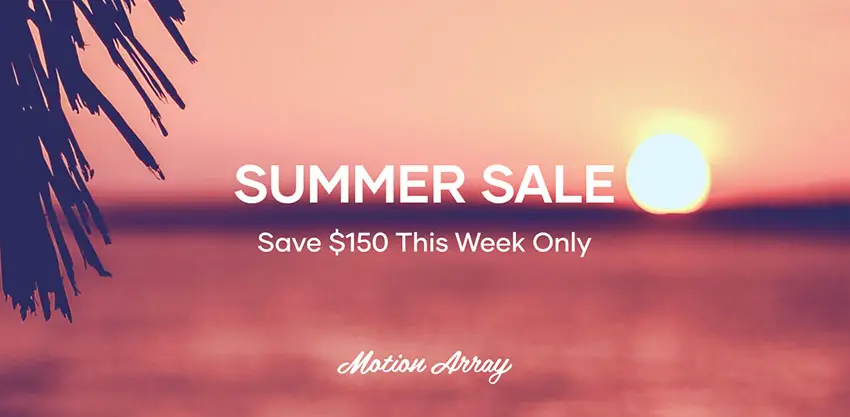 Get start today with an annual plan to access unlimited downloads for After Effects, DaVinci Resolve, Final Cut Pro, and Premiere Pro, as well as Motion Array's Plugins, Portfolio builder and Review video collaboration.
Furthermore, Motion Array has recently launched their new Distorter transition plugins for Premiere Pro. The pack allows you to create transitions by distorting different clips without having to fiddle with distortion grids.
Download the plugins to add a new dynamic look to your work and without complicating your timeline, easily adjust the direction, angle, and the amount of distortion you want. Not to mention, you can add in motion blur!
If you are looking for an artistic way to up your editing game, the Distorter transition plugins for Premiere Pro are just right for your creative library needs. They're very easy to use, fun, and aesthetic. Be sure to check out Motion Array's Premiere Pro plugin library to browse even more native plugin options for your collection!
[source: Motion Array]
Claim your copy of DAVINCI RESOLVE - SIMPLIFIED COURSE with 50% off! Get Instant Access!