The lens game has been in a constant state of flux in the past few years with so many new lenses coming out that it becomes a real chore to keep track. Add to this, the great legacy of S35mm lenses from olden days, and all of a sudden the life of an AC gets a bit more stressful, as if it already ain't. However, a smart chap by the name of Istvan Djuroska (a Camera Assitant himself), whom I had the pleasure of meeting at BSC Expo this year, has developed a pretty neat little app called LENSER. In itself, LENSER is a lens database featuring more than a thousand lenses and accessories from all the major manufacturers and some more obscure ones.
With LENSER, you can keep track and compares specs on lenses form ARRI, ARRI/Fujinon, ARRI/Zeiss, Angenieux, Arriflex/Zeiss, Bausch & Lomb, Bokkeh Optics, Canon, Cooke, Dog Schidt Optics, Duclos, Focus Optics, Fujinon, Hanse Inno Tech, Hawk, IB/E Optics, Isco-Optic, Kinoptik, Kowa, Leica, Luma Tech/Lomo, Optica-Elite, P+S Technik, Panavision, RED, Ross London, Samyang/Rokinon, Schneider-Kreuznach, Servicevision, Sigma, Sony, Tokina, Van Diemen Optics, Vantage, Veydra, Zeiss, ZeroOptik, uniQoptics
Working as a Camera Assistant I get lots of questions about lenses. One day on set the DP comes to me and tells me that we'll have a drone shoot next week. He wants Cooke on the flying Alexa Mini but according to the drone guys the lens cannot be heavier than 2 kilos. He needs a list of options e-mailed to him ASAP. Took me a while to dig up all the data. This gave me the idea of LENSER. – Istvan Djuroska, LENSER Founder.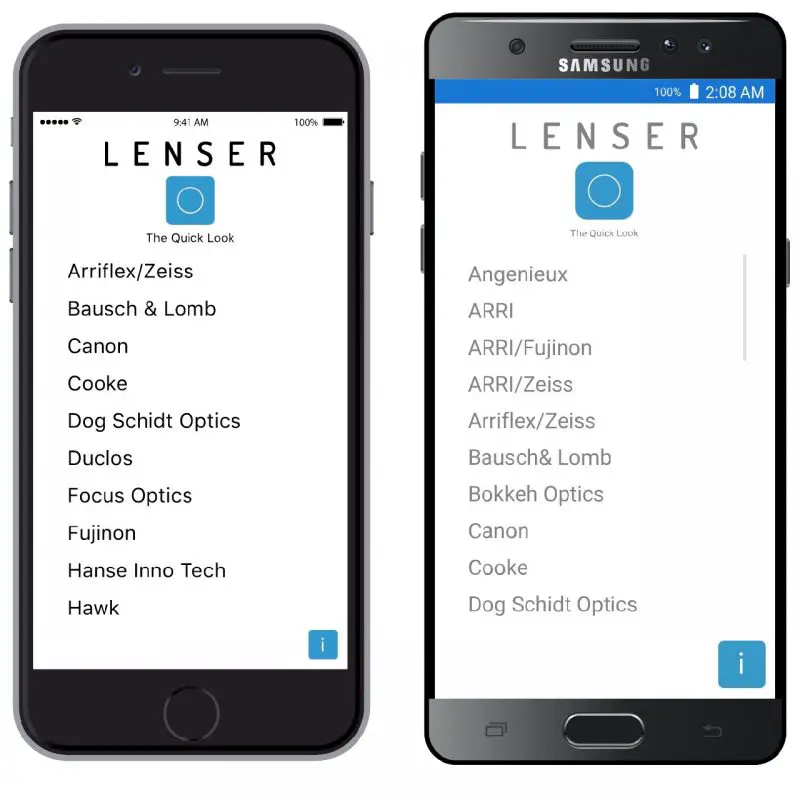 LENSER costs just $30 and runs on both iOS and Android devices, and probably the best thing about it is that you don't need a WiFi or 4G connection to use it – this can be really handy for remote locations in areas with shoddy cell reception.
When prepping for drone or gimbal shoots, lens selection becomes critical so having a huge access to the specs of thousands of lenses can be a real lifesaver for ACs.
LENSER Features and Highlights
Focusing on PL and PV mount lenses
Offline database – no internet connection required
Search the database by: Manufacturer, Keyword, Focal Length, T-Stop, Close Focus, Weight, Length, Horizontal and Vertical Angle of View, Anamorphic Squeeze
One glance metric and imperial units (no need to switch between units)
Drill down to lens sets and individual lenses
Pick-to-Compare: compare two lenses with a few swipes and taps
Copy-to-Share: copy lens, lens set data or search results to share
Lightning fast search on iPhone 5 and above
Minimalistic design to respect the finite storage space of the users' device
Links provided to online data sheets (Depth-of-Field tables), manufacturer's specifications and home pages (this feature requires internet connection)
LENSER will come with continuous updates as the developers continuously bring you the latest product specifications, including:
Focal Length
T-Stop
Close Focus
Weight, Length
Horizontal and Vertical Angle of View
Anamorphic Squeeze
Front Diameter
Number of Elements
Focus, Iris, Zoom Gearing
Number of Iris Blades
Magnification Ratio
Filter Size
Image Diameter
Lens Mount
Lens Data System Info
Some data can only be found in Lenser exclusively as a result of research done by the developers
Price: $29.99 USD
What other apps do you use to make your life on set easier? Let me know in the comments below and to get LENSER head over to their official website here.
Claim your copy of DAVINCI RESOLVE - SIMPLIFIED COURSE with 50% off! Get Instant Access!